I live for slow mornings with big cups of coffee, which is so easy when you prep breakfast with these Dark Chocolate Cherry Baked Oats!
I'm a serious dilly-dallier in the morning. I love to sleep, but also don't usually feel hungry for breakfast right away. Most days I end up shovelling in my breakfast right before my morning meeting. Pre-pandemic Emily was very good with planning and time management, but not pandemic Emily. I'm trying to be better this week and actually prepare ahead of time. Truthfully, I'm not a huge oatmeal fan but these make for such easy breakfasts and dark chocolate cherry – could you ask for a better combo? Not a huge sweet breakfast fan? No problem, try out My Favourite Avocado Toast Recipe.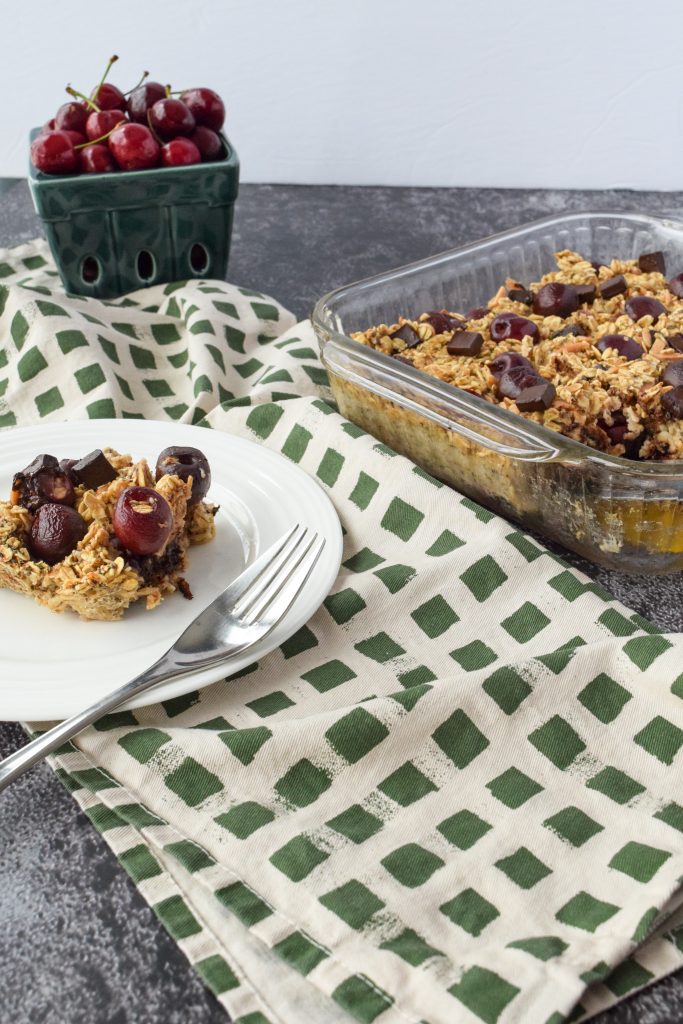 Dark Chocolate Cherry Baked Oats
Oats – we used regular ol' rolled oats. Oats are an example of a whole grain (more on this below) and provide fibre, a bit of protein and a ton of vitamins and minerals.
Chia seeds – high in fibre and unsaturated fats, as well as magnesium, iron and calcium
Hemp hearts – a good source of both protein and unsaturated fats, iron, vitamin B1, phosphorus, magnesium and manganese!
Flax seeds – a source of fibre, unsaturated fats and protein! More calcium, iron, B6 and magnesium!
Sliced almonds –  protein, unsaturated fats, fibre, vitamin E!
Cherries – did you know cherries are a good source of vitamin A and C? Vitamin A helps with eye, heart and immune health and Vitamin C is important for a ton of bodily functions.
Milk – I used 1% milk which is a great source of calcium, Vitamin D, protein, Vitamin B12 and Vitamin A! If you're a non-dairy drinker, no problem! Soy has the highest protein for non-dairy milk, but hemp and oat come in next!
Brown sugar, vanilla extract, dark chocolate chips – so it tastes good, duh!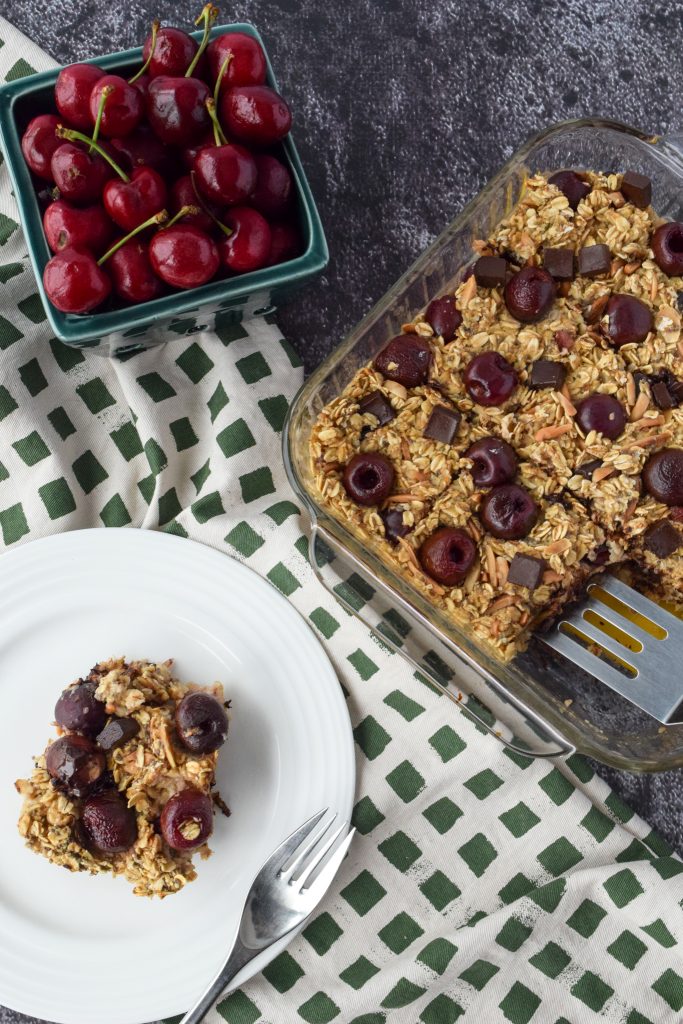 Ingredient Spotlight – Whole Grains
A few weeks ago, one of my best friends texted me and said "what the heck is a whole grain?". And she's totally right for feeling a bit confused, especially since we don't typically learn much about nutrition in school and there's so much mixed messaging on the internet – but that's a story for another day! Think of whole grains as grains existing in their original form. Let me show you what that looks like!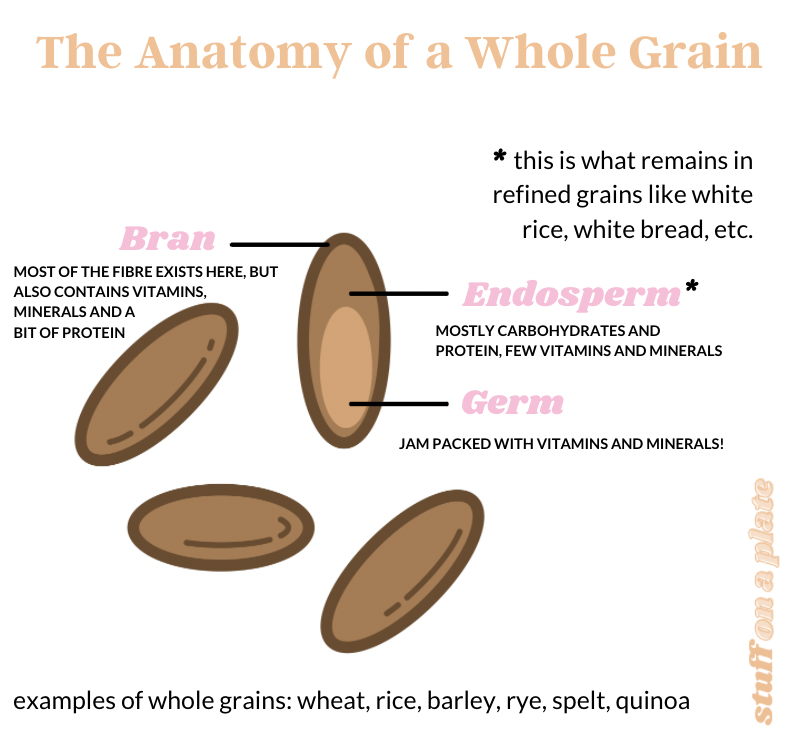 As you can see, there are 3 important parts to a grain: the bran, the endosperm and the germ. They also have an outside layer to protect the grain from bugs and environmental factors. The bran and the germ are the most nutrient-dense of the 3 parts. When grains are refined, the bran and germ get removed and we're mostly left with starchy carbohydrates and a bit of protein. This is what we see in ingredients like white bread and white rice.
All white flour is enriched in Canada, which adds back some of the nutrients lost during processing. However, without the bran and germ, about 25% of a grain's protein is lost and at least seventeen key nutrients are reduced. The enrichment process can't make up for that kind of loss. When looking for whole-grain products, the first ingredient should be whole grain whole wheat flour or whole oat/barley/rye etc.
So What About Whole Wheat or Multi-Grain? 
Whole Wheat – Whole wheat flour may be slightly more nutrient-dense than white bread, but still, most of the germ and some of the bran have been removed.
Multi-Grain – Multi-grain means just that, multiple grains. It doesn't necessarily mean any of those grains are whole grains. You may also see a sticker saying "made with whole grain", but that whole grain is far down on the ingredient list.
Am I saying you shouldn't consume white or whole wheat grain products? Absolutely not. I LOVE white pasty and a nice piece of freshly baked white crust bread. The purpose of these little spotlight sections is to educate you and try and cut through some of the BS provided by the internet. I love oats, brown rice and quinoa, so I am perfectly happy to consume those as my whole grains, but I definitely also consume the other (let's be honest, tastier) stuff. Canada's Food Guide recommends at least 50% of your grain servings come from whole grain sources.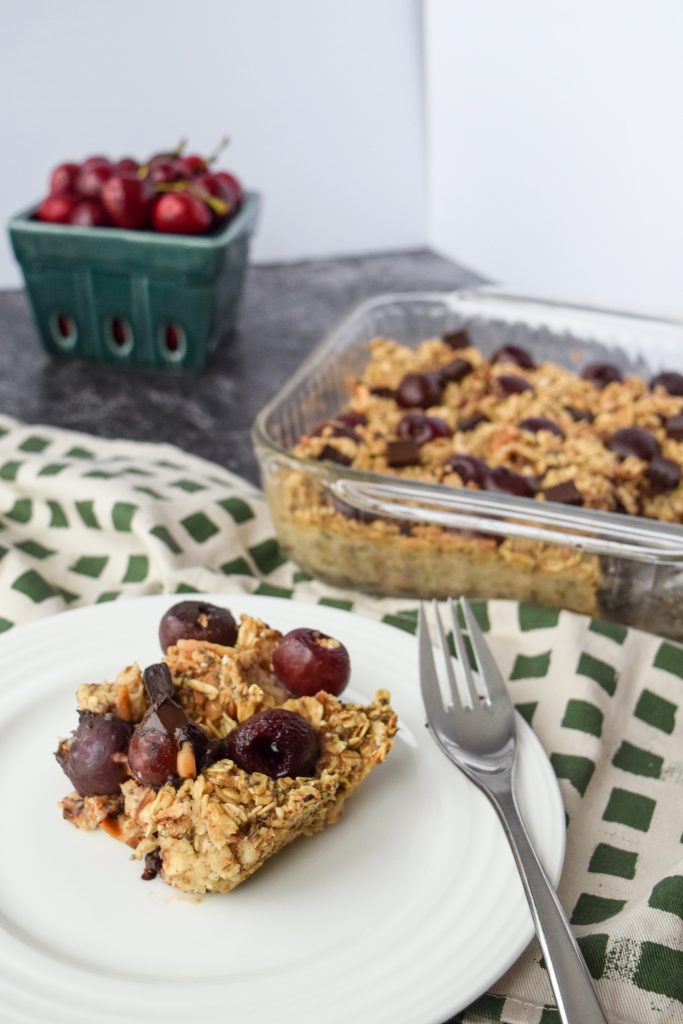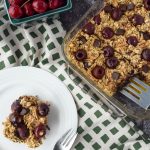 Print Recipe
Dark Chocolate Cherry Baked Oats
I live for slow mornings with big cups of coffee, which is so easy when you prep breakfast with these Dark Chocolate Cherry Baked Oats!
Ingredients
2

cups

rolled oats

1

tbsp

chia seeds

1

tbsp

hemp hearts

1

tbsp

ground flax seeds

1/4

cup

sliced almonds

2

tbsp

brown sugar

1 1/2

cup

frozen pitted cherries

2

tbsp

dark chocolate chips

1

cup

milk

1

cup

water
Instructions
Preheat oven to 350 degrees.

Add almonds to a pan on medium-low heat and toast until golden and fragrant (~5 mins).

Add oats, chia, hemp, flax, sliced almonds and brown sugar to an oven safe casserole dish (mine is 1.8L, but an 8x8 pan would work too!)

Sprinkle with frozen cherries and dark chocolate.

Add milk and water. Stir to ensure no oats are dry.

Optional: top with more cherries.

Bake in oven for 23-25 minutes, until oats are no longer jiggly.

Store in the refrigerator. I like to prepare it by slicing off a square and adding 1-2 tbsp of milk. I heat it in microwave for 2 minutes, stirring every 30 seconds.