Topped with cherry tomatoes, feta and fresh herbs, I am here to tell you this is hands down, the BEST Avocado Toast combination out there.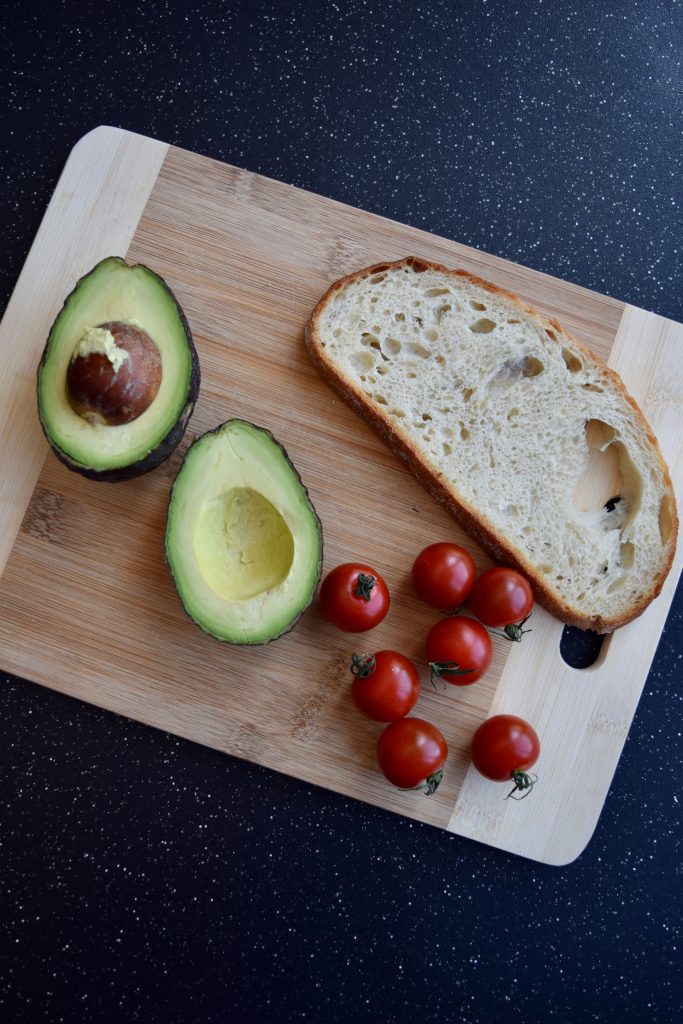 I've been on a big avocado toast kick lately. It's my favourite small breakfast, lunch or snack. I find in working part-time from home, I don't have a concrete schedule at the moment and my eating habits have changed a lot. I typically eat way more small meals throughout the day than in the past. Which is totally okay! It's normal for eating habits to fluctuate. Anyways, this avocado toast is the perfect combination of salty, savoury and fresh. I LOVE it! I will not that this is not a particularly high protein snack, so you can amp up the satiety factor by adding a second piece of toast with an egg or pairing it with my Banana Pineapple Smoothie recipe.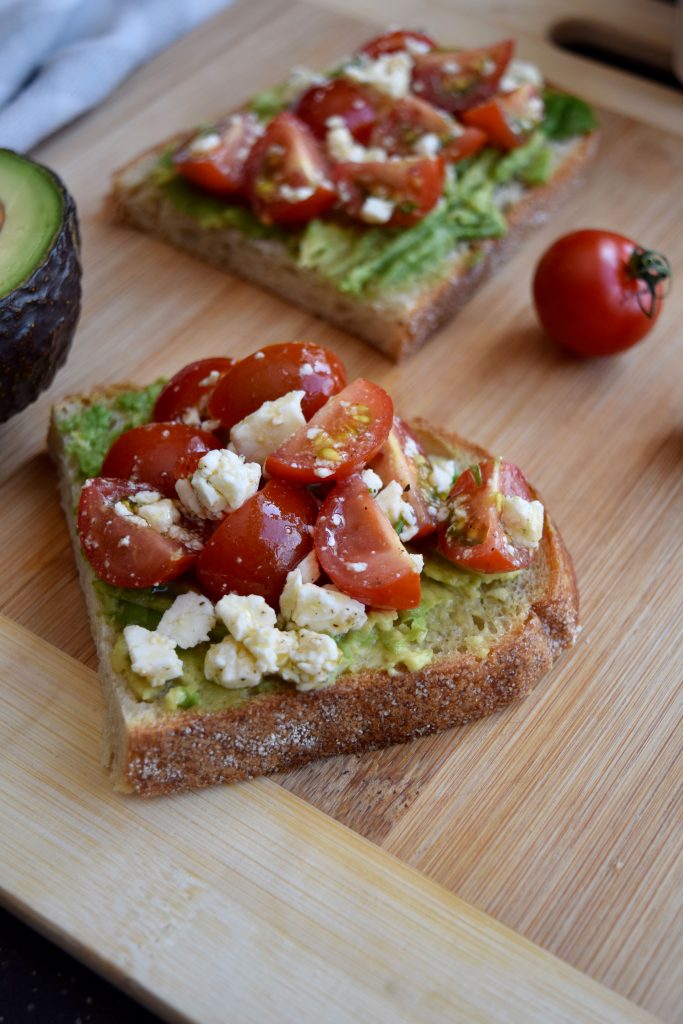 The Avocado Toast Combo of Your Dreams (and Mine!)
So let's go through what you'll need and why it's good for you!
Sourdough bread – you can use any type of toast per your choice, but I think it works best with crusty, bakery-style bread. This loaf, in particular, had a little bit of protein but not a ton of fibre, so you could opt for a higher fibre toast like whole or sprouted grain bread.
Avocado – high in monounsaturated fat (more on this below), and fibre. It's also a good source of potassium, vitamin C and B6.
Cherry tomatoes – tomatoes are a good source of vitamin C that is unknown to most!
Olive oil – also a great source of poly- and monounsaturated fat.
Feta – source of protein and fat
Salt & pepper+ fresh herbs – because flavour is important too!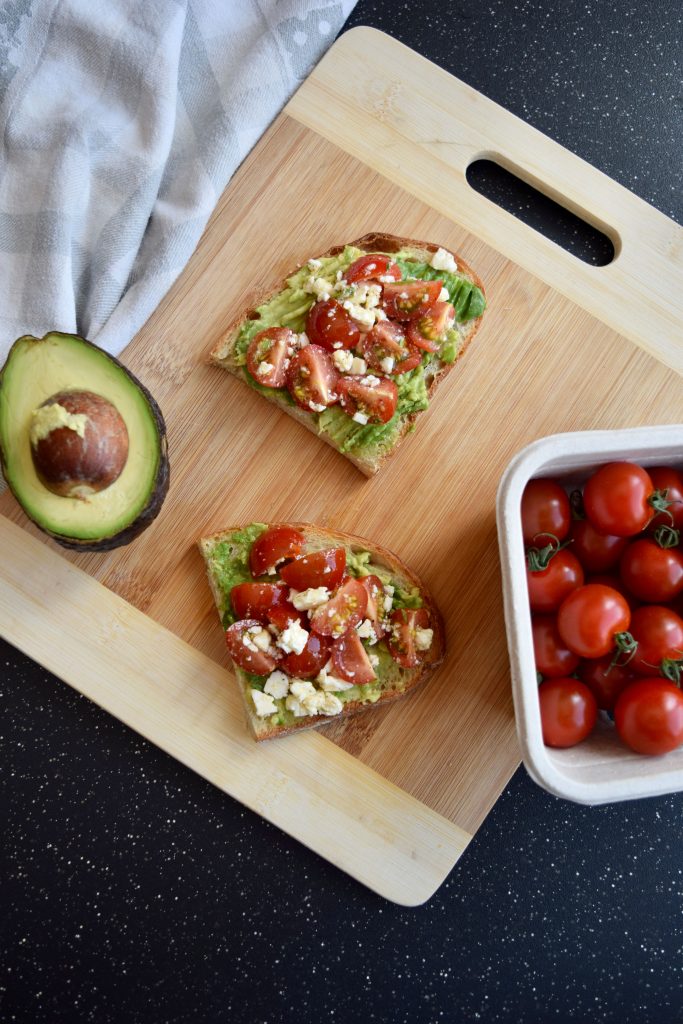 What's the Deal with "Healthy Fats"?
Avocado is basically the spokesperson for "healthy fats". Lipids have historically gotten a bad rap, but they are extremely important for our health. Most people need to get 20-25% of their calories from fats. That means for somebody who consumes 2500 calories, 500-875 should come from lipid sources. That also means that the same person could eat 2 or 3 whole avocados, to meet their lipid needs. All this to say, you don't have to limit yourself to 1/4 or 1/2 an avocado!
There are 3 main categories of fats; unsaturated, saturated and trans. Saturated fats are either mono- or poly-unsaturated. We want most of our lipid sources to come from unsaturated fats. Monounsaturated fats are found in vegetable oils, certain nuts and the star of the show today, avocado. Polyunsaturated fats are found in fatty fishes, some oils and are added to eggs and milk. Saturated fats are found in red meat, dairy, coconut and palm oil. It is recommended to limit saturated fat to less than 10% of daily calories, so about 250 for my hypothetical person up there. We want to avoid trans fats. More on this here.
My issue with the term "healthy fats" is not that avocados are unhealthy, they're super nutritious. Lipid sources contain a variety of types of fat. For example, avocados contain mostly monounsaturated fat, but also some saturated and polyunsaturated fat. This is totally okay, but technically they contain mostly "healthy fat" and a little "unhealthy fat". I just wish people didn't view nutrition as black and white, healthy vs. unhealthy. It's so much more complicated than that. Let's focus less on labels and focus more on variety, adding more nutritious options and choosing food options that we enjoy.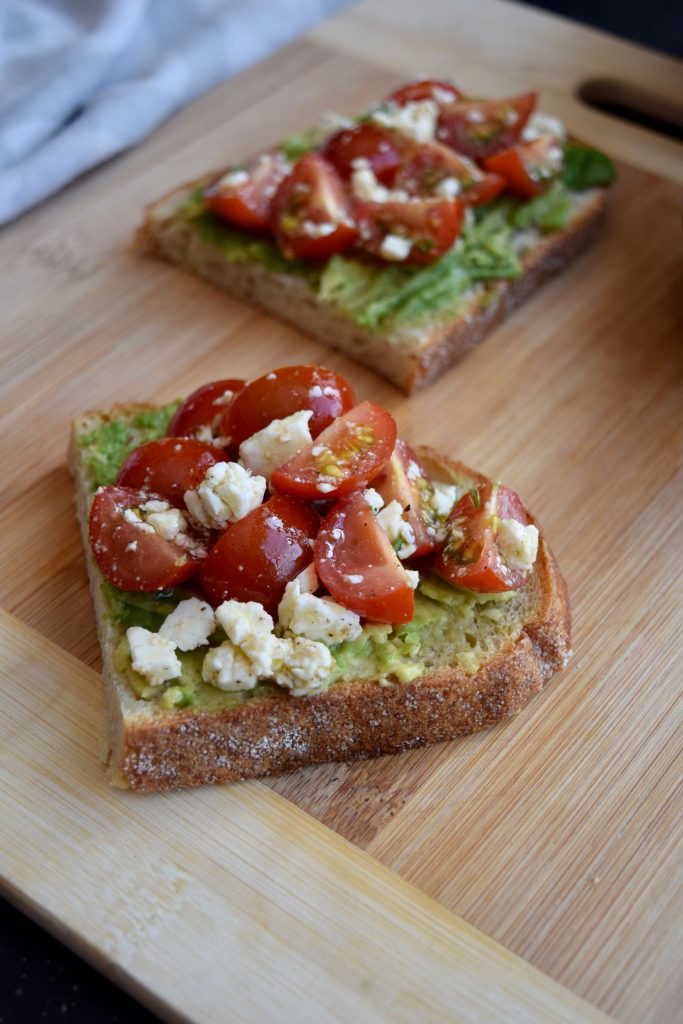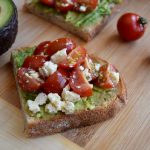 Print Recipe
The BEST Avocado Toast
Topped with cherry tomatoes, feta and fresh herbs, I am here to tell you this is hands down, the BEST Avocado Toast combination out there.
Ingredients
1

large piece

sourdough bread

5

cherry tomatoes

1

tbsp

feta cheese

1

tsp

olive oil

salt and pepper to taste

1/2

avocado

5-7

sprigs

fresh rosemary (or fresh herb of your choice)
Instructions
Pop the toast in the toaster.

Meanwhile, chop tomatoes in quarters and add to a small bowl.

Add crumbled feta, oil, salt and pepper, and mix!

Once toast is done, spread mashed avocado on top.

Add tomato mixture on top.

Top with fresh herbs and enjoy!