This Orzo Salad with Lemon Feta Dressing is delicious, full of flavour and packed with fresh veggies and beans!
I went through a serious orzo salad phase last summer. The texture of orzo is so perfect in salads and very versatile; it goes with so many different combinations. I also like that it adds some bulk to salads, transitioning them from a side to a full meal. Let it be known, I am manifesting being allowed to have dinner outside with friends this summer and making this. Until then, I'll keep enjoying my avocado toast by myself. The inspiration for this salad came from this recipe.


Fresh Orzo Salad with Lemon Feta Dressing
Orzo – a delicious source of carbohydrates (the body's preferred source of fuel) with a bit of protein
Cherry tomatoes – a good source of vitamin C, which will help absorb the iron in the beans!
Cucumbers – cucumbers are mostly water, so while they're low in calories, they're also aren't the most nutrient-dense of vegetables. Don't get me wrong I absolutely love cucumbers, but just remember that low calorie doesn't necessarily equate to healthier
Red onion – there's some vitamin C and a little bit of fibre here
Green pepper – half a green pepper will get you to your vitamin C needs for the day, which I talk more about here
Mixed canned beans – beans are a great source of fibre and protein and also provide some iron
Spinach – bringing you Vitamin A and C
Feta – a source of saturated fat to keep you full + some calcium!
Olive oil – a combination of both unsaturated and saturated fats
Marinated artichokes, garlic, rosemary, lemon zest + juice, salt and pepper – these are all fun foods that add flavour and texture to your meal, which contributes to overall satisfaction. If you look at all the ingredients I've listed so far you've got a wide variety of nutrients and adding in fun foods doesn't take away from that!

What is Orzo?
If you've never seen orzo before, you may think it looks a bit like rice, but it's just another type of pasta. It's so delicious in pasta salads because it's has a smooth texture and it's small enough to not overpower the other ingredients. If you saw my Veggie-Loaded Minestrone Soup Recipe, you'll know I don't shy away from white pasta. I love looking at nutrition from the perspective of what can I add to my food, instead of what can I take away. In this case, we're getting extra carbohydrates (not anything to be afraid of), a little extra protein and a great mouthfeel from the orzo. You can cook it exactly how you would regular pasta!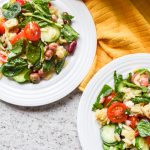 Print Recipe
Fresh Orzo Salad with Lemon Feta Dressing
This Orzo Salad with Lemon Feta Dressing is delicious, full of flavour and packed with fresh veggies and beans!
Ingredients
1

cup

orzo, dry

1

cup

cherry tomatoes

3

mini

cucumbers

1/2

green pepper

1/2

red onion

2

cups

baby spinach

1 (15 oz.)

can

mixed beans

4

canned marinated artichokes

1/4

cup

feta cheese

1/4

cup

olive oil

1

garlic clove

1

tsp

dried rosemary

1

tsp

brine from feta cheese

zest and juice of 1/2 lemon

salt and pepper to taste

fresh parsley as a garnish
Instructions
Boil a pot of salted water on the stove.

Cook orzo according to packaging for al dente pasta (mine was about 9 minutes).

Meanwhile, quarter tomatoes, dice cucumbers and green pepper and add to a large bowl.

Chop red onions finely and add to bowl.

Rinse a can of mixed beans and add.

Once orzo is done, drain, rinse and set aside.

Chop spinach and add to salad.

Top salad with chopped artichokes and crumbled feta, and mix.

Prepare dressing by mixing olive oil, a garlic clove finely chopped, rosemary, lemon juice and zest, and feta brine. Season with salt and pepper if needed.

Once orzo is cooled, add to salad and mix. Top with dressing and fresh parsley.