These Roasted Cauliflower & Turmeric Chicken Wraps are delicious and complimented perfectly by cilantro-lime yogurt & pickled red onions.
My intention with this recipe was to make a flatbread that you could pick up and eat like a pizza. We tried that and it was good, but a little bit difficult to eat. Then I tried cutting the flatbreads in half and eat it that way. Still kinda messy and awkward to eat. The solution was to cut the naan bread in half, fold it over and eat it like a taco. Not to toot my own horn, but these are so delicious. The chicken is flavourful, the cauliflower crunchy, the cilantro lime sauce is tangy and the pickled onions add the perfect bite. I think you could serve these Roasted Cauliflower & Turmeric Chicken Wraps on mini naans, toasted, as a little appetizer or finger food at a party (remember those?).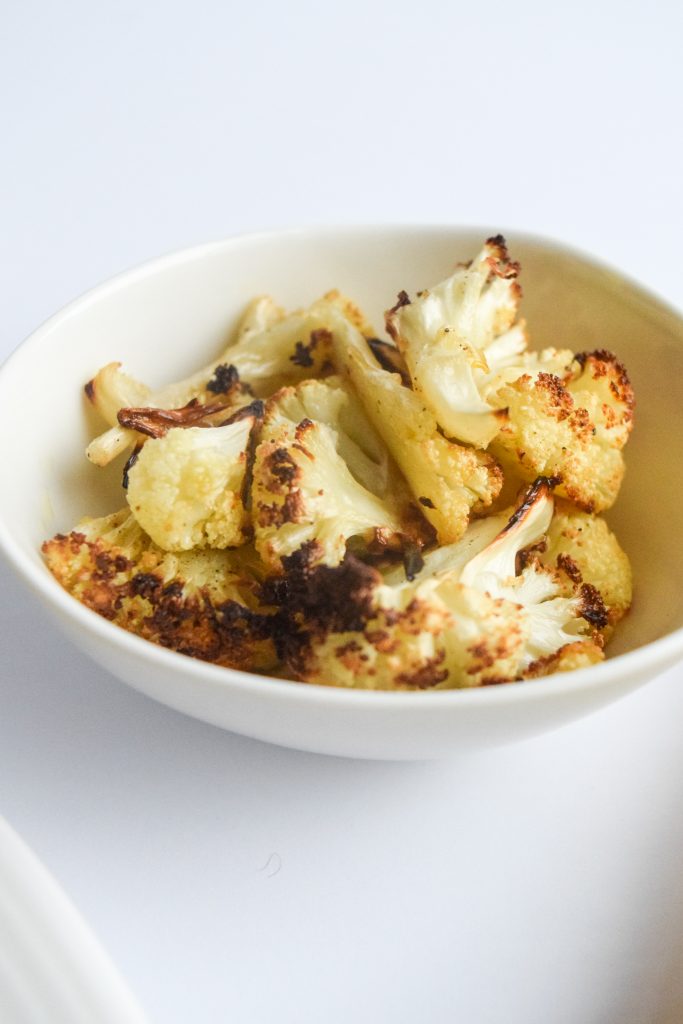 Ingredient Spotlight: Turmeric!
A few years ago, turmeric became a sort of trendy health supplement in Western culture. Turmeric lattes were popping up all over the place. Turmeric has long been used in Middle Eastern and Asian cultures as a form of traditional medicine. According to a simple google search, turmeric can help prevent heart disease, Alzheimer's and cancer. Additionally, there are claims it helps improve symptoms of depression and arthritis. So let's dive in a little.
I think it's important to note that one particular food or spice isn't going to prevent chronic disease. In fact, a balanced diet, full of variety (which allows you to meet all your macr0- and micronutrient needs), is an important risk factor for preventing chronic disease. A review of over 150 journal articles related to the use of turmeric (in a variety of forms) looked at its effects on metabolic syndrome, diabetes and arthritis. The best result for turmeric use was in decreasing pain in those with arthritis, although the exact reason why is not completely understood. It is thought that turmeric may have some anti-inflammatory effects.
So let's wrap this one up. The point of this part of the post isn't to sway you away from using turmeric (plz make this turmeric chicken recipe)! It's to help explain that a single food or ingredient isn't likely to make a drastic change in your health. Chronic diseases are complex and usually linked to a variety of risk factors, so it's unlikely that one single thing will help to prevent them. Instead of spending your time, energy and $$$ on supplements without the input of your doctor or registered health professional, focus your energy on eating a variety of foods every single day.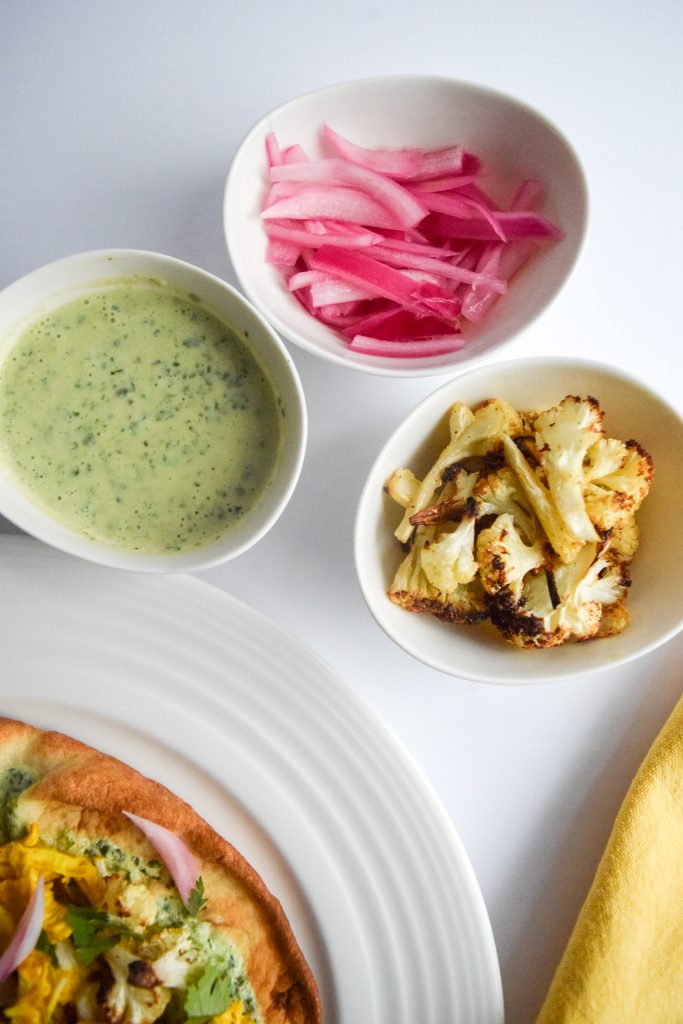 How to Quick Pickle Onions (and Just About Anything!)
On a much lighter note, if you know me, you know I LOVE anything pickled. I'm an eat-the-pickle-right-out-of-the-jar gal and proud. So you know I love to quick pickle veggies in just a few hours! Here's what you'll need:
A jar or container
Veggies of your choice (I used red onions)
White sugar
Salt
White vinegar
It's super simple, but you'll just add your vegetable to your jar and cover it with white vinegar. I probably used about a cup of vinegar and added in a tbsp of sugar and about 1/4 tsp of salt. Set in the fridge for a few hours and watch the magic happen (they're even better when you leave them ~24 hours). I've done this with cucumbers too! According to Cookie and Kate, these will last 2-3 weeks. I think these pickled onions would also go well in my Fresh Orzo Salad recipe!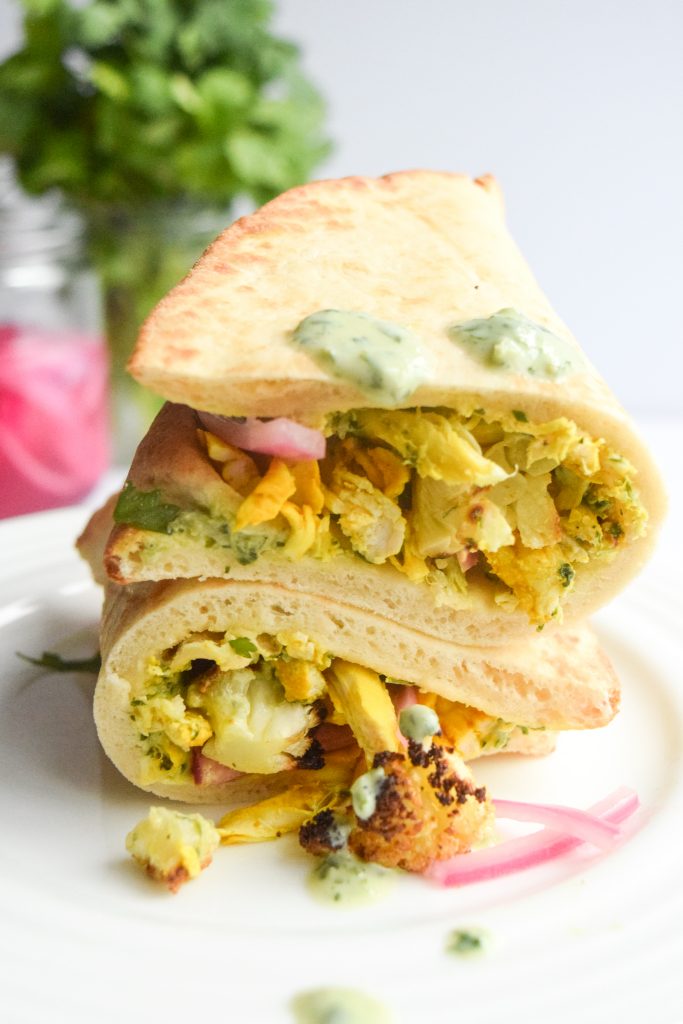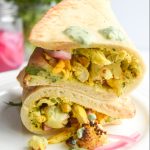 Print Recipe
Roasted Cauliflower & Turmeric Chicken Wraps
These Roasted Cauliflower & Turmeric Chicken Wraps are delicious and complimented perfectly by cilantro-lime yogurt & pickled red onions. This recipe may have a lot of steps, but it all comes together in under an hour!
Ingredients
Pickled Onions
1/2

large

red onion

1

cup

white vinegar

1

tbsp

white sugar

1/4

tsp

salt
Turmeric Chicken
2

chicken breasts

1

garlic clove, minced

1

tbsp

fresh ginger, minced

juice of

1/2

lemon

1

tbsp

olive oil

2

tsp

turmeric

1

tsp

curry powder

salt and pepper to your liking
Roasted Cauliflower
1

head

of cauliflower

1

tbsp

olive oil

salt and pepper to your liking
Cilantro-Lime Yogurt
1

heaping cup

of cilantro

1

clove of garlic

juice of 1

lime

pinch of

salt

1/2

cup

plain yogurt

2

tbsp

water
Instructions
Marinate Chicken
Add all ingredients (chicken, garlic, ginger, lemon juice, olive oil, spices, salt and pepper) to a plastic bag or glass container (plastic container will stain) and place in fridge. You may also do this ahead of time and let sit in the fridge for a few hours before cooking.
Prepare Pickled Onions
Slice the red onions and add to a jar or container.

Cover with vinegar and mix in sugar and salt. Place in fridge until mealtime!
Cook Cauliflower & Chicken
Cut end off of cauliflower and chop into tiny, bite-sized pieces (view photo above for refernce).

Place cauliflower on a parchment-lined baking tray.

Season cauliflower with 1 tbsp of oil, salt and pepper and place in oven.

After 5 minutes, add chicken to a separate parchment-lined baking tray.

Cook chicken (and cauliflower) for 24 minutes.
Make Cilantro-Lime Yogurt
Place garlic clove in a microwave safe dish and microwave for 30s to 1 minute on medium. This will cut the harsh taste of raw garlic.

To a food processor or blender, add cilantro, garlic, lime juice, salt and plain yogurt.

Blend for 1-2 minutes. If too thick, add 1-2 tbsp of water to thin out.
Assemble!
Once chicken and cauliflower are done, remove from oven and add naan bread to toast (~3-5 minutes).

Let chicken stand for ~2 minutes and shred with 2 forks.

Remove naan bread from oven and slice down the middle.

Spread with cilantro-lime yogurt and top with chicken, cauliflower and pickled onions. Fold in half and enjoy!