These Blackened Salmon Bowls with Mango Salsa are fresh, full of protein and fibre, and perfect for spring!
This was my first time making Blackened Salmon, and truthfully, I didn't even really know what it was before I made this recipe. I've recently become more aware of how important it is, as a white woman creating and sharing recipes, to do my research on the history of certain dishes and the rich culture they are home to.
There is a ton of cultural appropriation in recipe creation, and more and more, I'm seeing people call it out, and rightly so. Just google 'Asian Salad' and tell me if any of the recipes on the first page are created by anyone of Asian descent. I am still learning and doing my best not to contribute to this, but surely I will make mistakes. If you're curious to learn more, check out @thecanadianafrican on Instagram. She has a highlight on cultural appropriation in the food world. Onwards and upwards friends!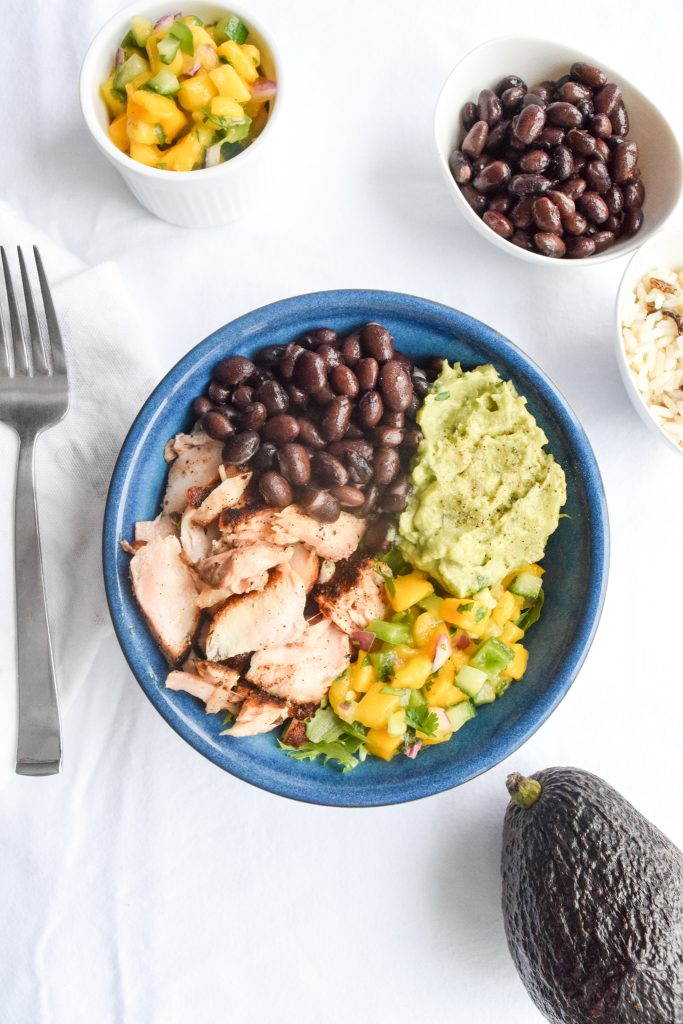 Blackened Salmon Bowls with Mango Salsa
Salmon – high in protein, vitamin D, calcium and omega-3 fats
Rice – I used a long & wild rice blend for this, but it's really up to you. Compared to white rice, brown rice is higher in fibre, protein and some vitamins. If you hate brown rice and it ruins the meal for you, don't use it. You can get in your fibre and protein in other ways – simple as that!
Mixed Greens – again, this is really your choice. Greens are so good for you and there should be no shame in preferring one type over the other!
Black beans – one of my favourite sources of plant-based protein and super high in fibre!
Mangoes – did you know mangoes are high in Vitamin C? That's great for us because it is necessary for iron absorption, gum health and wound healing! More on Vitamin C here.
Green pepper – one of the highest sources of Vitamin C!
Cucumber – cucumbers are pretty low-calorie and therefore, not super nutrient-dense. Nothing wrong with them, but definitely mix in some other veg into your meals!
Avocado – a great source of unsaturated fat, which is important for heart health. Check out my recipe for The BEST Avocado Toast!
Cilantro, red onion, lime juice, lemon juice – yummy flavour additions for our salsa and guacamole!
Paprika, cayenne, granulated garlic, dried thyme, dried basil, salt and pepper – add a little bit of.. spice!

What is Blackened Salmon & Where Does it Come From?
According to NPR, blackened fish originated in Louisiana, by chef Paul Prudhomme. He fused Creole and Cajun cuisines, which are commonly, and wrongly, assumed to be the same thing. Cajun and Creole are two different ethnic groups from Louisiana, each with its own rich culture, history and traditions.
To understand the difference, I looked to Big Easy Life, a life-long resident of New Orleans. He explains that simply put, Creole is city food and Cajun is country food. After the 7 Years War, in the mid-1700s, French settlers living in Acadia (which is the present-day Maritimes) were expelled, and some ended up in Louisiana. Over time, the term Acadian morphed into Cajun and many parts of its culture lived on. Creole, refers to someone of mixed race who has descended from colonial European settlers. In terms of food, Creoles had access to a wider variety, so dishes might appear more complex. Cajuns were more subject to seasonality and cooked a lot of "one-pot meals". From my understanding, there is a lot of crossover and intermingling between these culinary styles today.
Back to our friend Paul Prudhomme, who one day decided to dredge a fish in a bunch of spices and cook it in a hot skillet. All I have to say is, I'm so glad he did.

Nutrient Spotlight: Omega-3 Fatty Acids
I've talked about lipids before, but I felt like Omega-3s deserve their own time to shine. Dietary fats fall into 3 categories: unsaturated, saturated and trans. We find saturated fats mostly in animal products and we should limit them to no more than 10% of our daily calories. Trans fats, which we find in hyper-processed foods, increase the risk for heart disease. We want to avoid these. Last but certainly not least, we've got unsaturated fats. These can be monounsaturated or polyunsaturated. The difference between these is just the number of double bonds in their composition.
We can divide polyunsaturated (multiple double bonds) fats further into Omega-3s and Omega-6s. Omega-3 fatty acids help to lower the risk of heart disease and are especially important in infants for proper development. Although the evidence is not yet conclusive, it is thought that Omega-3s may lower the risk for chronic diseases such as cancer, dementia and depression. Finally, We can divide Omega-3s into ALA, EPA and DHA. We need all 3 of these in our diet. Fatty fish contains EPA and DHA, while ALA is in flax seeds, walnuts and soy. Also anything with "enriched with Omega-3s" on the package. Canada's Food Guide recommends 2 servings of fish per week (and a well-balanced, diet full of variety) to meet these needs!
Feel free to refer to the chart below if you're currently feeling very confused: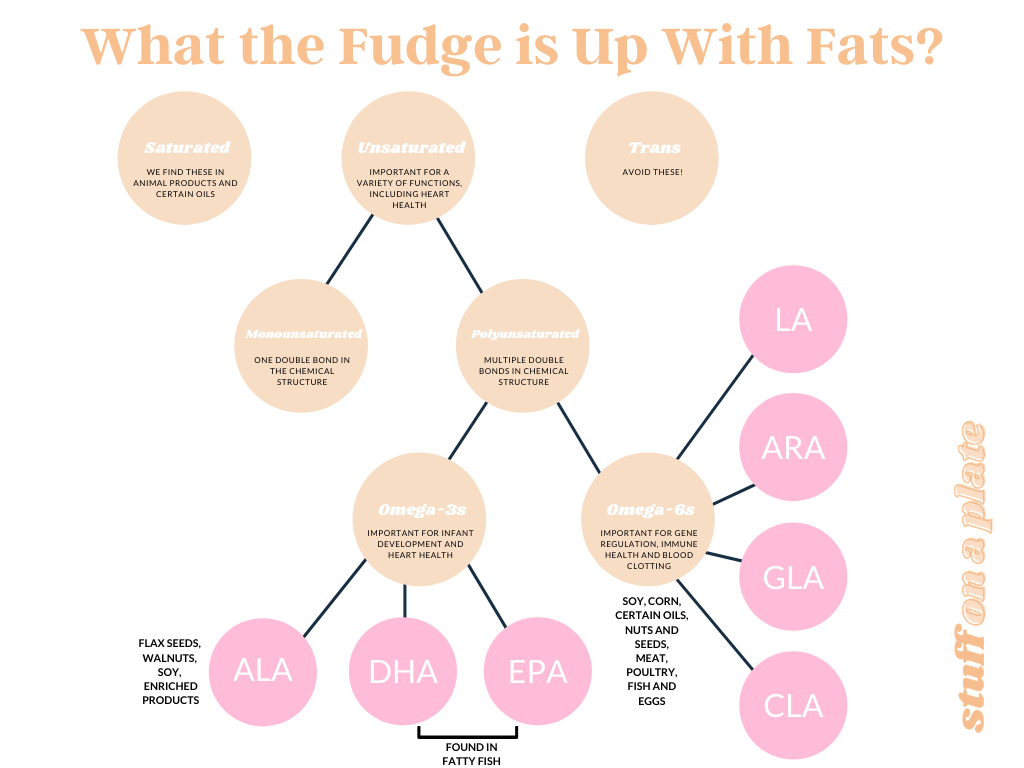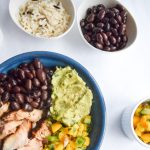 Print Recipe
Blackened Salmon Bowls with Mango Salsa
These Blackened Salmon Bowls with Mango salsa are fresh, full of protein and fibre, and perfect for spring!
Ingredients
1/2

cup

rice, dry

1

small

mango (I used ataulfo, but you could also use a cup of frozen mango)

1/2

green pepper, finely diced

1/3

red onion, finely diced

1/2

cup

cucumber, diced

1/4

cup

cilantro, finely chopped

1

lime, juiced

salt and pepper to taste

1

ripe

avocado

1/2

lemon, juiced

250

g

salmon

1/2

tsp each

paprika, cayenne, garlic powder, thyme, basil

2

tbsp

butter

1/2

cup

black beans

1

cup

of greens of your choice
Instructions
Cook rice according to package instructions (as a general rule, boil 2 cups of water for every 1 cup of rice).

To make the mango salsa, peel and finely chop mango. Place in a small bowl.

Add 1/2 a green pepper, 1/2 a red onion and 1/3 cup cucumber, finely diced. Add 2 tbsp chopped cilantro, salt and pepper to taste and juice of one lime. Set aside.

In another bowl, mash 1 ripe avocado.

Add remaining 2 tablespoons of cilantro, and salt and pepper to taste, and juice of 1/2 lemon. Set aside.

In a small bowl, combine 1/2 tsp each of paprika, cayenne, granulated garlic, thyme, basil and black pepper.

Melt 1 tbsp of butter and brush on top of salmon.

With a clean hand, rub salmon with spice mix so that the top is completely covered.

Heat a non-stick pan over medium heat. Once hot, melt remaining tbsp of butter and place salmon, skin-side up.

Cook for 3-4 minutes, before flipping (this will depend on the thickness of your salmon).

Flip salmon over and cook for another 5-6 minutes. I sliced the salmon into smaller pieces later so if you're worried it isn't done, cut it in the middle and take a peek.

Remove salmon from heat and let stand for 2-3 minutes.

To assemble bowl, fill with half rice and half greens. Add mango salsa, guacamole and black beans. Top with salmon. Enjoy!