These Salmon Burgers are a fun switch up from the classic burger, topped with Homemade Tartar Sauce, sliced cucumbers and red onion.
I can't take much credit for this recipe, it was Trevor's idea, but I suggested the ciabatta so that's got to count for something. Prior to this, I don't think I had ever eaten a salmon burger. I am a cheeseburger fanatic, so I didn't even expect to like it that much. This recipe is quite simple, deliciously different from your regular burger, and can even be made using leftover salmon. We also made a little homemade tartar sauce, which added so much flavour and incorporated my favourite burger condiment: pickles. I would 100% recommend salmon burgers next time you have guests over! If you make this, I love it if you tagged me or used the #StuffOnAPlate!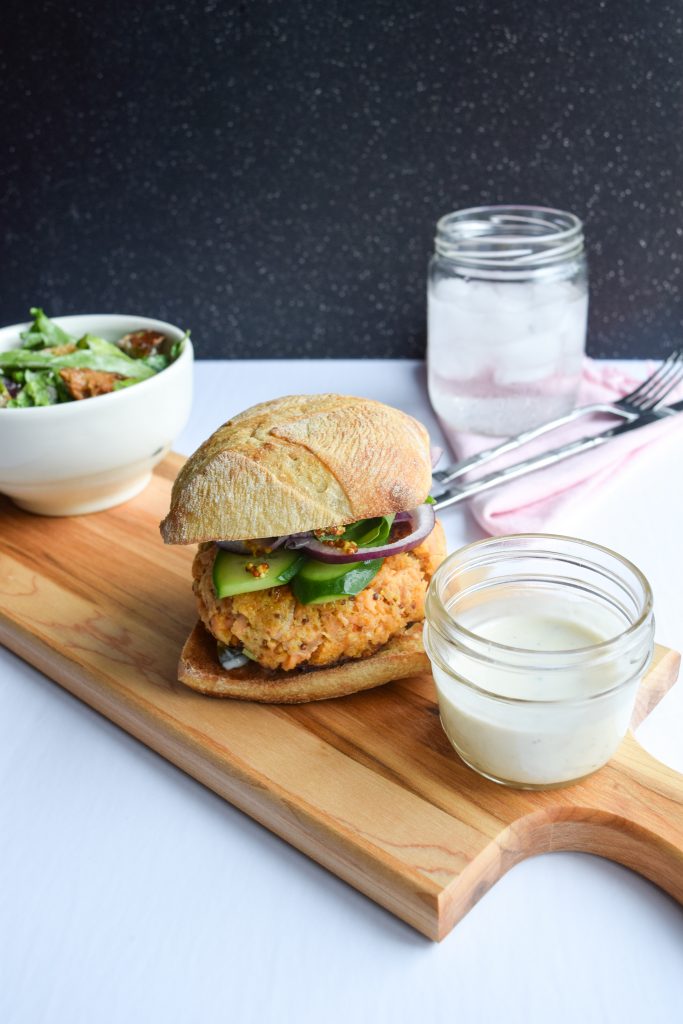 Salmon Burgers with Homemade Tartar Sauce
Salmon – a great source of protein, vitamin D and Omega-3 fats. I went into great detail on Omega-3s in this Blackened Salmon Bowls recipe, if you're curious for more information.
Eggs – loaded with Vitamins A, D and E, as well as omega-3 fats and lots of protein! Minerals too!
Breadcrumbs – I used Panko in this recipe, but you could also make your own using some whole grain bread for a more nutrient-dense option. Just pulse in the food processor and toast in the oven for 3-5 minutes at 200 degrees!
Green onions – there's not a ton of substance to green onions, although they do contain a decent amount of Vitamin C! More on Vitamin C here!
Whole grain mustard – I love the texture and taste of whole grain mustard, but you could use regular mustard as well. Again, not much nutrition info to note here!
Sambal Oelek – Sambal is a delicious chili garlic paste that you can find at most grocery stores. You could also use Sriracha or another hot sauce of your choice.
Mayo – mayo is mostly an unsaturated fat choice, which is the kind we want to choose more often. Should you drench everything in mayo? Probably not. Is it okay to spread a little on a sandwich or burger? Absolutely!
Pickles – you know I have nothing bad to say about a pickle.
Ciabatta bun – you could totally choose a whole grain bun for some extra fibre, but I loved the crunch of the ciabatta!
Red onion, cucumbers, arugula – these were my toppings of choice, but it's totally up to you! I encourage adding some extra veg for sure!
Lemon, salt & pep – for a little extra flavour!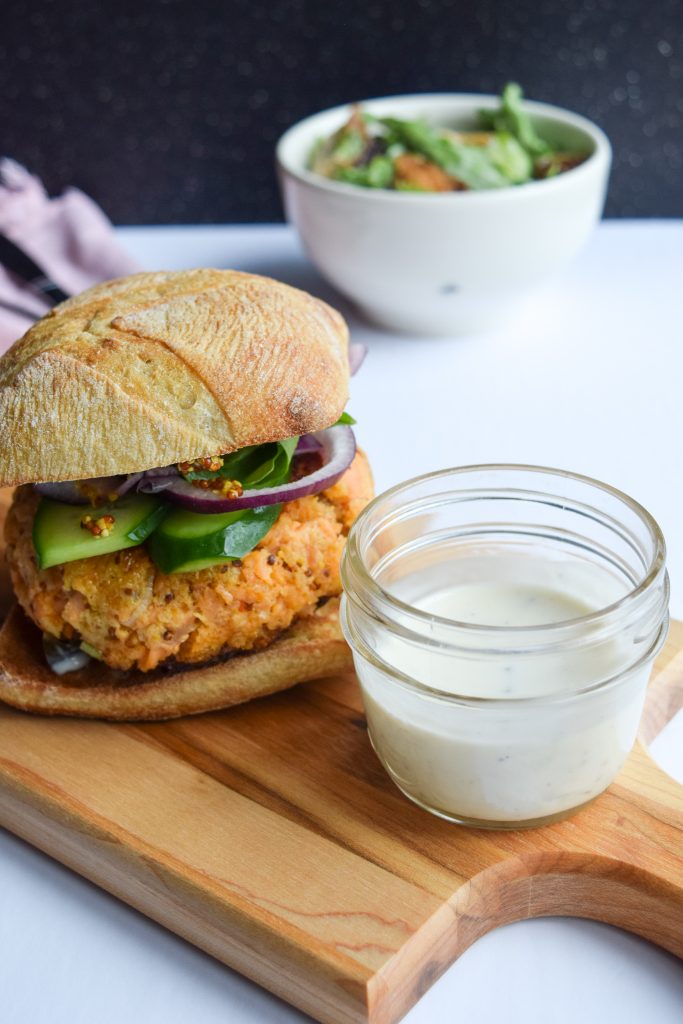 Nutrient Spotlight: Vitamin D
Vitamin D is a fat-soluble vitamin, meaning that for it to be absorbed upon consumption, it has to be eaten with a source of fat. Lucky for us, Salmon contains both Vitamin D and Omega-3 fats! Vitamin D in our bodies helps us to absorb calcium, and together they promote bone and dental health. Without Vitamin D, only 10-15% calcium is absored. That number jumps to 30-40% in the presence of Vitamin D. It also plays a vital role in the muscular, nervous and immune systems.
The recommended intake of Vitamin D for adults is 600 IU. A serving of salmon might get you to that number, but it's highly dependant on the type of salmon and whether it's farmed vs. wild. My good friend/mentor Andrea D'Ambrosio, RD, has a great post on the great debate between farmed and wild salmon. We also find Vitamin D in dairy milk, some fortified non-dairy milk, margarine and egg yolks. You may also have heard that you can get Vitamin D from sunlight. There is a precursor to Vitamin D in your skin, that is activated by UVB rays. It then travels to the liver and kidneys, and only then can your body use it. However, this only occurs if you are not wearing sunscreen, and we know that's a bad idea. Please do not rely on the sun for your Vitamin D levels.
Do You Need a Vitamin D Supplement?
For most people, especially us Canadians during the winter, getting enough Vitamin D is hard. Many people choose to take a Vitamin D supplement, but remember, it is absolutely essential that you talk with a physician or dietitian before taking a new supplement. While the toxicity level is quite high, it is possible to take too much Vitamin D which could cause negative side effects. It is possible to get enough Vitamin D without taking a supplement, but does take careful and thoughtful planning.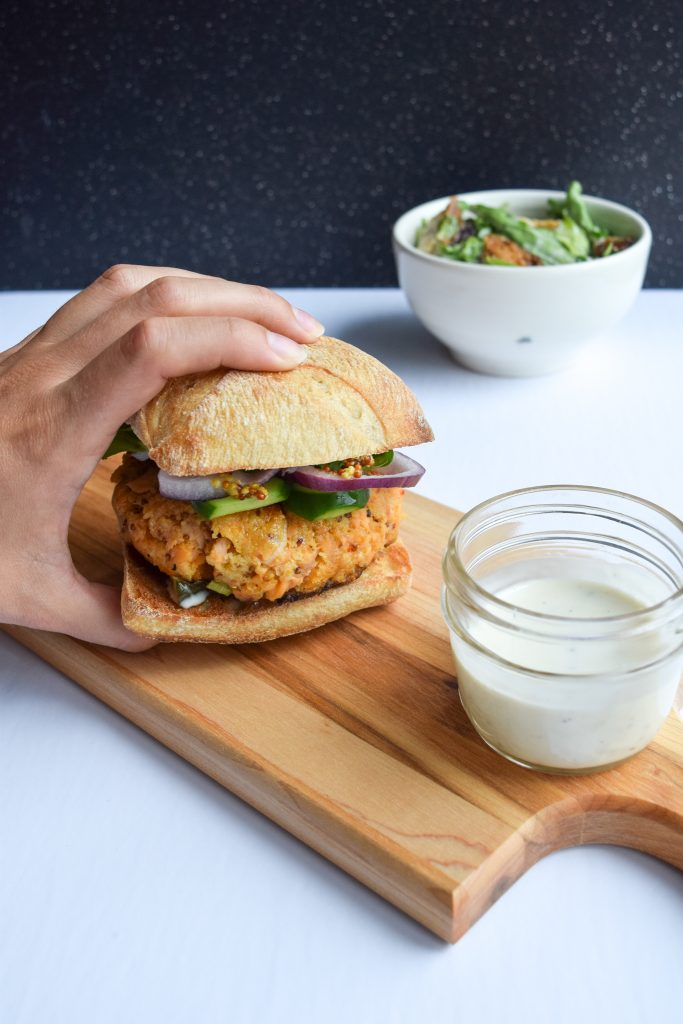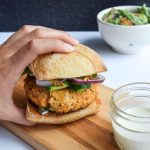 Print Recipe
Salmon Burgers with Homemade Tartar Sauce
These Salmon Burgers are a fun switch up from the classic burger, topped with Homemade Tartar Sauce, sliced cucumbers and red onion.
Ingredients
Salmon Burgers
1

lb

salmon

2

tbsp

olive oil

1

pinch

salt

1

cup

panko (or other breadcrumbs)

1

egg

1

egg yolk

1

large

green onion, diced

2

tbsp

whole grain mustard

1

tbsp

Sambal Oelek (or other hot sauce)

4

ciabatta buns

(or buns of your choice)
Toppings (optional)
1

cup

arugula

1/2

cucumber, thinly sliced

1/4

red onion, thinly sliced
Tartar Sauce
1/4

cup

mayo

2

tbsp

diced pickles (or homemade relish)

1

tbsp

lemon juice
Instructions
If using leftover, already cooked salmon, skip to step 5.

Add 1 tbsp of olive oil and a pinch of salt to salmon. Massage with hands to ensure even coating.

Add salmon to either a hot pan or a hot grill. Cook salmon all the way through and on both sides. The time will depend on how hot your bbq is and the thickness of your salmon. It took us about 8 minutes.

Allow salmon to rest for at least 5 minutes.

Heat a pan over medium-low heat.

Meanwhile, in a medium bowl, carefully remove salmon from skin and break apart into small pieces.

Add egg, egg yolk, breadcrumbs, green onions, mustard, Sambal and salt and pepper to bowl.

You should be able to make patties that stay together, so if they don't, add in 1/4 cup of breadcrumbs at a time until they do.

Add 1 tbsp of olive oil to hot pan and place burgers in pan. Cook until golden brown on both sides (about 3-4 minutes per side).

While burgers are cooking, add mayo, pickles, lemon juice to a small bowl. Add salt and pepper to taste. You can also toast the buns during this time.

On a toasted bun, put tartar sauce and place burger on top. Top with sliced red onions, sliced cucumbers and arugula. Enjoy!