This Mushroom & Lentil Shepherd's Pie is the perfect make-ahead, vegetarian meal for a cold day. Packed with plant-based protein and fibre!
Shepherd's pie has always been a staple comfort food in our house (I will eat quite literally anything that has mashed potatoes in it). Around this time last year, my mom and I wanted to try out some new recipes and we discovered the deliciousness that is vegetarian shepherd's pie. According to Chowhound, an authentic shepherd's pie, native to Ireland, includes meat cooked in gravy, onions, carrots, celery and mashed potatoes. Sounds pretty simple!
Its history, however, isn't so simple. At some point in the 1700s, "cottage pie" was invented as a way to use leftovers from a roast and make an affordable meal. Named that way after the people who made it, those who lived in cottages, with not a lot of money, cottage pie is made with beef. Shepherd's pie came afterwards and used lamb as the base, named that way after those who made it, shepherds. My plant-based version is made with lentils and mushrooms, so maybe I should be calling this gardener's pie? Whether it's beef, lamb or veggies – I love it all!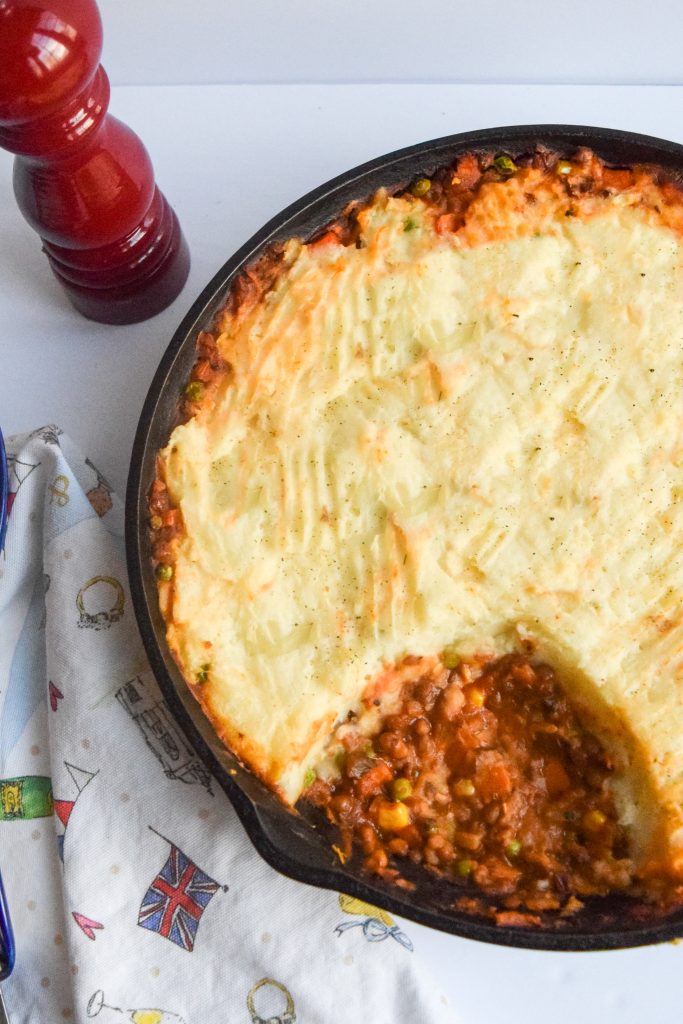 Mushroom & Lentil Shepherd's Pie
Potatoes – these lil' guys get a lot of hate for no good reason. Potatoes are high in potassium (more than the poster child of potassium, the banana) and Vitamin C, B6 and give us some fibre. The key to incorporating potatoes into a balanced diet is to treat them as a starch like you would bread, grains or pasta. There is absolutely no reason not to add them into a meal along with other veggies!
Carrots – a couple of carrots will help you meet your vitamin A needs for the day, good for eye, immune and heart health. More on that here.
White mushrooms – also a source of potassium and they help to mimic that meat-like texture.
Tomato paste – more potassium here!
Frozen peas – an underrated and affordable way to get in your fibre!
Frozen corn – a little bit of fibre here!
Canned lentils – these totally bump up the protein and fibre, while contributing to, you guessed it, potassium!
Onion and garlic – for flavour!
Thyme, oregano, paprika – adds a little bit of spice!
Cornstarch – this helps thicken up the base
Olive oil – helps us to get in our unsaturated fat for better heart health.
Vegetable stock –  I would look for a low sodium stock and add salt if you feel it's needed!
Butter and milk – because I like a smoooooth mashed potato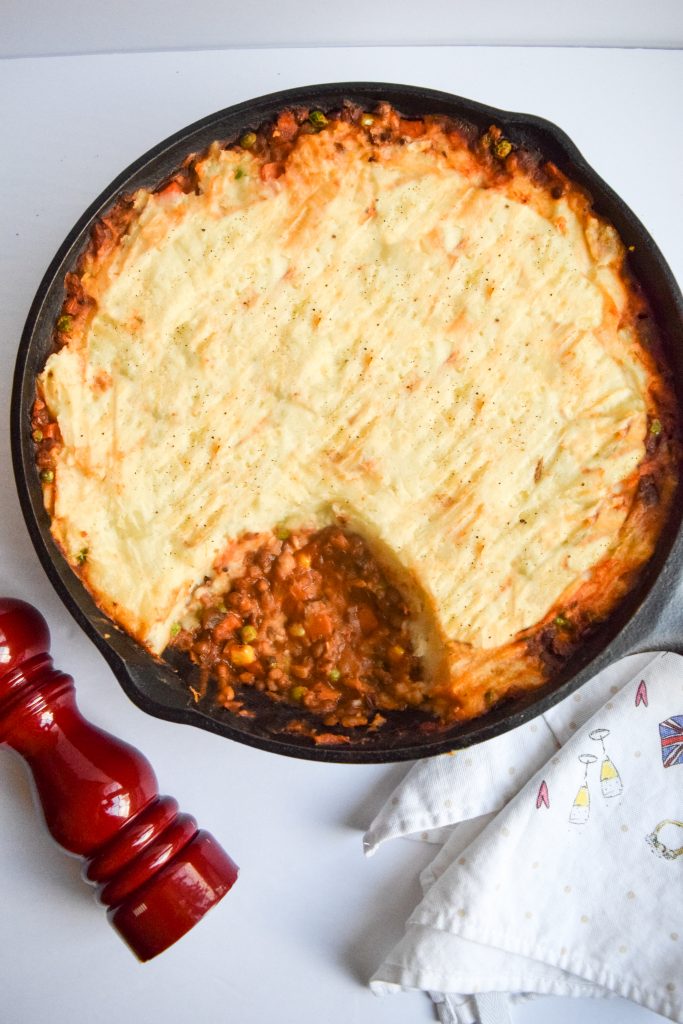 Nutrient Spotlight: Potassium
As previously mentioned, white potatoes are a great source of potassium. What is potassium you ask? First off, it falls into the mineral category. It helps the body keep your bones, kidneys, nerves and muscles healthy. There are two categories of minerals: macrominerals and trace minerals. Potassium is a macromineral, meaning you need it in larger quantities.
Does that mean you need a potassium supplement? Nope! According to UnlockFood, most people can meet their potassium needs with a healthy, balanced diet. I've mentioned this before, but do NOT start taking any type of supplement without speaking to your doctor first. Many of the ingredients in this dish contain potassium, but some others are kidney beans, avocado, squash and dairy milk. Check out my Fresh Spring Orzo Salad or Favourite Avocado Toast recipes for more high-potassium meals.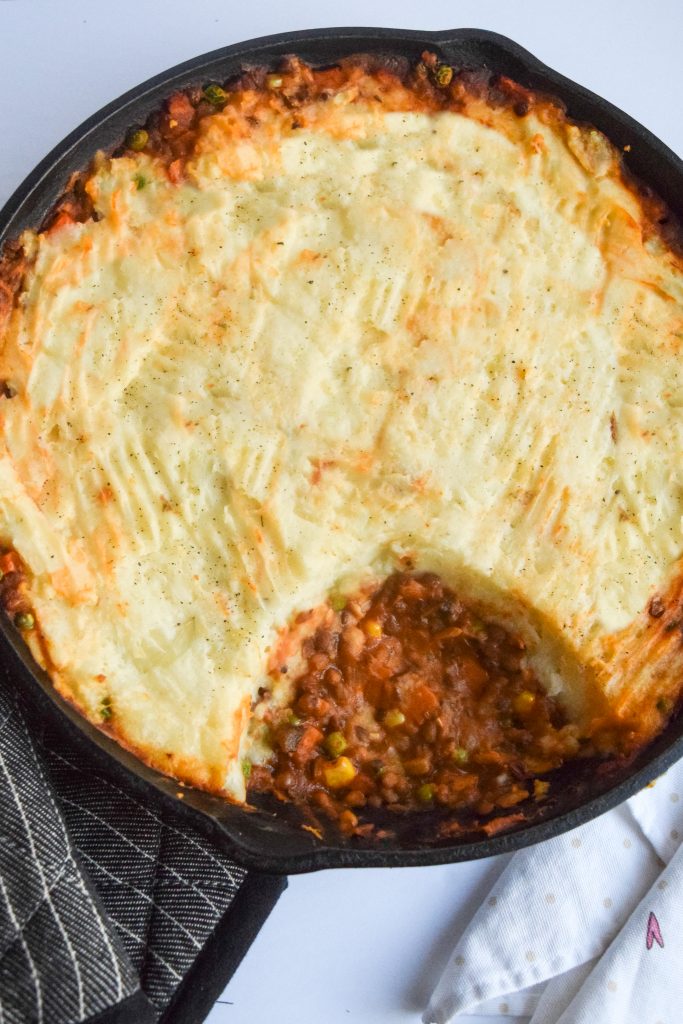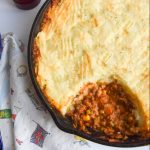 Print Recipe
Mushroom & Lentil Shepherd's Pie
This Mushroom & Lentil Shepherd's Pie is the perfect make-ahead, vegetarian meal for a cold day. Packed with plant-based protein and fibre!
Ingredients
5

medium potatoes (~ 1.5 lbs), peeled and quartered

2

tsp

salt

1/2

white onion, diced

1 large or 2 small

garlic cloves, minced

3

small carrots, chopped (~1 cup)

5

white mushrooms, diced (~ 1 cup)

1 (398 ml)

can

lentils (~ 1 2/3 cup)

1

tsp

dried thyme

1

tsp

dried oregano

1/2

tsp

smoked paprika (regular paprika is fine!)

2

tbsp

cornstarch

1 (156ml) can

tomato paste (~2/3 cup)

3/4

cup

frozen peas

3/4

cup

frozen corn

2

cups

vegetable stock

1/2

cup

milk

2

tbsp

butter
Instructions
Cook Potatoes
Place peeled and quartered potatoes into a large pot and cover with water.

Sprinkle with 1 tsp of salt and bring to a boil.

Once boiling, cover and simmer on low for 15-20 minutes or until potatoes are tender when pierced with a fork.

Once potatoes are done, drain and let cool.
Cook the Veggies
Meanwhile, preheat the oven to 350F.

Prep the garlic, onion, carrots and mushrooms if not already done.

Add 2 tsp oil to a hot pan. I used a cast-iron skillet and cooked the whole dish in it. You could also use a regular pan and then add it to a baking dish to put into the oven.

On medium-low, cook onions for about 2 minutes or until they start to go translucent.

Add garlic and cook until fragrant, about 1-2 minutes.

Add carrots and cook for 3-4 minutes or until carrots begin to soften.

Add mushrooms and lentils. Cook for 1-2 minutes.

Add spices and tomato paste. Add salt and pepper to taste. Cook for 2-3 minutes.

Add vegetable stock and cornstarch and bring to a simmer for about 5 minutes.

Throw in frozen peas and corn and mix to incorporate.
Putting it all together
Add 1 tsp of salt, milk and butter to potatoes and mash until smooth.

After veggies are cooked and cooled slightly, top with mashed potatoes and spread to cover all the edges (as you can tell by the pictures, I did not do this). You can do this right in the cast-iron pan or in a baking dish.

Put it in the oven for 20-25 minutes or until the top of the potatoes become slightly golden.