I'm pretty sure breakfast sandwiches are my love language, and after trying My Favourite Weekend Breakfast Sandwich, they will be yours too!
I live for slow weekend mornings with large cups of coffee and a nice, homemade breakfast sandwich. Preferably if somebody makes it for me! One of the best parts of having a healthy relationship with food is being able to enjoy all different types of food. There is no guilt or pressure to "make up" for those foods that might be a little bit less nutrient-dense. On weekdays, I love a good veggie omelette with whole-grain toast and fruit. On the weekends I'm looking for something a little more luxurious. Regardless of its contents, brioche makes any sandwich fancy and I am here for it! If breakfast sandwiches aren't your jam, check out my favourite avocado toast combo or chocolate cherry baked oats!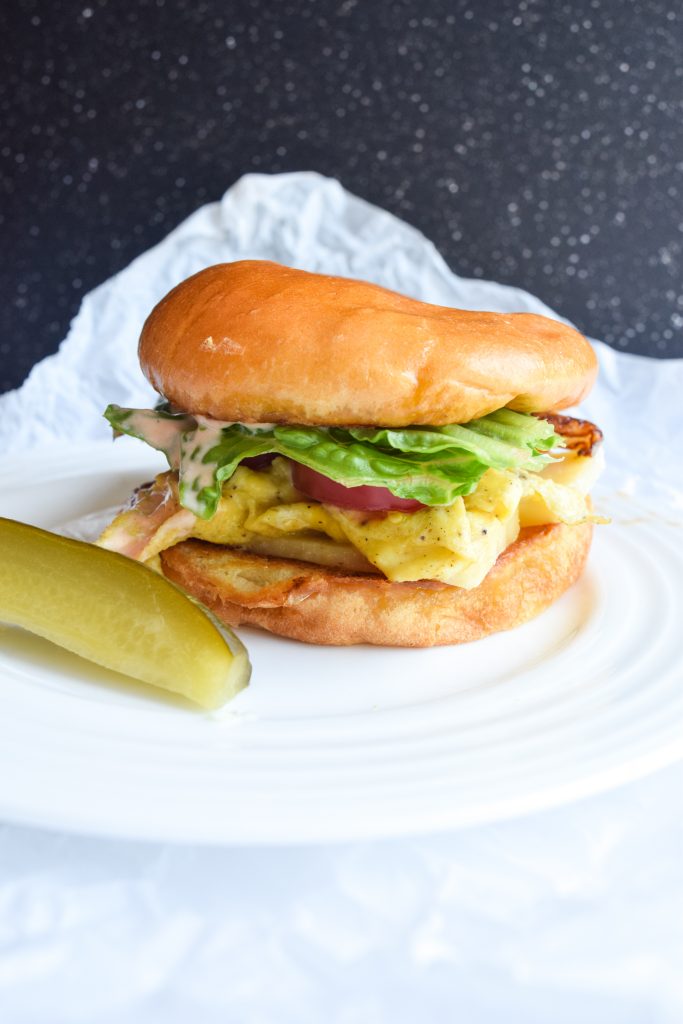 My Favourite Weekend Breakfast Sandwich
Egg – besides being a great source of protein and omega-3 fats, eggs are also high in vitamin A, D, E and B12, as well as some minerals!
Tomatoes – an excellent source of vitamin C!
Lettuce – lighter greens, such as lettuce, are missing some of the nutrients, such as calcium and potassium, that we see in darker leafy greens, but they're still a great way to get in some veggies!
Cheese – should all of your protein come from cheese? Probably not. But is it still a good source of protein? Of course! Calcium too!
Onions – nutrition-wise, there's not much going on in onions. But have you ever had caramelized onions? YUM!
Brioche bun – realistically, a brioche bun isn't the most nutrient-dense piece of bread you can have. But, I truly believe that one of the healthiest things you can do is allow yourself to enjoy the foods you love and then move on, guilt-free.
Mayo – traditionally, mayo was made from egg yolks, although what you find in the grocery stores nowadays is mostly made from vegetable oils, meaning that it primarily a source of unsaturated fat!
Butter – I used a tiny bit to cook the onions and toast the bread, but you could use olive oil or margarine!
Dill pickles – no sandwich, no matter what time of day, is complete without a dill pickle. Don't even try to convince me otherwise!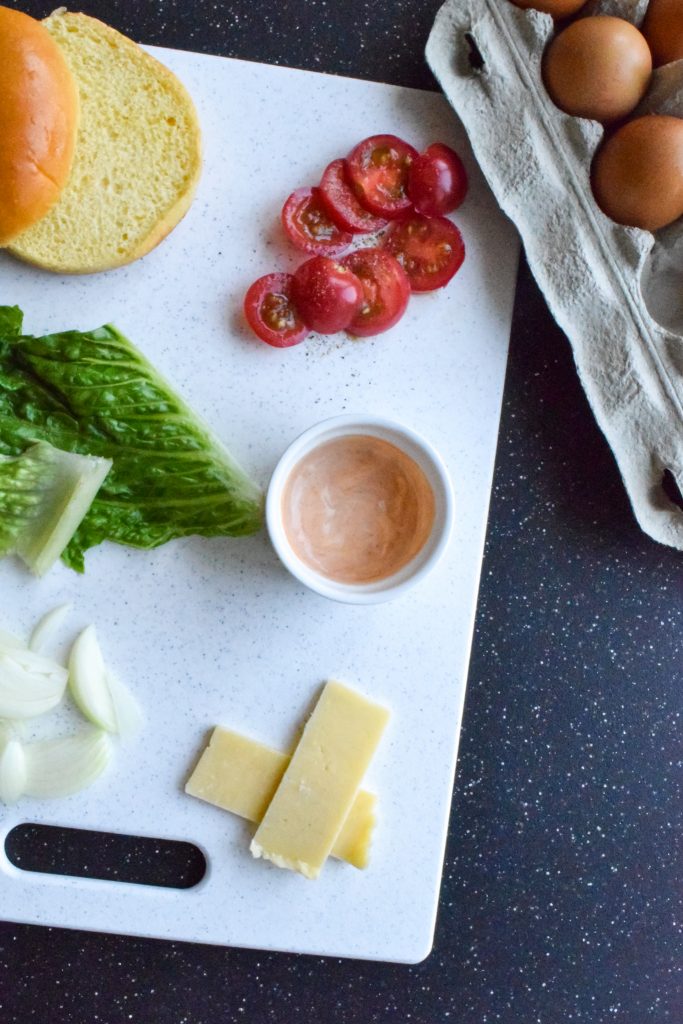 Nutrient Spotlight: Cholesterol
People often associate eggs with cholesterol and for a while, I feel like people were limiting their eggs in order to lower their cholesterol. What is this cholesterol I speak of? Cholesterol falls into the lipids category (so do fats). Our livers naturally produce cholesterol. It helps make certain hormones, vitamin D and digestive fluids. We call this blood cholesterol. The animal products we consume contain dietary cholesterol. Fruits, veggies and grains contain no cholesterol.
Blood Cholesterol
Blood cholesterol can be simplified into 2 types of cholesterol; high-density lipoprotein (HDL) and low-density lipoprotein (LDL). There's also very-low-density lipoprotein but we'll save that for another day. LDL is often referred to as the "bad cholesterol". Too much of it can lead to plaque build-up in your arteries and cause heart disease. HDL is what we call the "good cholesterol" because it helps to remove the LDL cholesterol. Both exercise and quitting smoking have been linked to higher levels of HDL cholesterol.
Dietary Cholesterol
For a while, it was thought that dietary cholesterol caused high blood cholesterol, but it's since been discovered to not have a high association. High blood cholesterol can be attributed to many things including family history, a diet high in trans and saturated fat, low physical activity and smoking. For most healthy people, limiting your dietary cholesterol is unnecessary. As I always say, be sure to discuss with your doctor or registered dietitian before making any major dietary changes. I would like to point out that although this may not be the most nutritious of recipes I've posted, and I am totally against any diet culture messages telling you that you need to cut things out in order to be healthy, I completely believe in making healthier choices, more often than not. One simple way you can do this is by adding more vegetarian meals to your diet!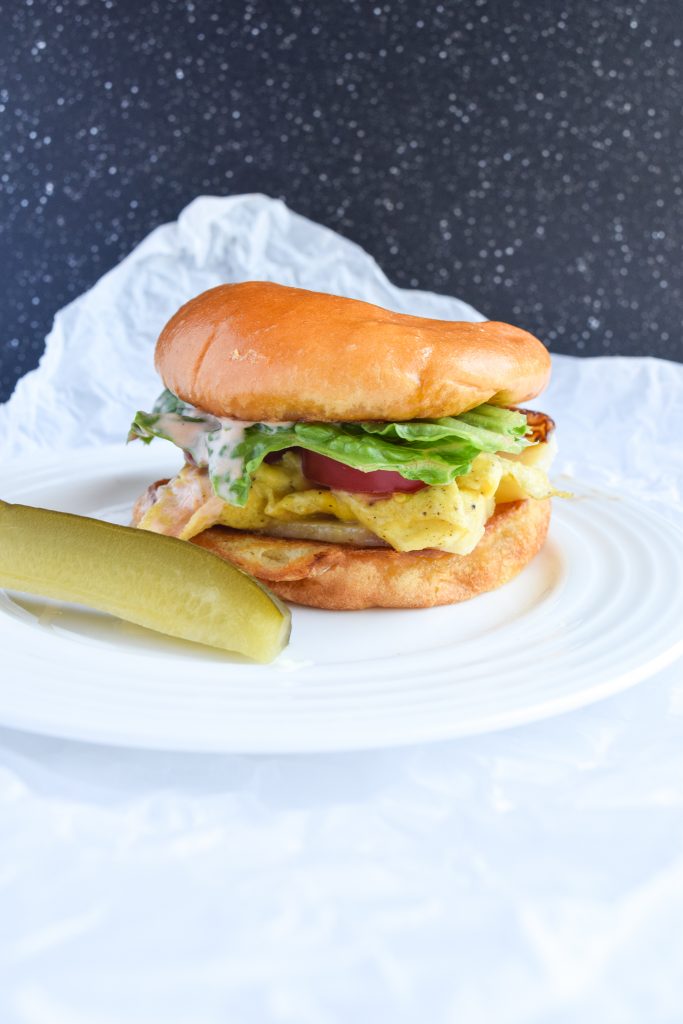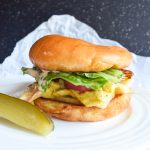 Print Recipe
My Favourite Weekend Breakfast Sandwich
Breakfast sandwiches are my love language, and after trying My Favourite Weekend Breakfast Sandwich, they will be yours too!
Ingredients
1/2

tbsp

butter

1/4 - 1/2

small white onion, sliced

2-3

cherry tomatoes

1-2

lettuce leaves

1

tbsp

mayo

2

slices old cheddar

2

tsp

sriracha

1

brioche bun

1

egg

salt & pepper to taste

1

dill pickle (optional but not really)
Instructions
In a frying pan on medium-low heat, melt butter.

Add sliced onions and sautée to your liking, stirring every minute or so.

While onions are cooking, prep tomatoes, cheese, lettuce, and spicy mayo. You can also whisk your egg at this point.

After 5 or so minutes, push onions to side and add brioche bun, facing down. Allow to toast until golden, 1-2 minutes. Remove and set aside.

Once onions are done, set aside. Add whisked egg to pan (you may need extra butter). Season with salt and pepper.

Cook egg to your liking (I like to let it cook for 45ish seconds, folding it over once or twice.

Place sliced cheese on bottom bun and add egg overtop to melt. Top with tomatoes, lettuce and onions. Spread spicy mayo on top bun and add to sandwich. Add pickle skewer on the side.