Inspired by a recent cooking class, these Spicy Garlic Noodles with Kimchi and Veggies make for a quick, easy and flavourful dinner.
My mom and I are on our last week of a Cooking Around the World Class with Phil Bernardino, of The Hungry Flight Attendant. It has been a blast, and we've cooked meals we never would have otherwise. Last week we tried kimchi for the first time, and I have to say, I was skeptical. It has a very strong smell when you open the jar and raw, it wasn't for me. We cooked it down and made fried rice and holy cow, it was super tasty. I found the flavour really mellowed out but still added a nice punch. I liked it so much I decided to use it again this week in this spicy, garlicky, kimchi-y dish. My definition of spicy is kind of laughable, so feel free to build up the spice to your liking!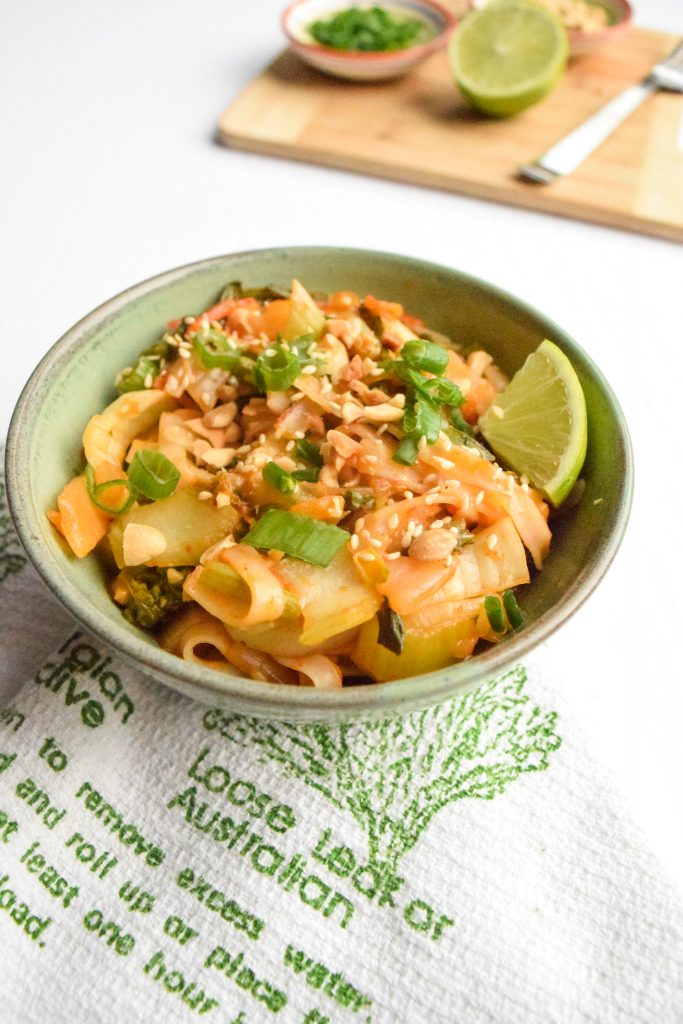 Spicy Garlic Noodles with Kimchi and Veggies
Rice noodles – I wouldn't say these are a particularly nutrient-dense food (there's not much to them) but they are an excellent vessel for a sit fry-type meal.
Rapini and bok choy – darky leafy greens are super nutritious; they contain folate, calcium, vitamin A and C. They're also a great source of fibre! I used rapini cause that is what we had, but you can swap for broccoli or something else for a milder flavour!
Kimchi –  I'm about to get into kimchi below, but in terms of nutrition, there's not much to it either. Although, it can be fairly high in sodium.
Sesame oil, garlic, ginger, green onions, lime – These are just fun things to add for flavour, without adding sodium.
Sambal Oelek –  Sambal is an Indonesian chili paste that I believe is available at pretty much all grocery stores. If you can't find it, you could substitute another type of chili paste!
Soy sauce – I like to go for low-sodium soy sauce and adjust it to my taste.
Sesame seeds and peanuts – Nuts and seeds are a great source of protein, fibre and omega-3 fats. As a garnish, it's not really an adequate protein* source, but these little things add up in terms of satiety!
*Speaking of protein, I kind of forgot when I made this, but it was so delicious I wanted to share it anyway. I ate the leftovers with a fried egg, but you can cook virtually any type of protein in this sauce and it would be fire 🔥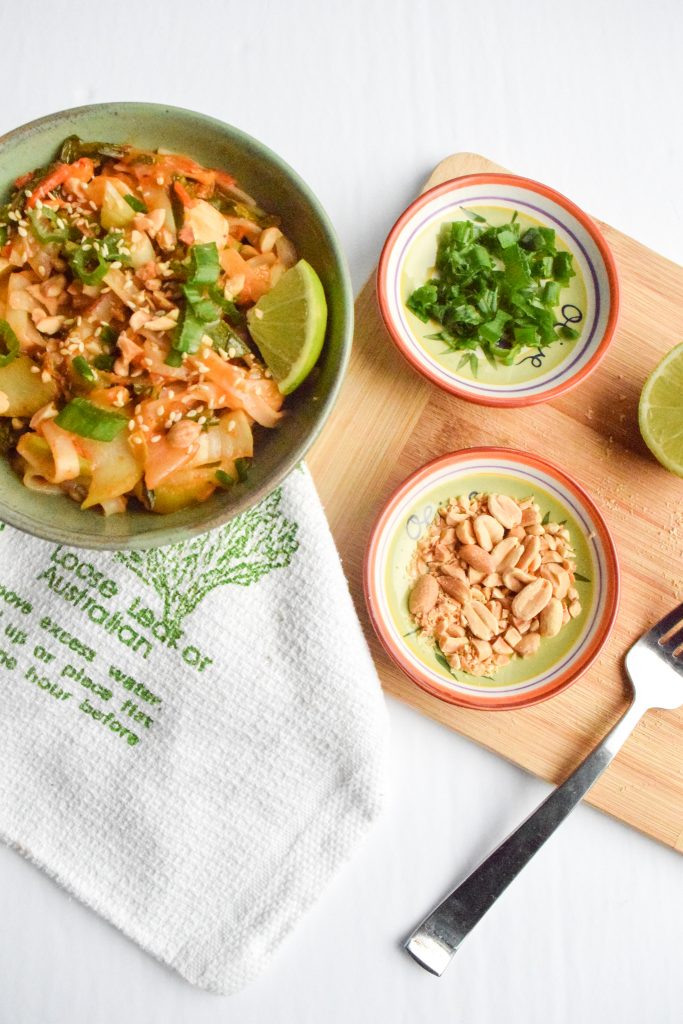 Ingredient Spotlight: Kimchi!
Kimchi is a banchan (Korean side dish) made of fermented vegetables. According to Amber Lee from Basically, kimchi has been around since at least the 10th century, and possibly longer. Due to the cold winter weather in Korea, fermenting food was an essential method of preservation. Typical kimchi is made by pickling vegetables (often Napa cabbage, Korean radish and cucumber) in brine (water with a high concentration of salt). Although, in the Korean Kimchi Cookbook, kimchi ingredients can include squid, green persimmon, oysters or octopus. Veggies or seafood are then drained and combined with a paste of Korean chili pepper, called gochugaru, fish sauce and water. The concoction is sealed and ferments in the fridge!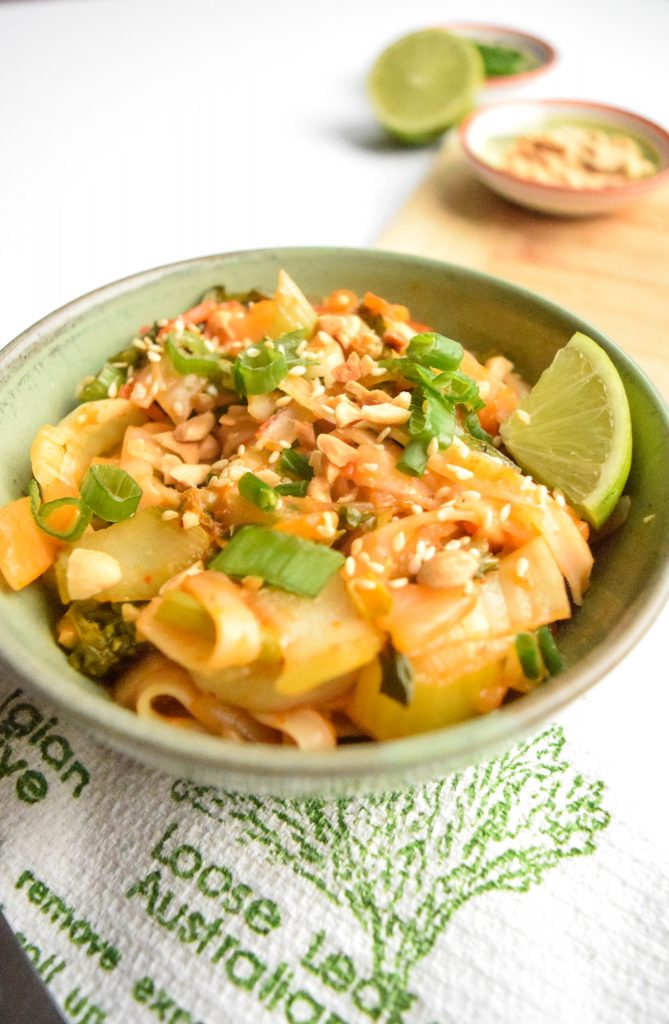 What's Up With Fermented Foods?
Fermented foods are defined as being produced through controlled microbial growth and the enzymatic conversion of food components. These are things like kefir, kombucha, tempeh, wine and beer, kimchi and even sourdough. So how does this happen? Well, it can happen in one of two ways. The first occurs when microorganisms naturally present in the food cause fermentation. Simply put, these microorganisms "eat" the sugar found in carbohydrates and turn it into lactic acid. This is what happens with kimchi and sauerkraut.
The second method is when microorganisms are added, like kefir, kombucha and sourdough. Historically, fermentation has been used as an effective method of food preservation, since the pH is often lowered, making it less hospitable for the things that spoil our food. However, Western culture in recent years has seen a surplus of fermented food products due to proposed health benefits and an increased interest in gastrointestinal health.
Do Fermented Foods Lead to Better Health?
Like most things with nutrition, it's not as simple as fermented foods = better health. Different types of fermented foods have different bacterial strains which all have different effects on the body. Many studies have been done looking at a variety of fermented foods as they relate to a variety of health conditions, such as obesity, type 2 diabetes and cardiovascular disease, to name a few. However, a lot of these studies had very small sample sizes or were not randomized control trials (the gold standard).
It's important to note that your gastrointestinal system naturally has tons of microorganisms and bacteria in it. One of the biggest cases for eating fermented foods is that they may diversity your gut microbiome (aka introduce more microorganisms into your GI system which is good for digestion). More human research needs to be done to determine its effects on chronic illnesses. If you like some of these fermented foods, great! For the average, healthy person, eating fermented foods probably won't have. great effect on your gastrointestinal health. As always, consult a dietitian or doctor before making any major changes to your diet.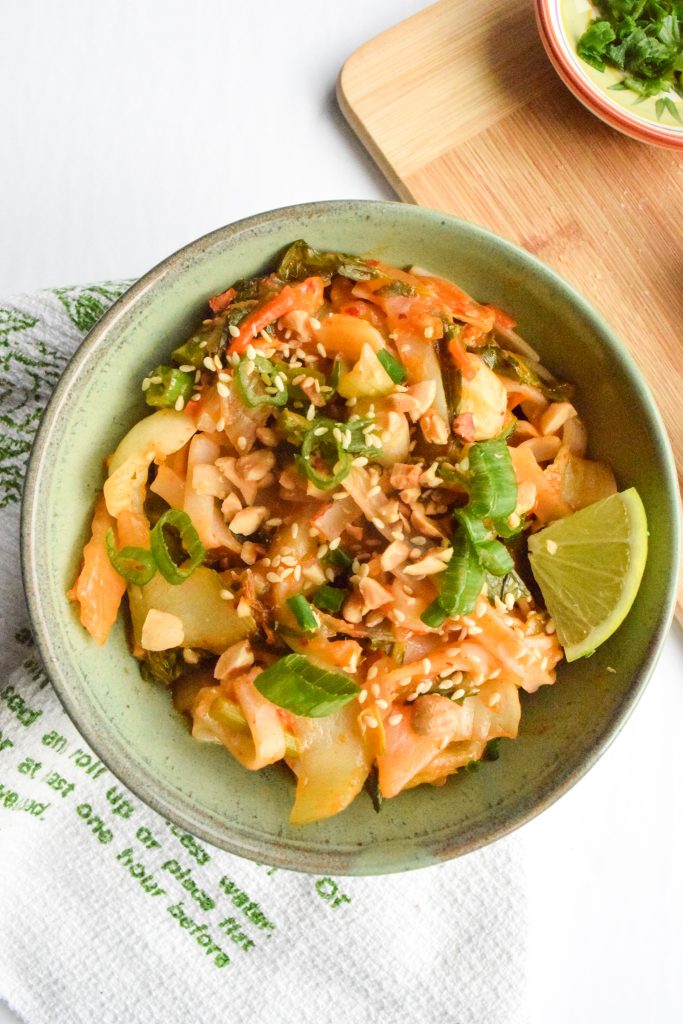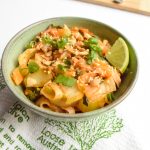 Print Recipe
Spicy Garlic Noodles with Kimchi & Veggies
Inspired by a recent cooking class, these Spicy Garlic Noodles with Kimchi and Veggies make for a quick, easy and flavourful dinner.
Ingredients
1.5

cups

rapini, chopped

1.5

cups

baby bok choy, chopped

1

cup

kimchi, finely diced

2

cloves

garlic, finely chopped

1

tsp

ginger, finely chopped

8

oz. (~230 g)

rice noodles

1

tbsp

sesame oil

1

tbsp

Sambal Oelek

1

tbsp

soy sauce

1

green onion, chopped

1

tbsp

peanuts, chopped

1

tbsp

sesame seeds

juice of

1/2

lime
Instructions
Prep veggies
Chop rapini and bok choy into 1-inch sized pieces. Set aside.

Chop garlic and ginger. Set aside.
Cook noodles
Cook rice noodles according to package instructions (these are always different). I cooked mine in boiling water for around 7-9 minutes. Taste to test doneness, but remember they will continue to cook a bit once added to the pan.

Before draining noodles, reserve a mug of starchy water.
Put it all together
In a wok or frying pan with high sides, heat sesame oil on medium-low.

Once hot, add garlic and ginger. Cook for 1-2 minutes or until fragrant.

Add sambal, soy sauce and kimchi. Bring temperature up slightly and allow sauce to thicken (1-2 minutes).

Add rapini and bok choy. Cook until tender (3-4 minutes).

Meanwhile, chop green onions and peanuts.

Add noodles to the sauce and veggies. Add in 1/2 mug of the water from noodles.

Cook until sauce coats noodles (about another minute).

Top with green onions, sesame seeds, chopped peanuts and lime juice.