This Cheesy Spinach Artichoke Orzo with Chicken Thighs is such a tasty balanced meal that comes together in one pan in under an hour!
I love a one-pan, orzo and protein dish. Chicken, fish, shrimp – it's all good! This dish is no exception, it's cheesy, the chicken is super tender and the brininess of the artichokes ties everything together.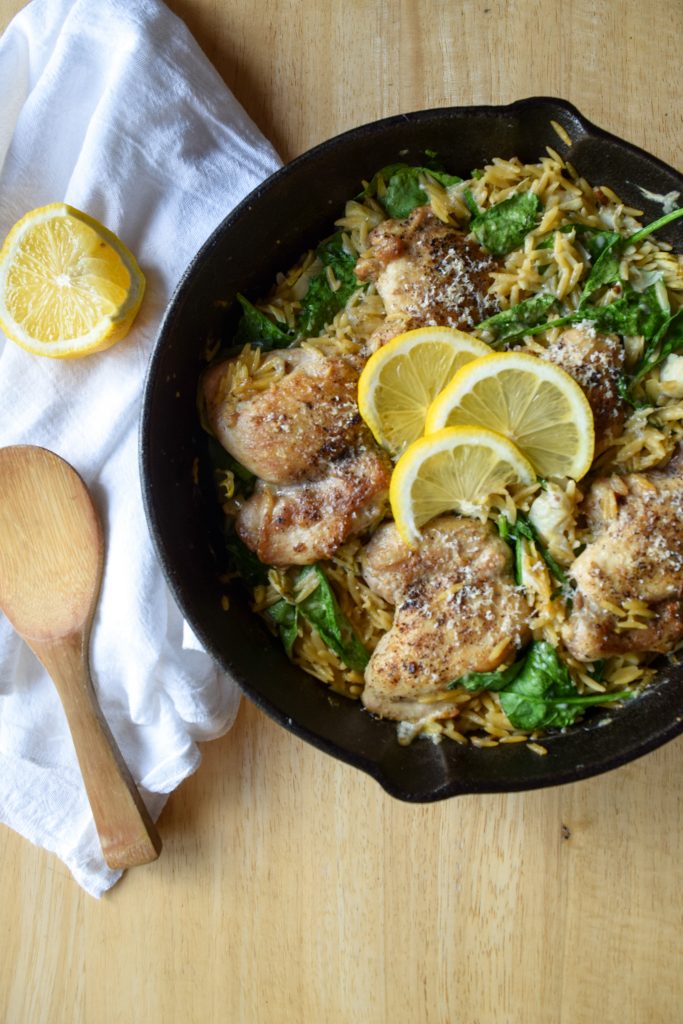 Cheesy Spinach & Artichoke Orzo with Chicken Thighs
Chicken thighs – these will be much more tender and flavourful than chicken breasts due to a higher fat content. Although, nutritionally, they are not so different that one really outweighs the other. You could make this with breasts too.
Orzo – a small rice-shaped pasta, it has the same nutritional value as any white pasta. I think it's a delicious source of starch that pairs well with protein and fibre!
Spinach – a great source of folate, vitamin A, vitamin C, calcium and fibre!
Canned artichokes – full of fibre, calcium, vitamin A and C, and iron. You can also opt for a jar of marinated artichokes, but those will likely be much higher in sodium.
Mozzarella and parmesan – cheese tends to get a bad rap, but it can be a good way to get in some protein as well as calcium. If it's something you like, there's definitely no need to exclude it!
Lemon, garlic, onion – a great way to add in flavour without amping up the salt.
Chicken broth – I personally like to get the low-sodium kind so I can control the amount of salt myself.
White wine – I think this might be my first recipe which includes alcohol of any variety. This is used to deglaze the pan and then is cooked off!
Salt and pep – an obvious flavourful addition!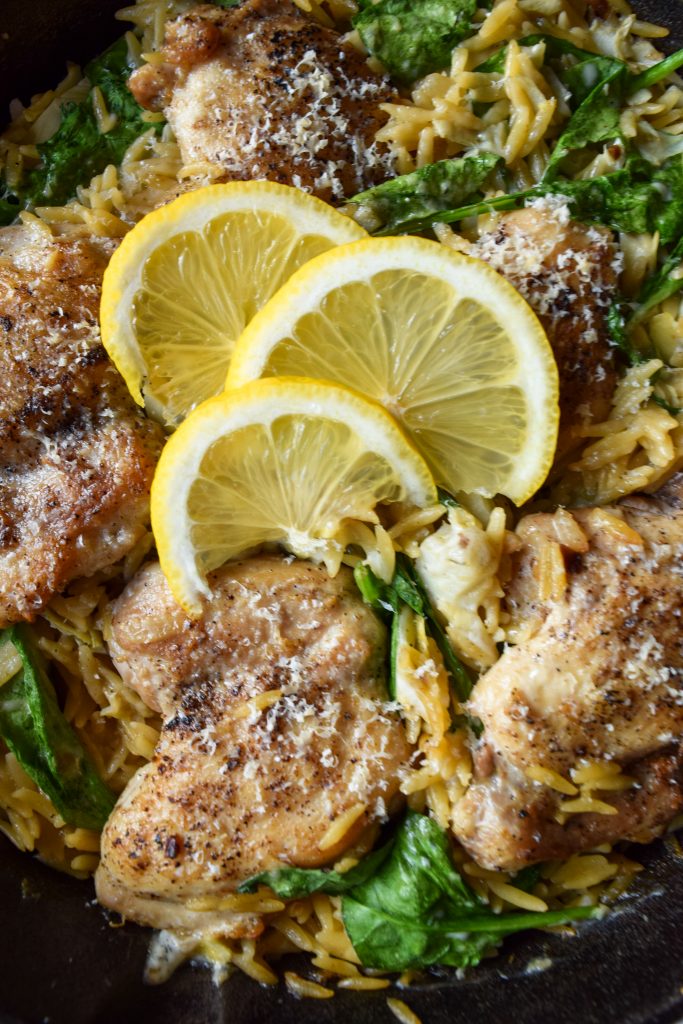 Let's Talk About Carbs!
We're going back to basics with this today's nutrient spotlight – carbohydrates. Carbs are one of 3 macronutrients (the other two being proteins and fats), in fact, they are the ones that we need to eat the most of. 45-65% of your daily calories should be coming from carbohydrates. People tend to associate carbs with things like bread and pasta, but they are also found in fruits, vegetables, legumes and dairy, as well as sweets and treats.
Carbohydrates break down in the body into glucose, which is its preferred source of energy. All of our cells require glucose to function properly, so it's really important to be eating enough carbohydrates. For most, this isn't an issue, but for those who are "cutting out carbs" which normally means excluding starches like bread and pasta, they may find themselves feeling sluggish, having trouble recovering after a workout or having bathroom issues.
So what do I mean by starches? Starches are a chain of multiple glucose units we find in plants. In the field of nutrition, we often refer to certain foods as starches or starchy carbs. These are things like rice and wheat, but also certain veggies like potatoes, squash and corn. When we want to make a balanced plate, we want to aim for 1/4 starches, 1/4 protein and 1/2 vegetables and fruit. So this doesn't mean you should avoid potatoes and corn, but rather pair them with salad and a protein rather than rice and a protein.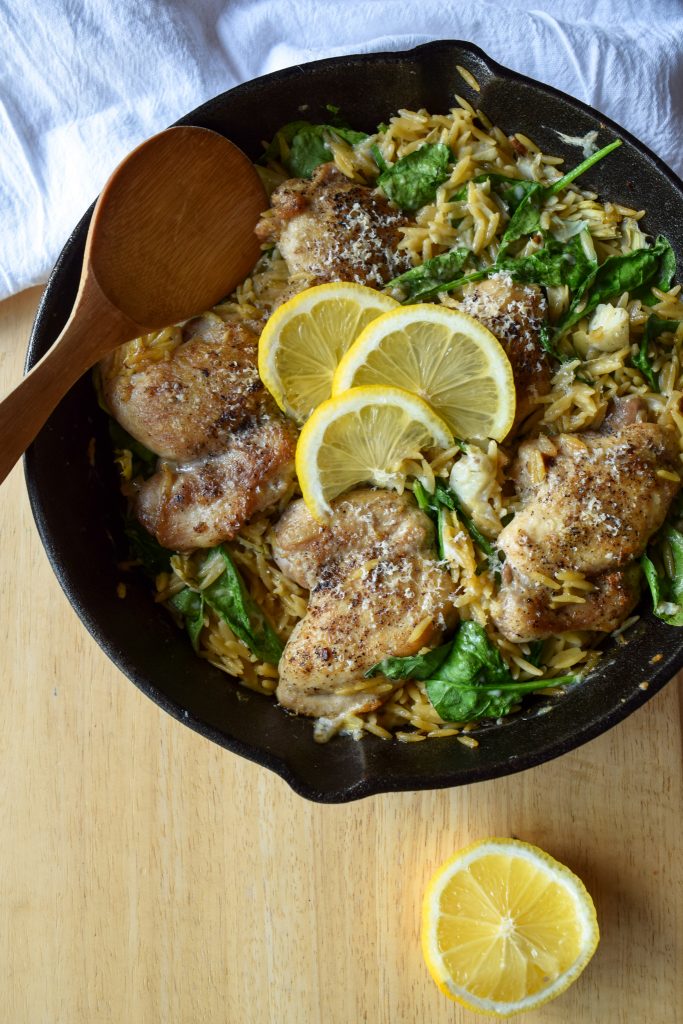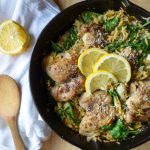 Print Recipe
Cheesy Spinach & Artichoke Orzo with Chicken Thighs
This Cheesy Spinach Artichoke Orzo with Chicken Thighs is such a tasty balanced meal that comes together in one pan in under an hour!
Ingredients
6-8

chicken thighs

2

tbsp

olive oil

1

tsp

salt

pepper

1

tsp

garlic powder

1/2

yellow onion, diced

2

garlic cloves, finely diced

1

cup

orzo

1/3

cup

dry white wine

chicken broth or even water will work as well

1

cup

low sodium chicken broth

3

canned artichokes

1/2

cup

shredded mozzarella cheese

2

tbsp

shredded parmesan cheese

2

large handfuls

baby spinach

1 1/2

lemon
Instructions
Heat 2 tbsp of oil in a cast iron skillet over medium heat.

Season chicken breasts on both sides with salt, pepper and garlic powder.

Cook chicken until golden brown, 3-5 minutes per side. Once cooked, remove chicken from pan and set aside.

Add in diced onion and cook for 1-2 mins until translucent. Add garlic and cook for another 1 minute.

Add in dry orzo and mix. Cook for 1-2 minutes until orzo is slightly darker and has a toasty smell.

Add in white wine to deglaze pan (it will bubble up). Scrape all the crispy bits from the bottom of pan and allow to simmer for another minute or until you no longer smell the wine.

Add in chicken broth and bring to a boil.

Once boiling, add chicken back in and put in the oven, covered. If you don't have a cover for your pan, a cookie sheet works just fine.

While the chicken is cooking, thinly slice artichokes and grate the cheese.

Once orzo is cooked (~15 mins), remove chicken from pan once again. Mix in artichokes, mozzarella and spinach.

Set oven to broil, add chicken back in one final time and place pan back in oven, uncovered, for 1-2 minutes (watch carefully as it will burn if left in too long).

Remove from oven, top with juice of 1 lemon, parmesan cheese and additional lemon slices.