This Holiday Gingerbread French Toast is perfect for a cozy day in during the winter break, topped with fresh pomegranate and maple syrup!

I meant for this recipe to go up before the holidays, but here we are on December 27th. Oh well! You can still enjoy this during the foggy few days between Christmas and New Year's. It's pretty quick and easy to make for guests, and who doesn't love gingerbread?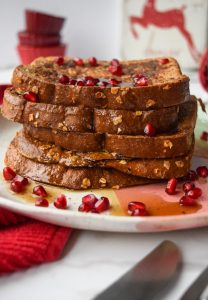 Holiday Gingerbread French Toast
Eggs – a great source of protein, vitamin A, D, E and B12
Milk – cow's milk is my preference, but you can use whatever milk you like
Bread – if you're not crazy about the taste of whole grain, french toast is a great way to enjoy it!
Sugar and salt – obviously not our most nutritious ingredients, but hey, it's the holidays, let's enjoy our food!
Molasses – the byproduct of turning sugar cane into sugar, molasses actually contains iron, magnesium, B6 and calcium, but in such a small quantity, it's pretty much negligable.
Cinnamon, ginger, allspice, nutmeg, cloves – to add a little bit of spice and get that nice, warm gingerbread flavour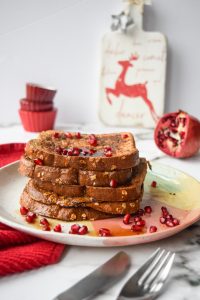 Nutrition Spotlight: Vitamin D
Also known as "the sunshine vitamin", I can't believe we've never talked about vitamin D before! The majority of our body's vitamin D is made by our skin through sunlight, but only without sunscreen on. It is also found in various foods like eggs, cow's milk (and most non-dairy milks), salmon as well as mushrooms. These foods can help someone optimize their vitamin D intake, but it can be hard to get enough from food sources alone. According to the Canadian Health Measures Survey, 30.5% of women aged 20-39 are vitamin D deficient. Obviously, there is a risk with spending too much time in the sun without sunscreen, so a lot of people take a vitamin D supplement, especially during the winter. As I always say, it is extremely important to speak to a registered dietitian or a doctor before starting new supplements.
So why is this vitamin so important? Well, it plays a very important role in the body. It works together with calcium and phosphorus for bone health, and plays a role in inflammatory responses and immunity. It also may be play an important role during pregnancy for both the mother and the baby.
Looking for more recipes containing foods with vitamin D? How about Mango & Dark Chocolate Overnight Oats, Salmon Burgers with Homemade Tartar Sauce or Black Bean Breakfast Tostadas?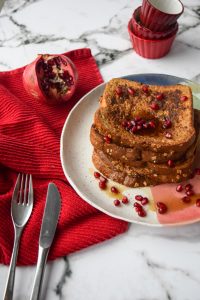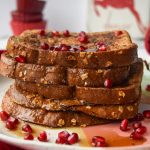 Print Recipe
Holiday Gingerbread French Toast
This Holiday Gingerbread French Toast is perfect for a cozy day in during the winter break, topped with fresh pomegranate and maple syrup!
Servings:
4
pieces of french toast
Ingredients
2

tsp

molasses

1/3

cup

milk of choice

1 1/2

tbsp

white sugar

1/4

tsp

salt

1/2

tsp

cinnamon

1/4

tsp

ginger

1/4

tsp

nutmeg

1/8

tsp

allspice

1/8

tsp

cloves

butter, oil or margarine (just to cover pan)

maple syrup, pomegranate, toppings of your choice
Instructions
In a bowl, whisk 3 eggs. Something shallow but wide works best!

Add 2 tsp of molasses and whisk until fully incorporated into the eggs (this might take a minute!)

Add in 1/3 cup of milk and mix.

Add in remaining ingredients: 1 1/2 tbsp white sugar, 1/4 tsp salt, 1/2 tsp cinnamon, 1/4 tsp ginger, 1/4 tsp nutmeg, 1/8 tsp allspice, 1/8 tsp cloves. Whisk until fully combined.

Dip each piece of bread into the egg mixture and allow to sit. I like to leave it for at least 2 minutes on each side to allow the egg to soak through the bread.

Put a large frying pan on medium-high heat. Add a tiny bit bit of butter, oil or margarine and allow to melt and cover pan.

Add egg to hot pan and cook for 2-3 minutes per side, or until golden brown.

Top with maple syrup, fresh pomegranate or whatever toppings you like!