These Spicy Tofu Bowls with Citrus Salad are fresh, colourful and packed with protein, just in time for spring!
I've been loving making vegetarian dishes lately and have especially been excited about tofu! I always thought it was really hard to cook with, but it's so fun to experiment and try out different flavour profiles. This is how these fun little tofu bowls came to be. Packed with crispy tofu, brown rice, avocado and a delicious citrus salad!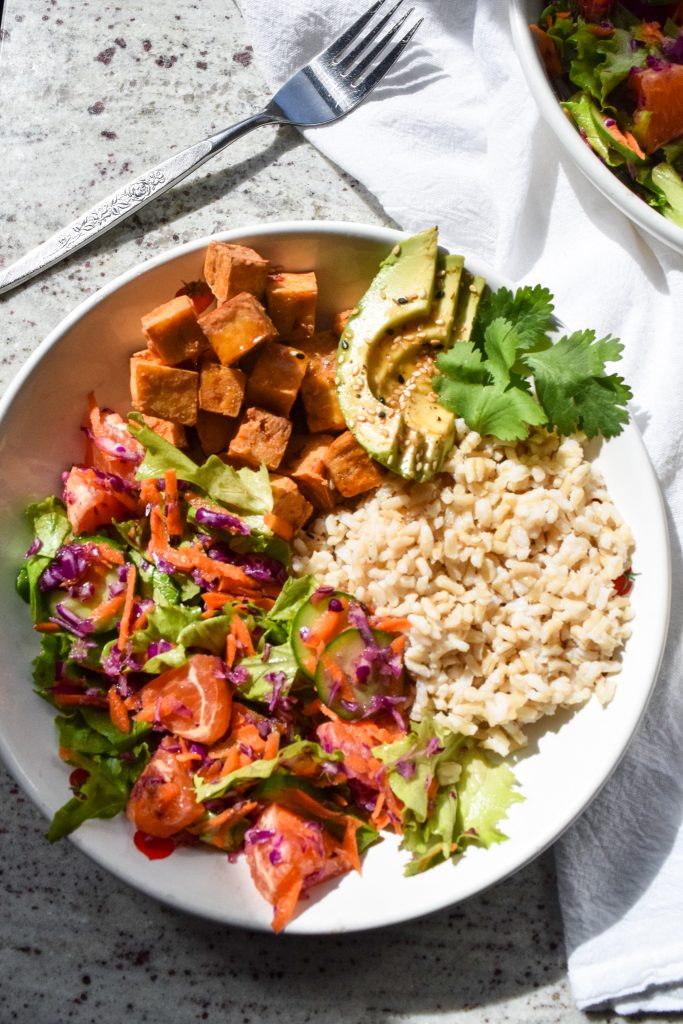 Spicy Tofu Bowls with Citrus Salad
Tofu – an excellent source of plant-based protein, and a complete one at that! A complete protein means it gives you all 9 essential amino acids, the ones your body can't make itself.
Brown Rice – I personally love brown rice in a bowl like this, it adds a little extra fiber and protein,  but the difference isn't drastic so pick what you like!
Avocado – besides providing unsaturated fats (the kind we want to choose more often), did you know 1/2 an avocado has 8 g of fibre?
Lettuce, cucumbers – always a good way to add in some extra greens!
Carrots – I love carrots for crunch, fiber and beta-carotene (which our bodies can turn into vitamin A!)
Purple Cabbage – a great source of fiber and vitamin C, as well as antioxidants! Plus it lasts forever in the fridge!
Cara Cara Orange – this orange has a more pinky flesh and it's more sweet than tart. You're welcome to use any orange variety!
Sambal, soy sauce, sesame oil, maple syrup – these will add some fun flavour profiles to our meal!
Cornstarch – this is the KEY to crunchy tofu!
Sesame seeds – these add a fun visual aspect while providing a bit of extra fiber and protein!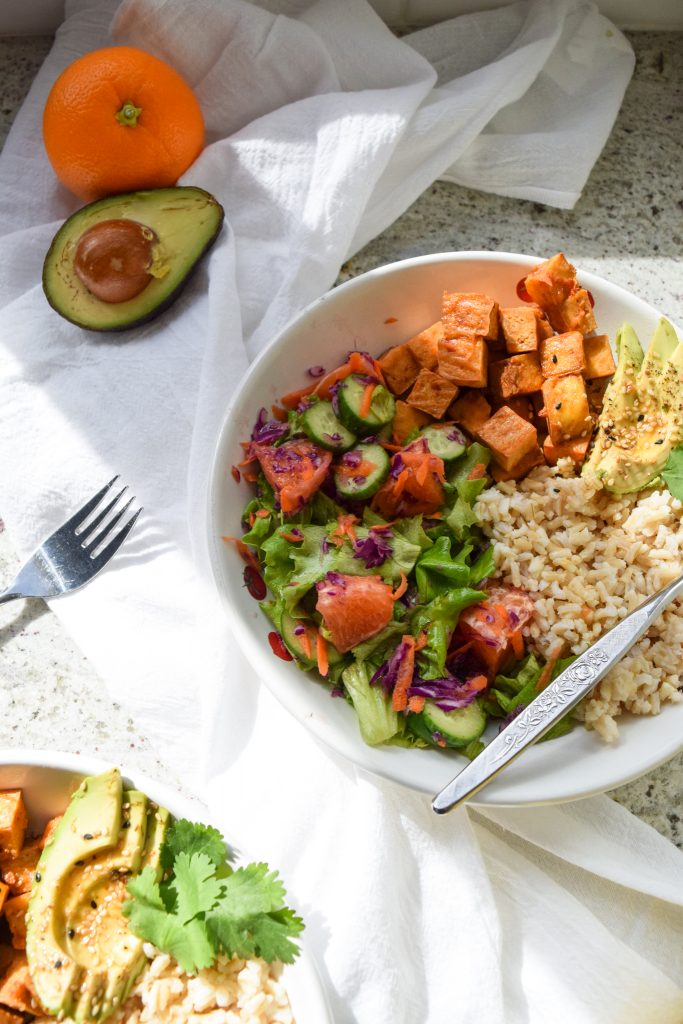 Nutrient Spotlight: Soy
Soy products such as soy beverages, edamame, tempeh and tofu have gained popularity over the years, especially with more people adopting a plant-based lifestyle. But there's also some confusion on whether soy is good or bad and how much should be eaten. So let's clear some things up!
Soy comes from a soybean plant, which is part of the same family as beans and lentils. As mentioned previously, soy is a complete amino acid and provides even more protein per g than some meats. However, plant-based protein is less bioavailable than animal protein, meaning we don't absorb as much of it. Soy also contained unsaturated fats, which you can find out more about here! It's also a good source of iron and calcium.
The optimal intake of soy to provide health benefits is still unknown. According to PEN and Dietitians of Canada, eating 30 g of soy daily can lower your LDL cholesterol by a small amount. Soy may also decrease blood pressure when consumed by post-menopausal women. There is also a potential role of soy in the prevention of breast cancer, although this is an area that needs more research. As always, if you're concerned about eating soy, make sure to consult a registered dietitian!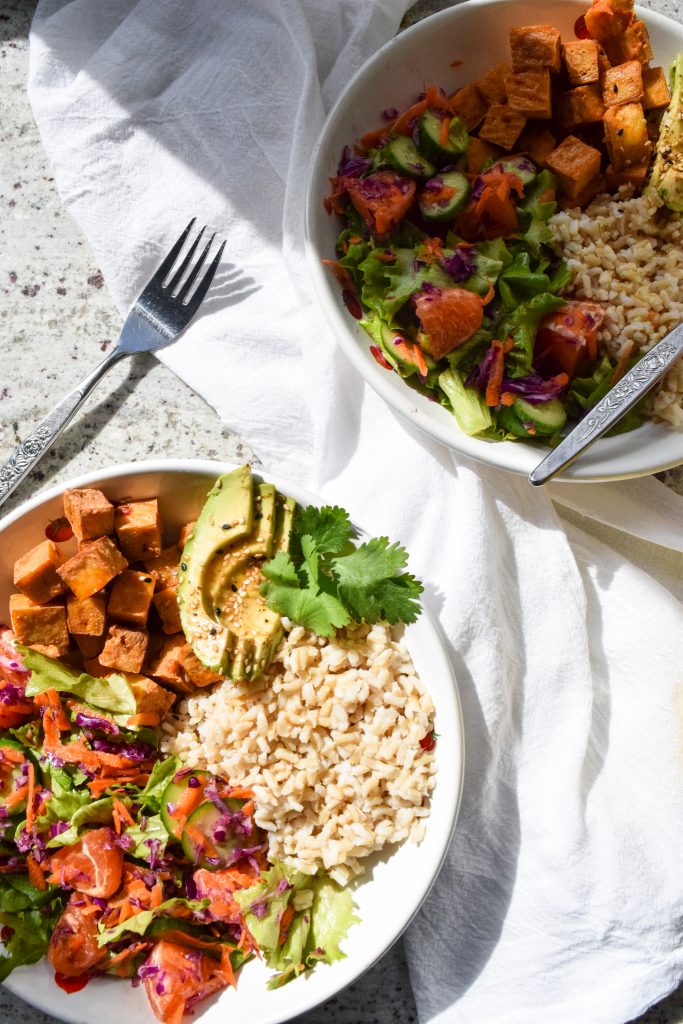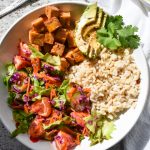 Print Recipe
Spicy Tofu Bowls with Citrus Salad
These Spicy Tofu Bowls with Citrus Salad are fresh, colourful and packed with protein, just in time for spring!
Ingredients
1

350 g

package of extra firm tofu

1 -2

tbsp

sambal oelek (or chili garlic paste)

depending on how spicy you'd like them!

1

tbsp

soy sauce

1

tsp

sesame oil

2

tbsp

cornstarch

3/4

cup

brown rice (or rice of your choosing)
Citrus Salad
2

cups

lettuce

2

medium carrots,

shredded

1/2

cup

shredded purple cabbage

3

baby cucumbers, sliced

2

cara cara oranges

4

tbsp

sesame oil

2

tsp

maple syrup

2

tsp

soy sauce

2

avocados

1

tbsp

sesame seeds
Instructions
Make Tofu
Preheat oven to 400 degrees and line a baking sheet with parchment paper.

Cut tofu into small cubes and add to a medium sized bowl.

Combine 1 tbsp sambal, 1 tbsp soy sauce and 1 tsp sesame oil in a small bowl. Pour overtop tofu and mix to cover.

Sprinkle tofu with 1 tbsp of cornstarch and mix to cover. Add another 1 tbsp and repeat.

Spread tofu out onto parchment paper. Bake for 30 minutes, stopping halfway to turn tofu over.
Cook Rice
Cook 3/4 cup of brown rice according to package instructions.
Salad and Toppings
While tofu and rice are cooking prepare salad. In a large bowl, add 2 cups of lettuce.

Shred two carrots and 1/2 a cup of purple cabbage. Slice baby cucumbers. Add to bowl.

Peel 1 cara cara orange and slice sections into 3. Add to bowl.

To make the dressing, add the zest and juice of the other cara cara orange, 2 tbsp sesame oil, 1 tsp maple syrup, 1 tsp soy sauce and salt to taste. Mix to combine.

Dress salad with 1/2-3/4 of dressing.
Putting it all together!
Once tofu comes out of oven, add a pinch of salt and toss to combine.

Assemble bowls with rice, tofu and salad. Top with avocado, sesame seeds and remaining salad dressing.