The perfect mix of salty, savoury and fresh; an Everything Bagel Breakfast Sandwich with Caramelized Onions.
I love a good breakfast sandwich and I've recently become obsessed with everything bagels. Or if you're in Montreal, they're called tout garnie! You should be because we have the best bagels. These ones in particular are from Dizz's, who also have amazing sandwiches. The chicken salad is my absolute favourite!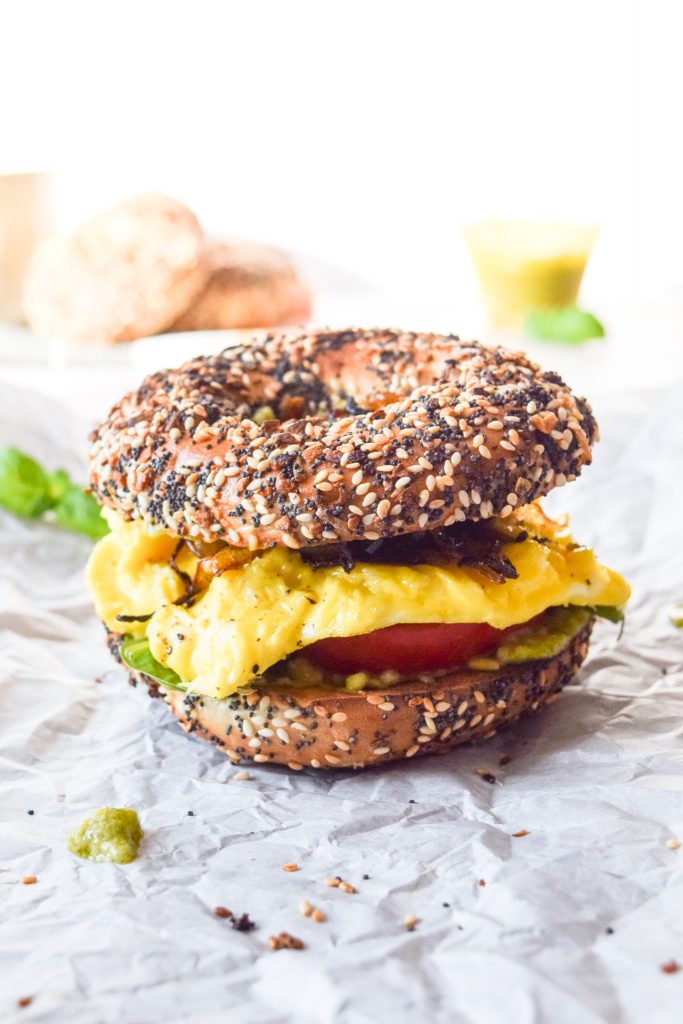 Everything Bagel Breakfast Sandwich with Caramelized Onions
Egg – eggs are a complete protein, meaning they contain all of the essential amino acids that our bodies don't produce. If eggs fit into your diet, they are a really healthy choice!
Tomato – a great source of Vitamin C, important for a variety of bodily functions, including absorption of iron from plant-based sources
Spinach – packed with folate, vitamin A, vitamin C, calcium and fibre!
Bagel – I feel like bagels get a bad rap, because they tend to be more dense than a piece of bread and therefore, higher in calories. But lower calories does not necessarily mean healthier, and you can totally fit bagels into a healthy diet if you enjoy them!
Pesto – I usually buy storebought, but my friend Andrea D'Ambrosio from Dietetic Directions has tons of homemade pesto recipes!
Mayonaise – another bad rap food, but most mayonnaise these days is made with vegetable oil and is therefore, pretty low in saturated fats. A little mayo is definitely fine!
Olive oil – another source of unsaturated fats, which we want to choose most often!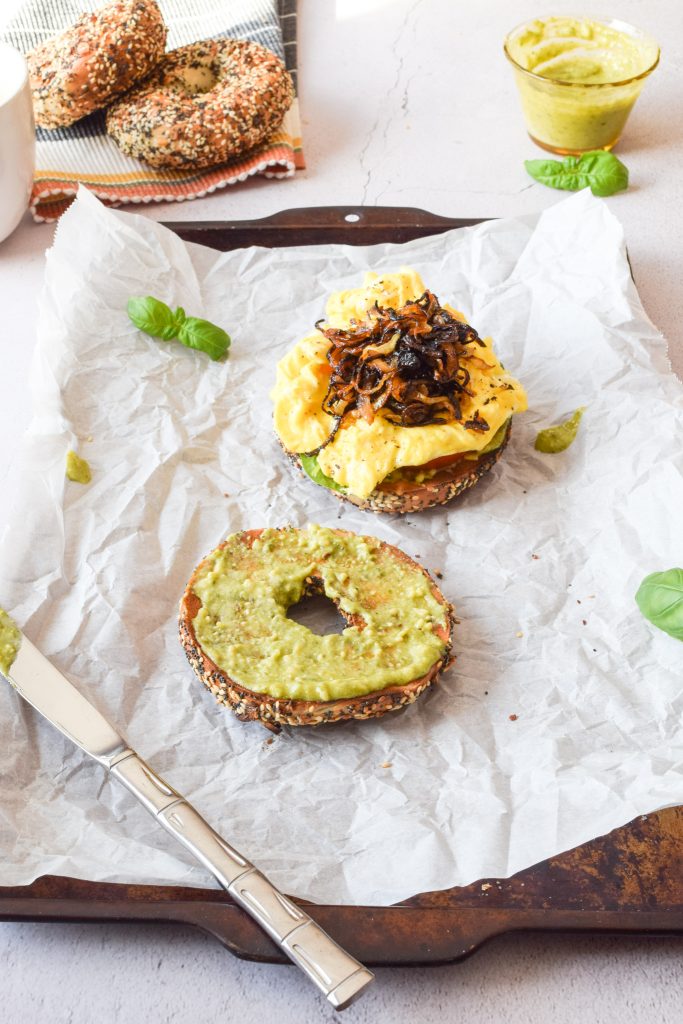 Nutrition Spotlight: Oil!
Oils are part of a healthy diet, but there are a lot of different kinds. Oils are part of the lipid category, providing 9 calories per gram, which is more than protein and carbs at 4 calories per gram. The new version of Canada's Food Guide doesn't make recommendations on serving sizes, but the old one suggests 2-3 tablespoons of oil each day, which is a good guideline to follow. This suggestion is for 2-3 tablespoons of unsaturated fats, like canola, corn, olive, grapeseed, sunflower, amongst others. There's a complete list of unsaturated fats here. You can find out more about unsaturated fats here and here.
The fats found in butter, meats, dairy, coconut and palm oil are unsaturated and we want to choose less often. For some reason, coconut oil gained popularity a few years ago. It's okay from time to time. There are definitely healthier options like the ones above.
As far as cooking goes, many oils work well any temperature, such as vegetable, canola, corn, sunflower and peanut. Olive oil has a low smoke point, so it can burn when heating at high temperatures, so it wouldn't be good for something like deep frying. For pan frying at low temperatures, it's totally okay!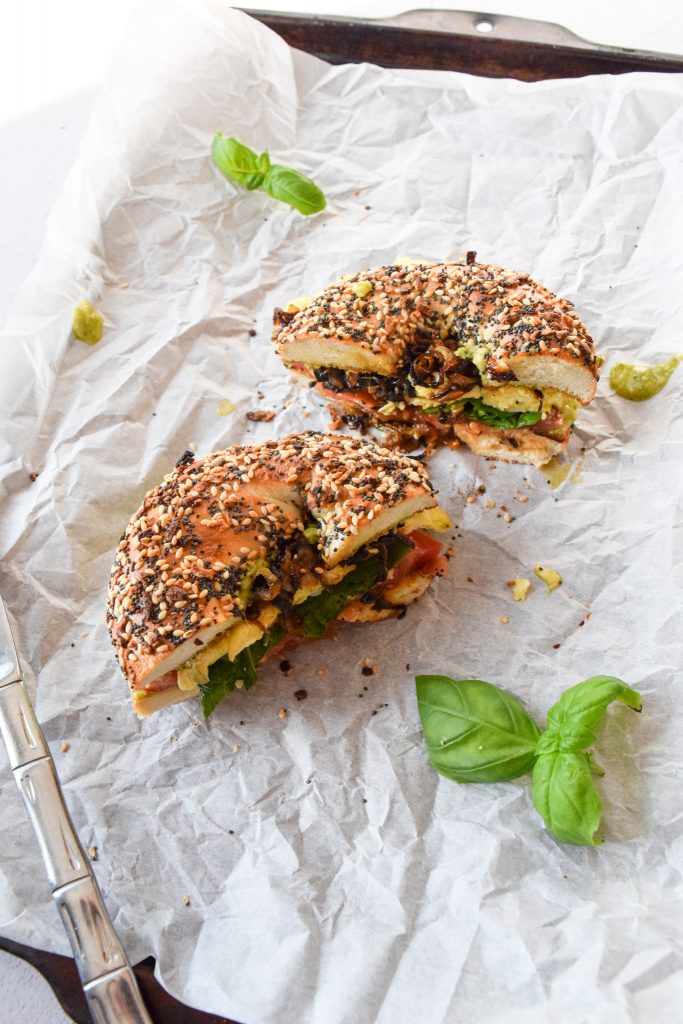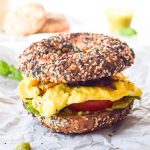 Print Recipe
Everything Bagel Breakfast Sandwich with Caramelized Onions
The perfect mix of salty, savoury and fresh; an Everything Bagel Breakfast Sandwich with Caramelized Onions.
Ingredients
1

medium

white onion

or 2 small

1

tbsp

olive oil

1

tbsp

basil pesto

1

tbsp

mayonaise

1/2

small

tomato

1

handful

spinach

2

eggs

1

everything bagel
Instructions
Finely slice onion and add to a pan with 1 tbsp olive oil on low heat.

Add in a pinch of salt, and stir onions every few minutes and if they start to stick, add in 1 tbsp of water.

This will take 30 to 40 minutes, when give them about 10 minutes and then start prepping the rest of your ingredients.

Combine 1 tbsp of mayonnaise with 1 tbsp of basil pesto and set aside.

Slice your tomato, season with salt and pepper.

Cook 1 or 2 eggs how you like them (I did scrambled).

While they're cooking, toast your bagel.

Top your bagel with pesto mayo, then tomato (so eggs don't fall through the bagel hole, fresh spinach, eggs and carmelized onions. Enjoy!