This Kale and Bacon Breakfast Hash is perfect for a holiday morning brunch. Complete with crispy potatoes, red peppers and poached eggs!
When I originally shot this recipe, I planned to explain it as something you could make for your friends and family during the holidays. Which is hilarious now knowing that I did not see any friends and hardly any family for Christmas this year (thank you Omicron). I do, however, think this breakfast hash would be a great weekend brunch meal to make while you stay home, as it only feeds 2-3 people. It comes together in under 30 minutes and is loaded with crispy potatoes, juicy red pepper, bacon, eggs (done the way you like it) and kale. Don't judge, the kale honestly makes this meal. Enjoy!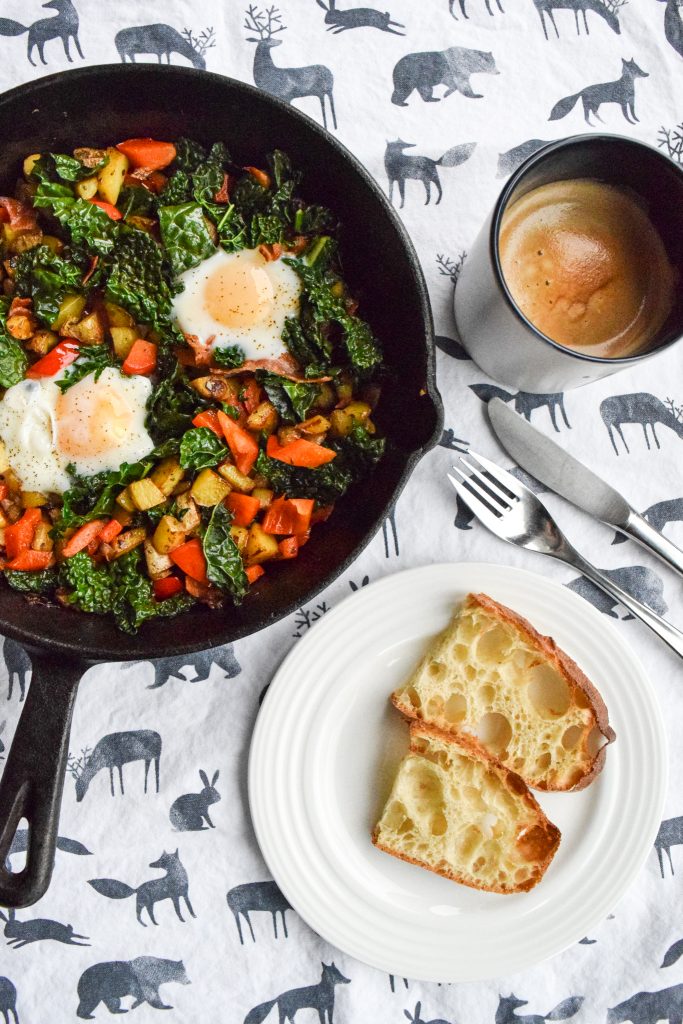 Kale and Bacon Breakfast Hash
Kale – High in fibre, folate, iron, calcium, vitamins A and C! If you're not a kale fan, go for a different type of green vegetable! Spinach or green peppers maybe?
Bacon – It's no secret bacon is not the healthiest choice. Highly processed meats may increase your risk for colon cancer, so we definitely want to eat these foods in moderation. When I have bacon, I enjoy it, but otherwise, it's not a staple food in my diet.
Red peppers – A whole red pepper has 3x the amount of vitamin C you need in a day, which is important for absorbing the iron in the kale and it may also help with the prevention of some chronic diseases. More on vitamin C here!
Potatoes – Potatoes are a great source of potassium (even better than a banana) which is a mineral that helps keep our bones, kidneys, nerves and muscles healthy. Have extra potatoes after this dish? This Mushroom & Lentil Shepherd's Pie is delicious!
Onion – Not much going on with the onion, but it does add delicious flavour!
Eggs – If they fit into your diet, eggs are super good for you! Protein, omega-3s, lots of vitamins and minerals.
Salt, pepper, garlic powder, rosemary – to add a little bit of flavour!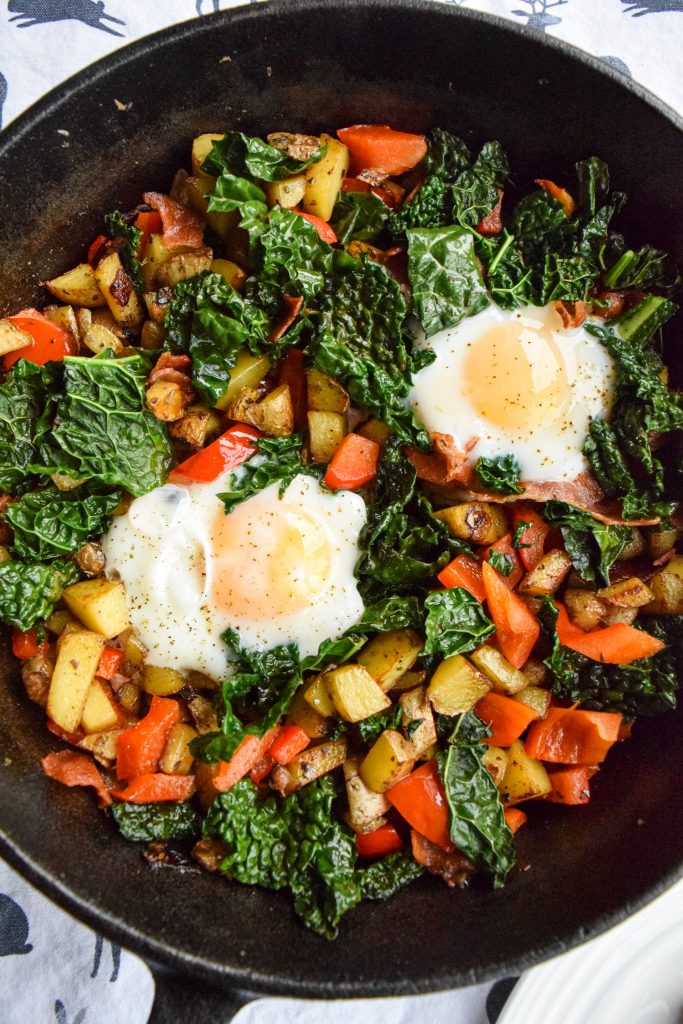 What the F is Folate?
Recently, a friend asked me about folate and taking supplements as a young woman. It's pretty common knowledge in the nutrition world but not really elsewhere. Most people can get the folate they need from their diets, so they don't need to worry. However, it is very important for women of childbearing age to take a folate supplement. This is true even if they aren't actively trying to get pregnant. I say this and yet I still haven't got around to it. The reason for this is because folate is extremely important for preventing neural tube defects, which starts to develop at 4 weeks gestation, when some women don't even know they are pregnant.
Folate is also important for the prevention of iron-deficiency anemia, as it is required to make heme, the iron-containing portion of hemoglobin, which is found in red-blood cells. It also plays a role in heart health. P.S. if you're curious about the difference between folate and folic acid, folate is what is found in foods and folic acid is what is in a supplement. They are the same vitamin, vitamin B9! As always, it's very important to talk to your doctor before starting any supplement!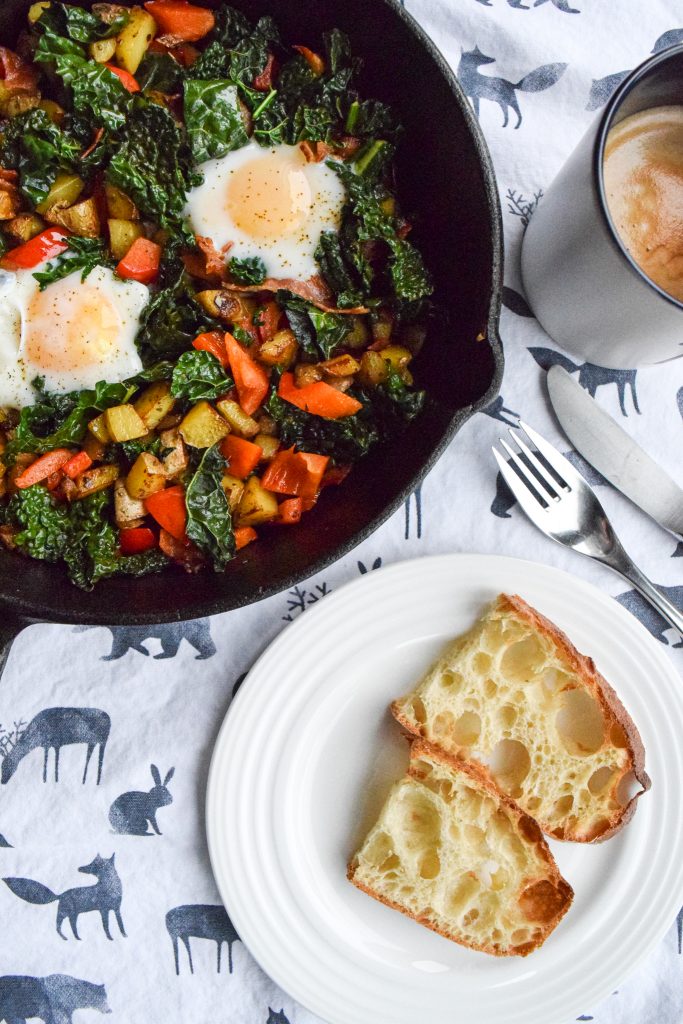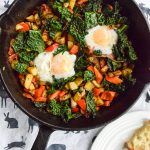 Print Recipe
Kale and Bacon Breakfast Hash
This Kale and Bacon Breakfast Hash is perfect for a holiday morning brunch. Complete with crispy potatoes, red peppers and poached eggs!
Ingredients
2-4

slices of bacon

1/2

small white onion

4-6

russet potatoes

you can use any type of potato, when diced it should make at least a cup

1

tsp

garlic powder

1

tsp

dried rosemary

salt and pepper

1

red pepper

2/3

cup

chopped kale

2-4

eggs
Instructions
In a cast-iron skillet, cook bacon according to package instructions. I usually cook it on medium-low until crispy and then flip!

While bacon is cooking, wash potatoes. Then poke a few holes in each one and place in the microwave for 2 minutes. They should be a bit softer (and very hot) when you take them out!

Thinly slice onions and dice potatoes into small cubes and set aside. Now is a good time to check on your bacon.

Once bacon is done, remove from pan and lay on a piece of paper towel to soak up any excess grease.

Add onions and potatoes to pan (they can cook in the fat from the bacon, or if you aren't using bacon, add 1 tbsp of olive oil here.

Add garlic powder and rosemary and mix until onions and potatoes are evenly coated. You can add salt and pepper here as well.

As those cook, dice red pepper and finely chop kale. Set aside.

Continue to cook the potatoes until they appear crispy on the surface, about 10-12 minutes. At this point add red pepper and cook for 2-3 more minutes.

Add kale and cook until wilted, about 2 minutes.

Finally, make two wells and add eggs, cooking to your liking. You can put a lid on to speed up the cooking process.

Season with more salt and pepper to your liking.