This crowd-pleasing Spicy Garlic Butter Shrimp and Baby Bok Choy recipe has less than 10 ingredients and comes together in half an hour!
This recipe came together one weeknight while I had a friend over for dinner. I wanted something relatively easy and we happened to have some baby bok choy that needed to be used up. It was truly one of those "make it up as you go" recipes and she loved it! Trevor ate the leftovers and he said it was the best thing I've ever made him, which I'll take as a win. I hope you enjoy this Spicy Garlic Butter Shrimp and Baby Bok Choy recipe! If you make it, feel free to tag me on Instagram!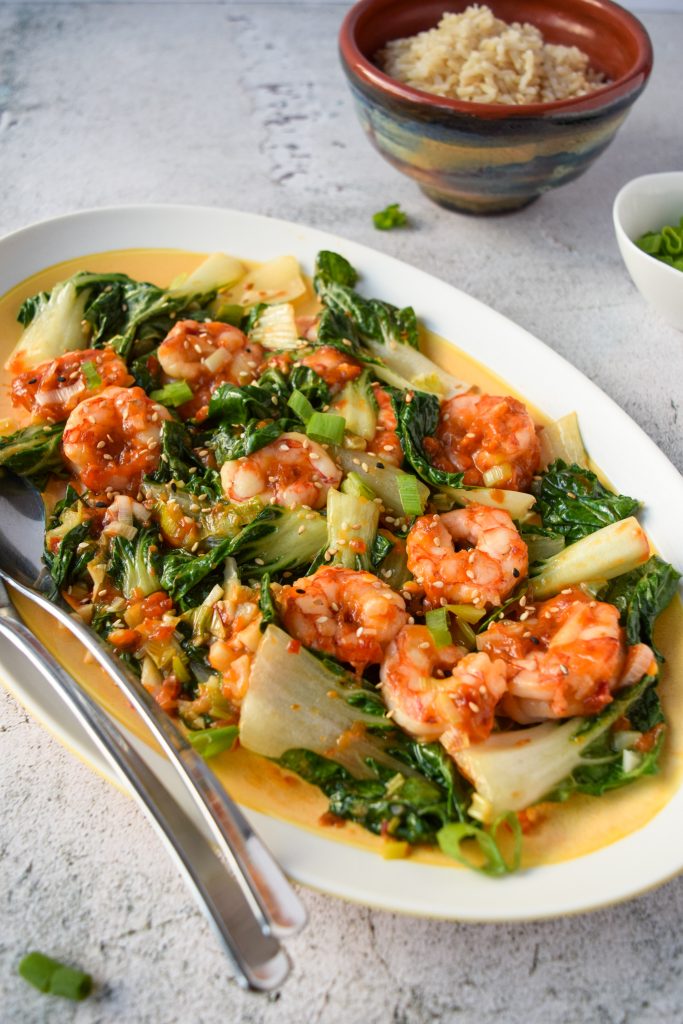 Spicy Garlic Butter Shrimp and Baby Bok Choy
Shrimp – shrimp are a great source of protein while being low in saturated fat (the kind we want to limit). They are super versatile and a great choice if you eat fish/seafood.
Green onions and garlic – neither of these are particularly high in any one nutrient and their main purpose is usually for flavour. They do, however, contain prebiotics, which are non-digestable carbohydrates that helps probiotics remain in your GI tract.
Butter – we all know butter is not the #1 most nutritious food out there, but it's okay to use in smaller quantities if it's something you enjoy. It absolutely makes this meal I have to say!
Baby Bok Choy – a great source of Vitamin A, C and K. Vitamin A is important for growth and immune health as well as helps keep our skin and eyes healthy. Vitamin C helps with wound healing, non-heme iron absorption and is an antioxidant. You can learn more about Vitamin K below.
Sambal – one of my favourite sauces you can find at most grocery stores. If not, look for something resembling a garlic-chili paste.
Soy sauce – this is definitely a food which is higher in sodium, so you could opt for a low-sodium option and add more salt if needed.
Corn starch – this helps to thicken the sauce.
Sesame seeds – not particularly high in any one nutrient, but fall into the nuts and seeds category which are a very healthy option!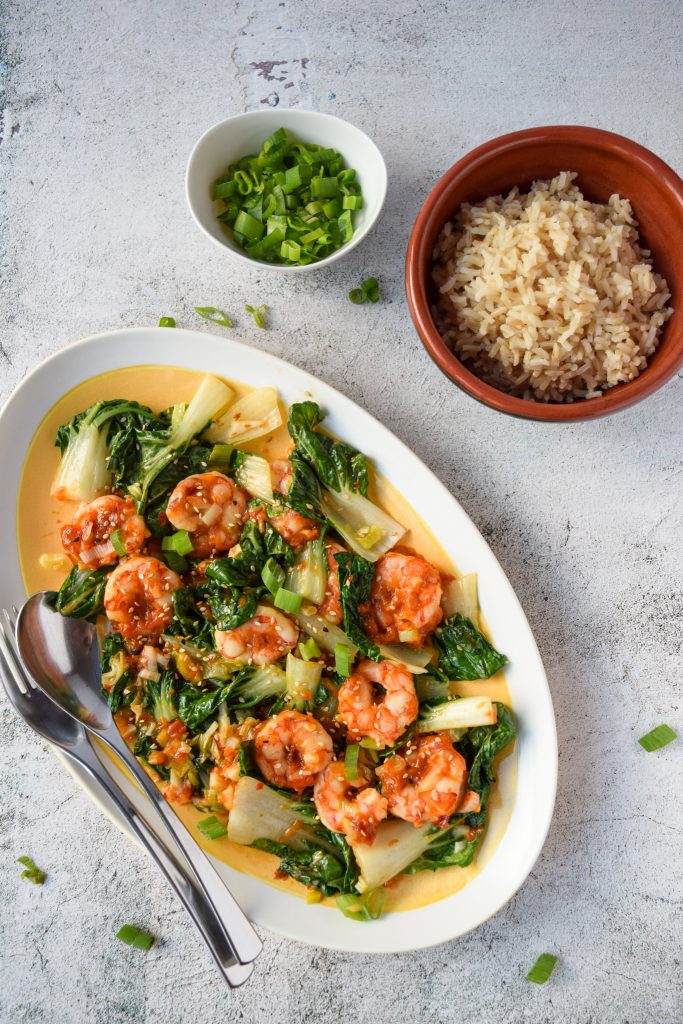 Nutrition Spotlight: Vitamin K
I've covered the other fat-soluble vitamins (A, D and E) previously, so now it's Vitamin K's time to shine. First off, fat-soluble vitamins are vitamins that require fat (or lipids) for absorption. In this case, it's butter, but in many other cases, it might be oil or nuts and seeds. Our bodies produce a bit of Vitamin K but mostly we get it from foods, such as darky leafy vegetables (go bok choy) or canola and soybean oil. Most people can get enough Vitamin K from their diets so supplements are not usually necessary and too much can be harmful. Vitamin K also interacts with certain drugs such as blood thinners. As always, it is very important to discuss with a registered dietitian or physician before making a change to your diet or trying a new supplement.
Like most vitamins, Vitamin K does a variety of things in the body. This includes wound healing, maintenance of blood vessels and bone health. It may also play an important role in preventing fractures in post-menopausal women. Looking for more recipes high in Vitamin K? How about Spicy Garlic Noodles with Kimchi & Vegetables or Cheesy Spinach & Artichoke Orzo with Chicken Thighs?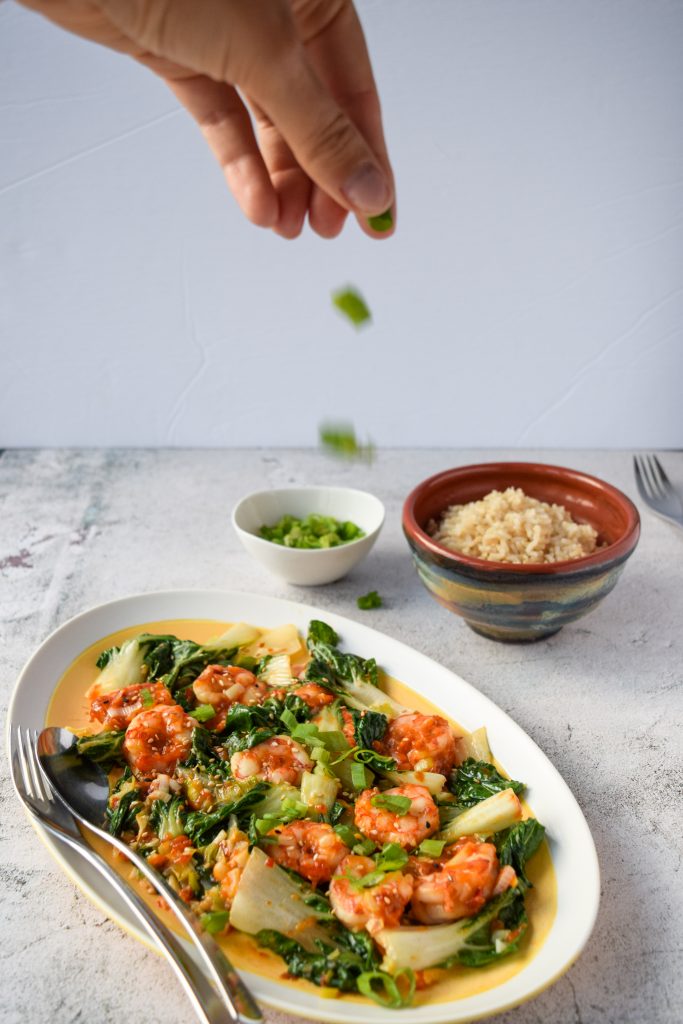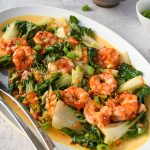 Print Recipe
Spicy Garlic Butter Shrimp & Baby Bok Choy
This crowd-pleasing Spicy Garlic Butter Shrimp and Baby Bok Choy recipe has less than 10 ingredients and comes together in half an hour!
Ingredients
32-40

frozen shrimp

I budget 8-10 shrimp per person but it really depends on who's eating so adjust accordingly.

3

green onions

2

large

cloves of garlic

2

tbsp

butter

6-8

heads of baby bok choy

2

tbsp

sambal oelek

1.5

tbsp

soy sauce

2

tsp

corn starch

sesame seeds

for garnish
Instructions
Ingredient Prep
Thaw shrimp. I like to place them in a bowl of cold water and allow them to sit for ~10 minutes. Remove the shells (if needed).

If you're making rice or noodles or some sort, I suggest starting that now.

Finely chop green onions. Separate the white parts from the green.

Wash baby bok choy thoroughly. Cut off bottoms and separate leaves. If they seem too large, slice them in half.

In a small bowl, mix together 2 tbsp sambal, 1.5 tbsp soy sauce and 2 tsp corn starch.
Cook Bok Choy
On low-medium heat, add 2 tbsp of butter to a large non-stick frying pan.

Once melted, add the whites of the green onion and the chopped garlic to the pan. Cook for 2-3 minutes or until onions and garlic are fragrant.

Add bok choy to frying pan and mix to coat with butter. Cook for 3-4 minutes or until you notice it starting to wilt. It should become a brighter green shade. Remove from pan.
Cook Shrimp
Add to pan and cook for 2-3 minutes per side, until no longer translucent.

Add sauce to pan, ensuring shrimp get evenly coated.
Putting it All Together
Add bok choy back in and toss quickly to coat. Remove from heat and top with rest of the green onions and sesame seeds.