This delicious and easy Apricot Blueberry Crisp is the epitome of a summer dessert – fresh, fruity and oh so sweet!
My first love when it comes to cooking is, actually baking. It's always been a very relaxing, fun activity for me and I absolutely love trying new recipes. Baking is also an excellent way to make friends. Pro tip: if you've got a bit of social anxiety, bring dessert to the event you're showing up at! I pretty much forced my boyfriend's friends to like me by showing up with banana bread every time I came to visit. Everybody is always excited to see the person with baked goods in their hand. But back to our crisp, this dish is super easy and low-maintenance. You can do use frozen or fresh fruit and it all pretty much comes together in one dish. It's truly fool-proof and I hope you enjoy it!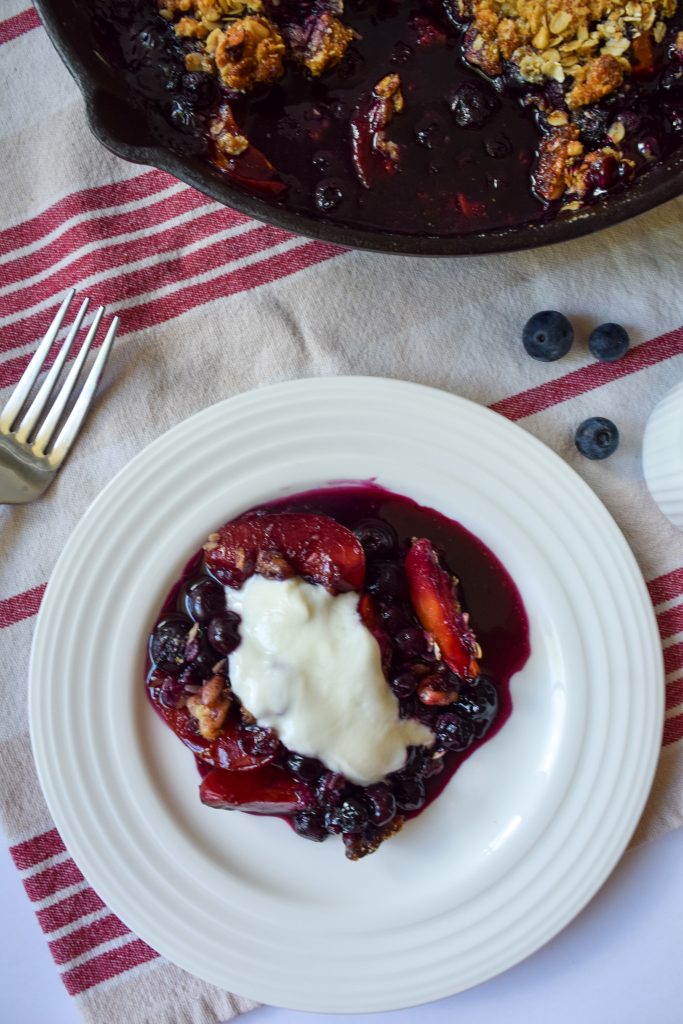 Apricot Blueberry Crisp
Apricots – not particularly high in anything, but do provide some Vitamin C. You can swap out for peaches, plums, cherries, etc.
Blueberries – same thing for blueberries, but fruit is always a good way to add some fibre to your meal.
Oats – oats are a great source of whole grains, with fibre, B Vitamins, Vitamin E and minerals! If you're forgetting what a whole grain is or isn't, check out this post for the anatomy of a whole grain.
Walnuts – nuts are a great source of unsaturated fat (the "good" kind) and also provide fibre and protein!
White and brown sugar – we're making dessert so what do you expect?
Lemon juice – this helps cut the sweetness of the fruit a tiny bit!
Ground almonds – I used this in replacement of flour in the crisp. Almond "flour" is higher in unsaturated fats, protein and fibre compared to white flour. Truthfully, we happened to have ground almonds and I wanted to use them but you could totally sub in white or whole wheat flour.
Corn starch – this just helps the berries to thicken as they cook.
Butter – again, we're making a dessert so duh!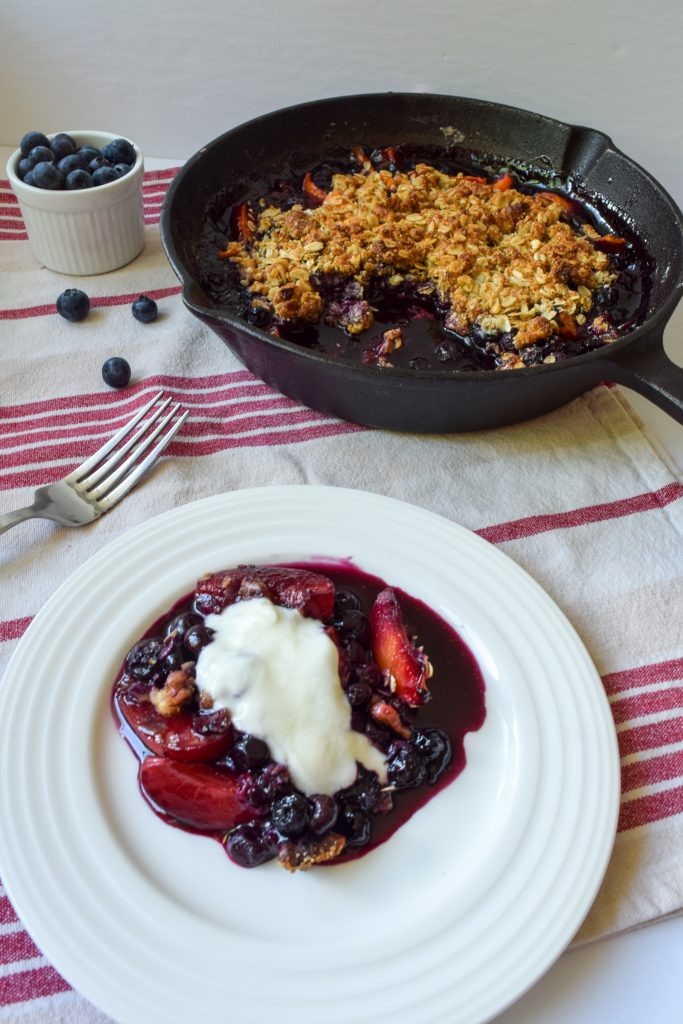 Ingredient Spotlight: Sugar
There is SO much misinformation out there about sugar. So let's break some things down and try and combat that. Sugar is a simple carbohydrate. This means it is either one or two compounds of carbon, hydrogen and oxygen. Complex carbohydrates such as grains contain more than 2 compounds, and these are things like starches and fibre. Sugar occurs naturally (in fruit and milk) or can be added in (baked goods, juices, most snack-type foods).
We don't need to worry about naturally occurring sugars since we find them with things like fibre and protein. These things help to slow your blood sugar response, so you won't feel as much of a rush and crash. Added sugar, when consumed in excess, may cause weight gain, dental issues and risk factors for cardiovascular and metabolic disease. Although, it's unclear whether that is a direct result of the sugar consumption or the excess calories. The current recommendation for added sugars is less than 10% of your daily caloric intake.
Is Honey Healthier Than White Sugar?
There's a common misconception that one type of sugar is healthier than the other (ie. honey vs white sugar), but that's really not true. At the end of the day, regardless of the source, simple carbohydrates are broken down for immediate or future energy use. The differences between white sugar, brown sugar, honey, agave are all very small. So if you're seeing some health claims that honey is better because it contains antioxidants, remember that to obtain this benefit, you'd likely have to eat a ridiculous amount of honey.
Honey is still an added sugar and is no better for you than white sugar. With that being said, if cutting out white sugar and only consuming honey or agave is making you long for your favourite foods every so often, don't do it. By avoiding foods you genuinely enjoy, you run the risk of over-consumption by eating them later (often in large quantities) when you're not satisfied. So enjoy this Apricot Blueberry Crisp guilt-free and move on!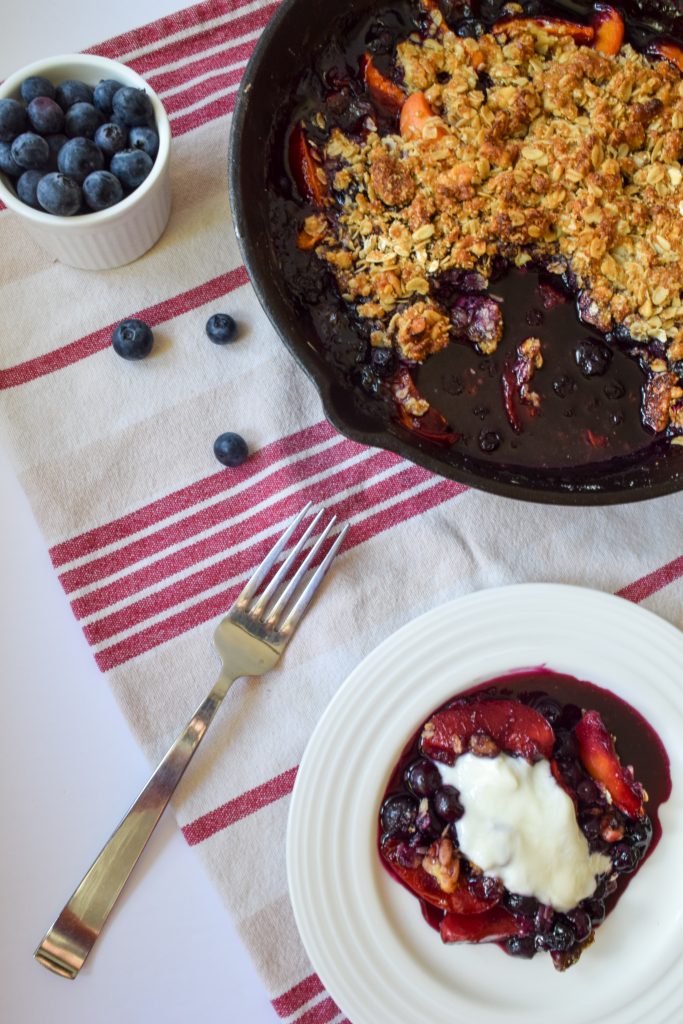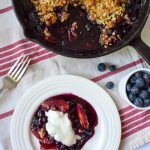 Print Recipe
Apricot Blueberry Crisp
This Apricot Blueberry Crisp is the epitome of a summer dessert - fresh, fruity and oh so sweet! I promise it's a crowd pleaser!
Ingredients
1 1/2

cups

apricots, sliced (about 4 apricots)

3 1/2

cups

blueberries (fresh or frozen)

1/2

cup

white sugar

1

tbsp

cornstarch

juice of 1/2 lemon

1/2

cup

oats

1/4

cup

brown sugar

2

tbsp

ground almonds (can sub in flour)

1/4

cup

walnuts, chopped finely

1

pinch

salt

1/4

cup

butter, melted
Instructions
In a cast-iron skillet, add sliced apricots and blueberries.

Toss with sugar, cornstarch and lemon juice until all fruit is coated. You may need to mix with a spatula to ensure even distribution.

In a small bowl, combine oats, brown sugar, almond flour, walnuts and salt. Add in melted butter and mix to coat.

Top fruit with oat mixture.

Bake for 40-45 minutes until fruit is soft and saucy and oat topping is golden brown.