This Butternut Squash and Roasted Vegetable Soup is simple, delicious & sure to satisfy you on a cold day. Perfect paired with a salad or sandwich!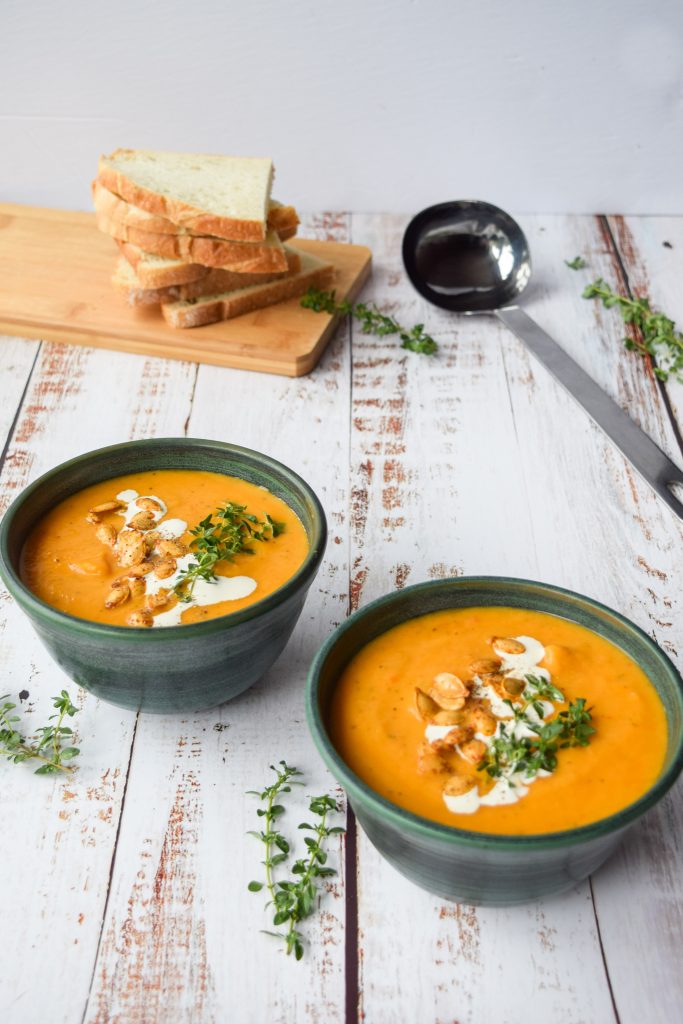 I don't know if it's because it's winter or I'm just lazy, but I'm on a soup kick. I love throwing a bunch of things in a pot, letting it cook, blending it and then having 8-10 servings of soup to eat. This Butternut Squash Soup is easy to make, full of delicious roasted veggies and perfect for a cold winter day. If you're curious about the benefits of orange vegetables, I summed it up in this recipe. Additionally, if you're finding yourself bored of eating veggies, my friend and mentor Andrea D'Ambrosio, of Dietetic Directions, has a great blog post about how to roast veggies.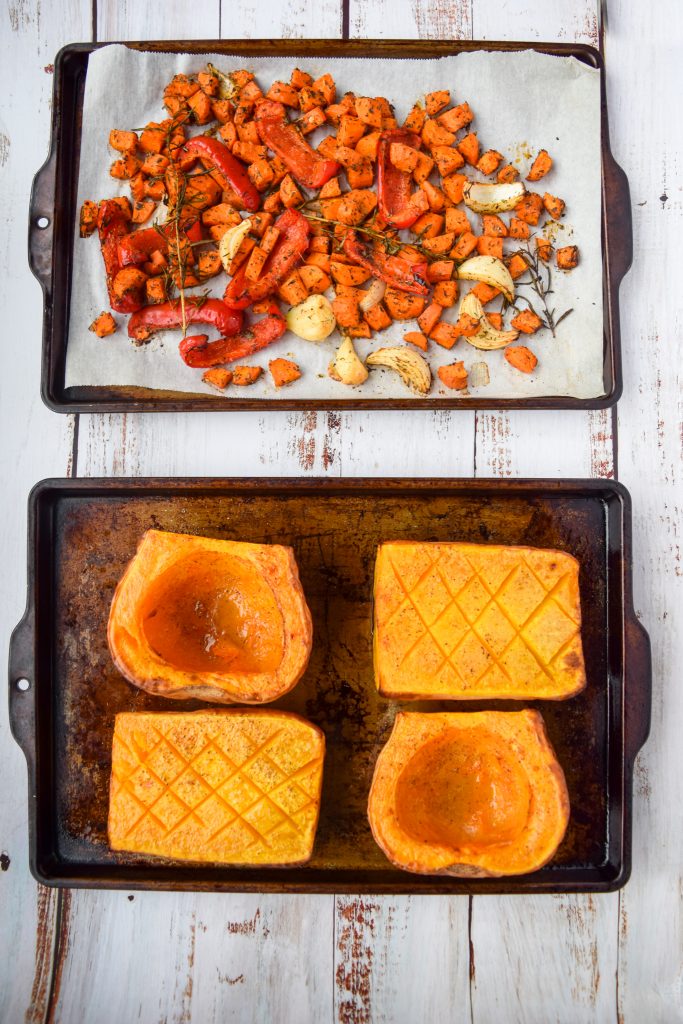 Tips for Roasted Butternut Squash Soup
The most challenging part of this recipe is dealing with the butternut squash. I'm not going to lie, I hate this part, but it's totally worth it. I recommend chopping it in half, peeling it and then roasting it in 4 pieces, as you will see above. Deal with that first, chop up the carrots, season them and then pop them in the oven. They will take the longest amount of time to roast. Meanwhile, you can prepare the peppers, onion and garlic. Throw those in the same bowl that you seasoned and tossed the squash and carrots and voilà! You're ready to pop those in the oven.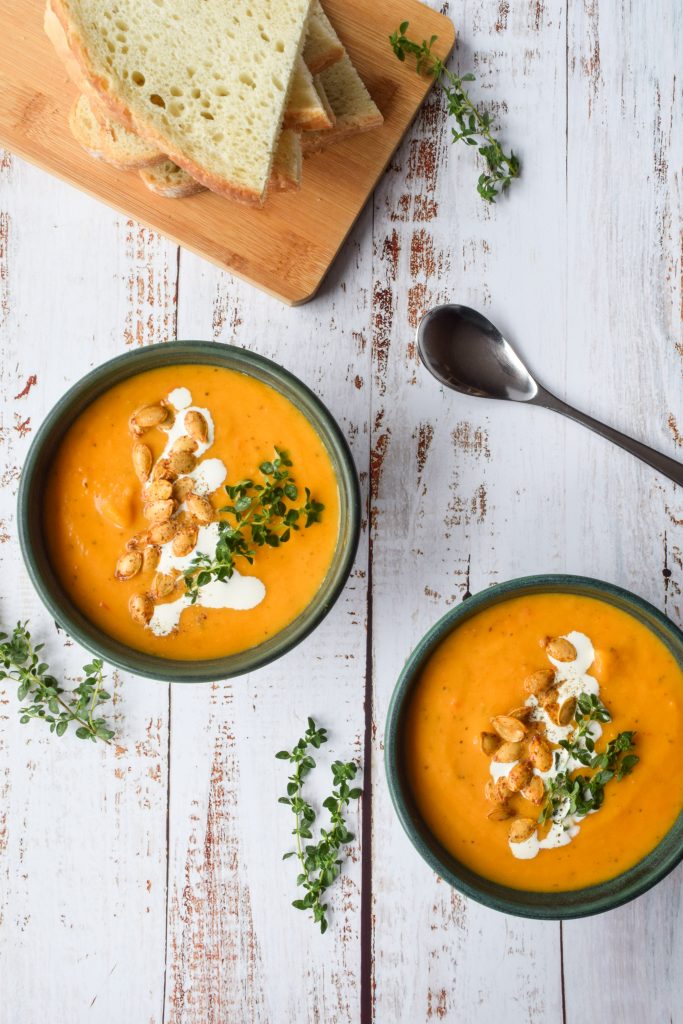 Once the veggies are done, add them to a pot with some vegetable broth and bring to a boil. Turn down to low and let simmer with a lid on, or else you'll lose all your liquid and end up with really thick soup. Let the soup cool, and then throw in your immersion blender and blend until smooth. If you don't have an immersion blender (I highly recommend getting one), you can also put the soup into a blender or food processor. If you find this soup is too thick, add a little bit of extra vegetable broth or water to thin it out. Add a little bit of cream, salt and pepper to taste and top with fresh herbs and roasted squash seeds. Enjoy!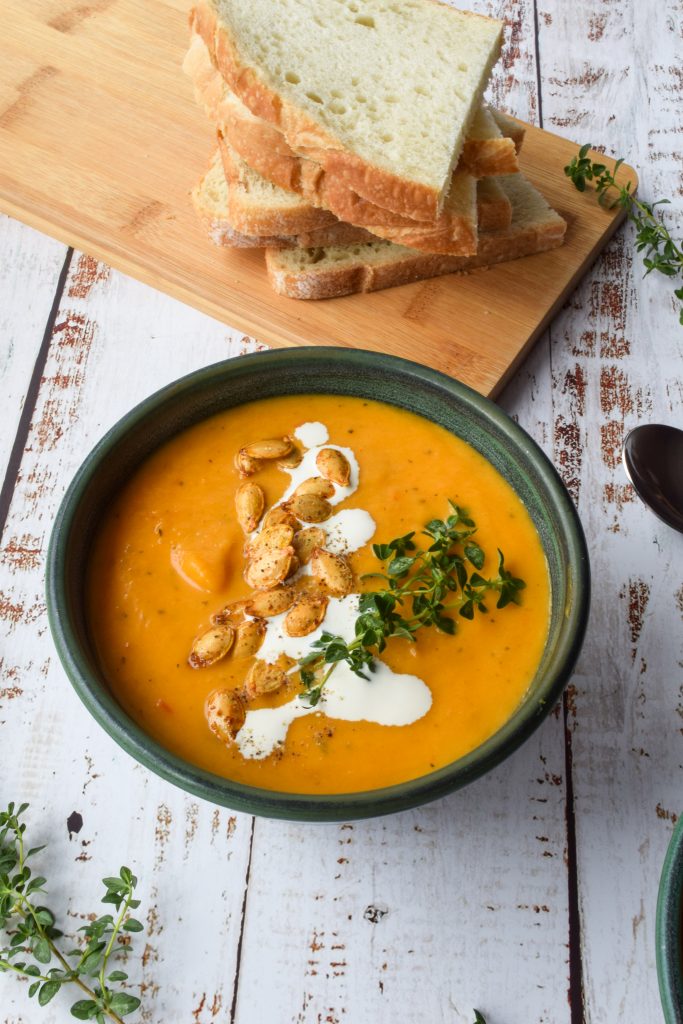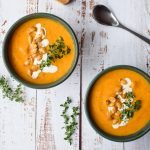 Print Recipe
Butternut Squash and Roasted Vegetable Soup
This Butternut Squash and Roasted Vegetable Soup is simple, delicious & sure to satisfy you on a cold day. Perfect paired with a salad or sandwich!
Ingredients
1

butternut squash

2

tbsp

olive oil

1/2

tsp

salt

1/2

tsp

pepper

3

medium carrots

1

red, orange or yellow bell pepper

1/2

medium white or yellow onion

2

cloves of garlic

1

tsp

dried oregano

1

tsp

dried basil

1/2

tsp

smoked paprika

1

tsp

dried thyme

3

sprigs

fresh rosemary

5

cups

vegetable broth

1/2

cup

cooking cream

more salt and pepper to taste
Instructions
Preheat oven to 400F and line 2 baking sheets with parchment paper.

Cut squash in half lengthwise and then again in half width-wise (see image above). Peel squash and remove seeds (if you would like to roast them, see step 8)

Place on one of the baking sheets and brush with 1 tbsp olive oil and 1/4 tsp of salt and pepper each.

Peel and chop carrots into 1/2 inch pieces (see image above). Chop pepper into eights, quarter the onion and peel the garlic.

Add to a bowl with 1 tbsp olive oil, 1 tsp oregano, 1 tsp basil, 1/2 tsp smoked paprika, 1 tsp thyme, 1/4 tsp salt and 1/4 tsp pepper.

Spread on the remaining baking sheet. When there are 25 minutes left of your timer (or squash has been in for 35 minutes) add to the oven.

If you would like to roast the squash seeds, clean them and pat dry with paper towel. Toss with 1 tsp olive oil and some salt and pepper (or any spices you'd like) and add them to the oven at this point. Remove when you remove the veggies (but keep an eye on them!)

Once veggies are done, remove from oven and add to a large pot with 5 cups of vegetable broth. You will likely have to break up the squash into smaller chunks

Bring to a boil, cover and simmer on low for 35 minutes.

Allow to cool for 5-10 minutes and purée with an immersion blender until smooth.

Add 1/2 cup cream and stir to incorporate.

Season with additional salt and pepper, squash seeds and fresh herbs.