This Banana Pineapple Smoothie is sure to keep you full with protein, healthy fats and fibre. Plus it's full of delicious fruity flavours!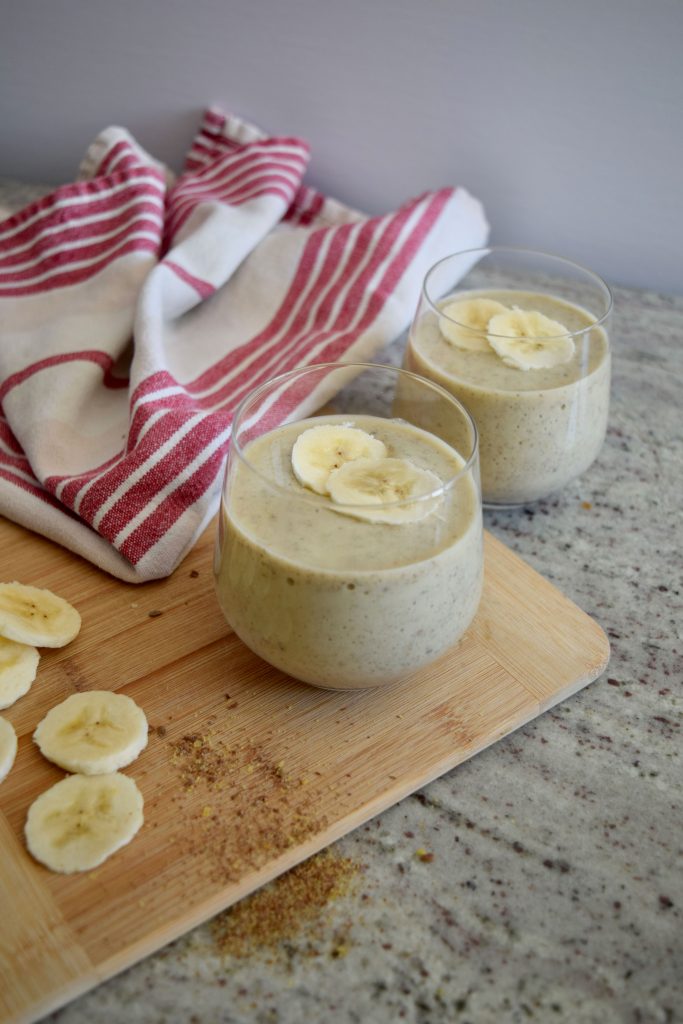 I've always had a bit of a love-hate relationship with smoothies. I used to drink smoothies chalked full of vegetables that tasted horrible and I kinda hated them. As I began to heal my relationship with food and started eating more intuitively, I didn't touch smoothies. In true Ross Gellar fashion, we were on a break. Nowadays, if I'm hungry and in the mood for something cold and refreshing, I love a good fruit smoothie (I rarely add veggies except for spinach, and only if I can't taste it).
I still have a rule that a smoothie isn't a meal, but that's a personal one. If having a smoothie is satisfying for breakfast to you, that's amazing. If not, please do not feel guilty, it's normal to need more than a smoothie for a meal. I have so many fun posts coming about my personal nutrition philosophy, but for now, you can read about it briefly here.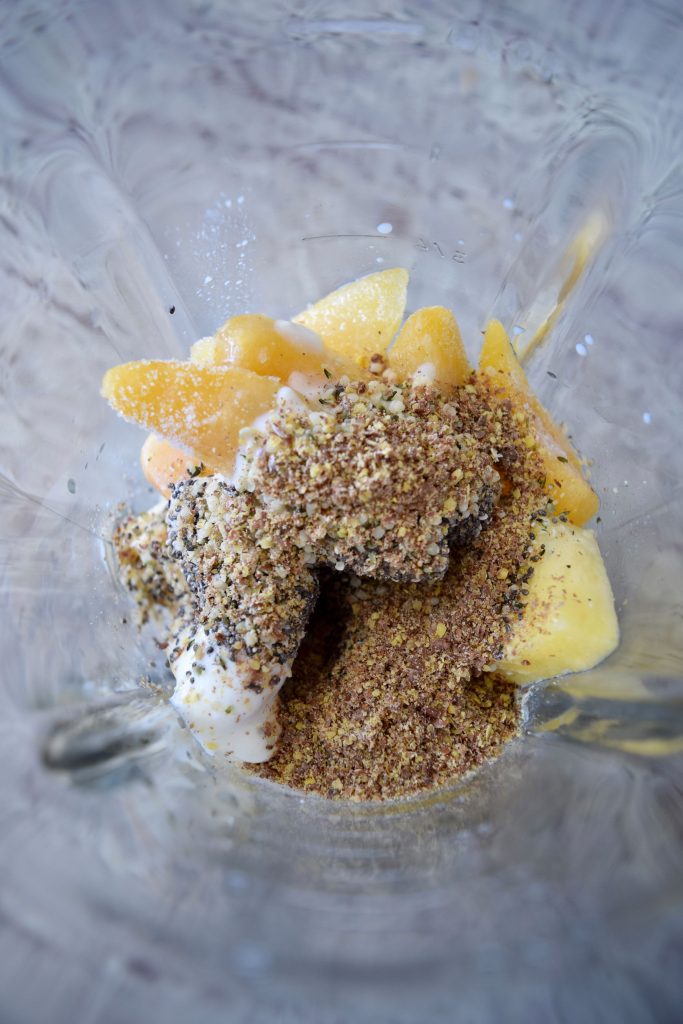 The Secret to a Filling Smoothie
The key to a filling, satiating smoothie is protein, healthy fats and fibre (but for the record, I still consider a smoothie a snack). That's where these little add-ins come in; hemp hearts, chia and flax seeds. Instead of writing it all down, I figured making a little breakdown comparison graphic would be helpful.

Adding a source of protein, healthy fats and fibre to your meals helps with satiety aka keeping you full for longer. I think there's a common that lower in calories = "healthier" and that is certainly not the case. Nobody wants to be eating every half hour, so consciously adding things beyond fruits and veggies to smoothies is really important. A quick note about flax seeds – to obtain all the nutrients, you have to grind them up. That's what you can see in the smallest jar below. If you want to learn even more about all these fun seeds, check out this post by Andrea D'Ambrosio, RD.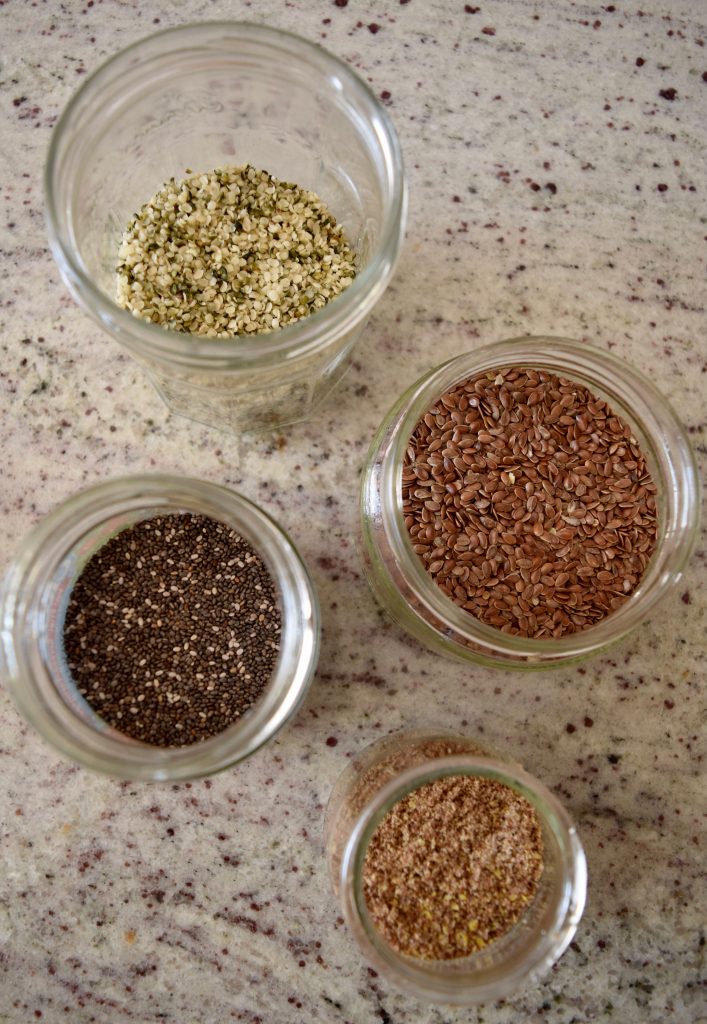 Banana Pineapple Smoothie Components
Pineapple – did you know that 100 grams of pineapple, aka less than half a cup, contains almost 80% of your daily vitamin C needs?
Banana – a good source of potassium, fibre, vitamin C and B6
Peaches – also a source of vitamin C
Plain yogurt – a good source of protein and calcium
Milk* – also a good source of protein and calcium, plus vitamin D!
Chia – high in fibre, calcium and phosphorus
Hemp hearts – source of protein, zinc, Omega-6 fatty acids and iron
Ground flax – high in fibre and Omega-3s
*If you want to sub in non-dairy milk, go for soy – it is the highest in protein!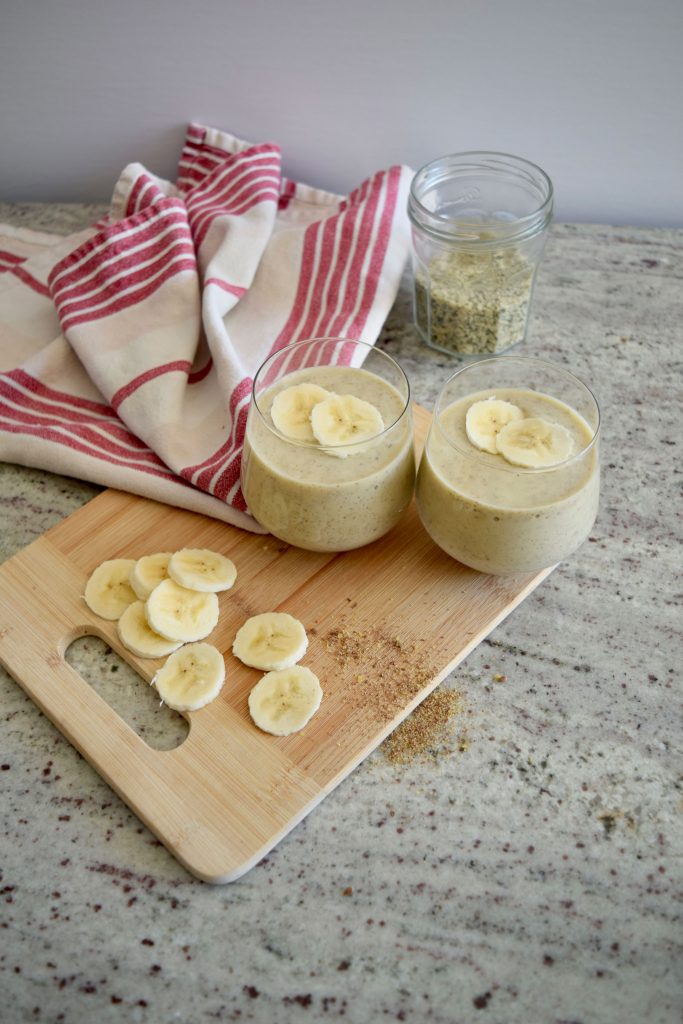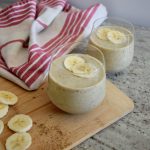 Print Recipe
Banana Pineapple Smoothie
This Banana Pineapple Smoothie is sure to keep you full while tasting delicious with flavours of banana, pineapple and peaches!
Ingredients
1

banana

1/2

cup

pineapple

1/2

cup

frozen peaches

3

tbsp

pineapple or orange juice

1/4

cup

plain yogurt

1/4

cup

milk

1

tbsp

chia seeds

1

tbsp

hemp hearts

1

tbsp

ground flax
Instructions
Add all ingredients to blender.

Blend on high for 2-3 minutes.

Adjust based on consistency and preferences (add more fruit if too thin or more liquid if too thick.)