Never shredded brussels sprouts and made a salad? You're missing out. Fear not, this Sesame Brussels Sprout Slaw is here to save the day!
My recipes often come from a need to clean out our fridge. We had brussels sprouts and I decided I wanted to make some sort of salad with them. I've seen lots of shaved brussels sprout salads for fall, with roasted veggies and cranberries, but I wanted fresh and crunchy. We also happened to have an open bag of cole slaw, from last weeks fish tacos, that was on it's last legs so I mixed the two, added some fruit and veg, toasted some nuts and seeds and voilà!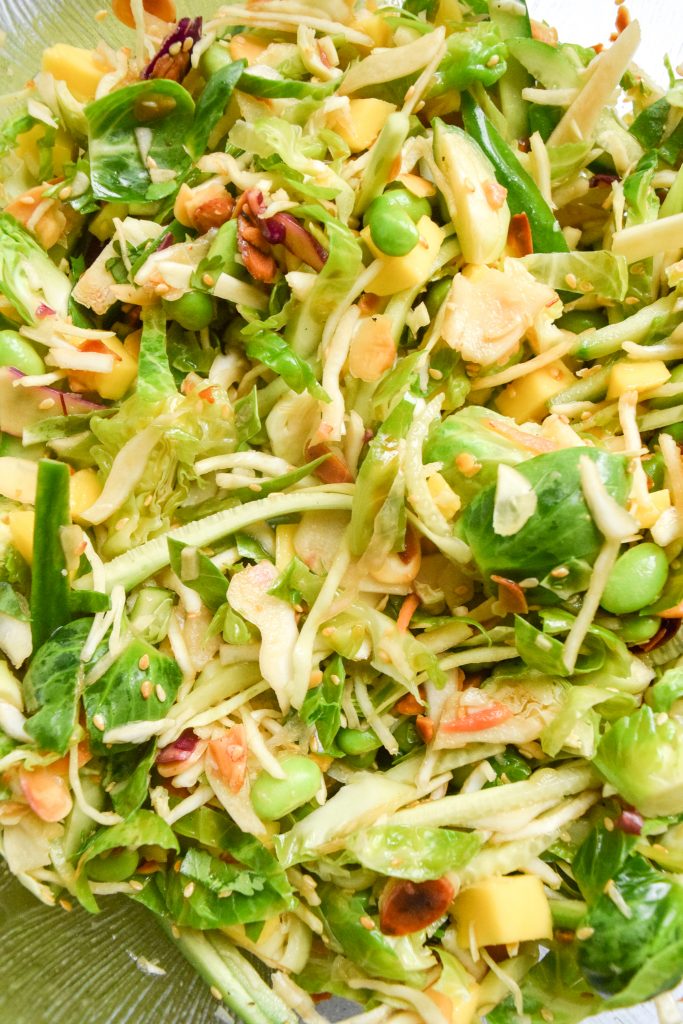 Sesame Brussels Sprout Slaw with Edamame
Brussels sprouts – lots of fibre in these little green things AND there's more than 100% of your daily Vitamin C needs in just 100g (~6 medium brussels sprouts). Also a good source of folate, vitamin K and iron!
Cabbage – more fibre and vitamin C (I actually just used a bag of mixed cole slaw we had lying around)
Cucumber – I LOVE cucumbers for added crunch!
Edamame – a super underrated source of plant-based protein. It is full of fibre and so easy to add to salads and bowls.
Mango – you know I had to add a little fruit to this salad. Mangoes are a great way to get in Vitamin C, which is essential for a variety of bodily functions and will help you to absorb the iron found in the brussels sprouts! More on Vit C here!
Almonds and sesame seeds – nuts and seeds are a great source of fibre, protein and unsaturated fat. I pretty much always add some sort of nut or seed to salads!
Cilantro – herbs are a great way to add flavour without adding sodium. I love the flavour of fresh cilantro!
Garlic chili sauce, soy sauce, rice vinegar, maple syrup, sesame oil – these are all for that yummy sesame dressing!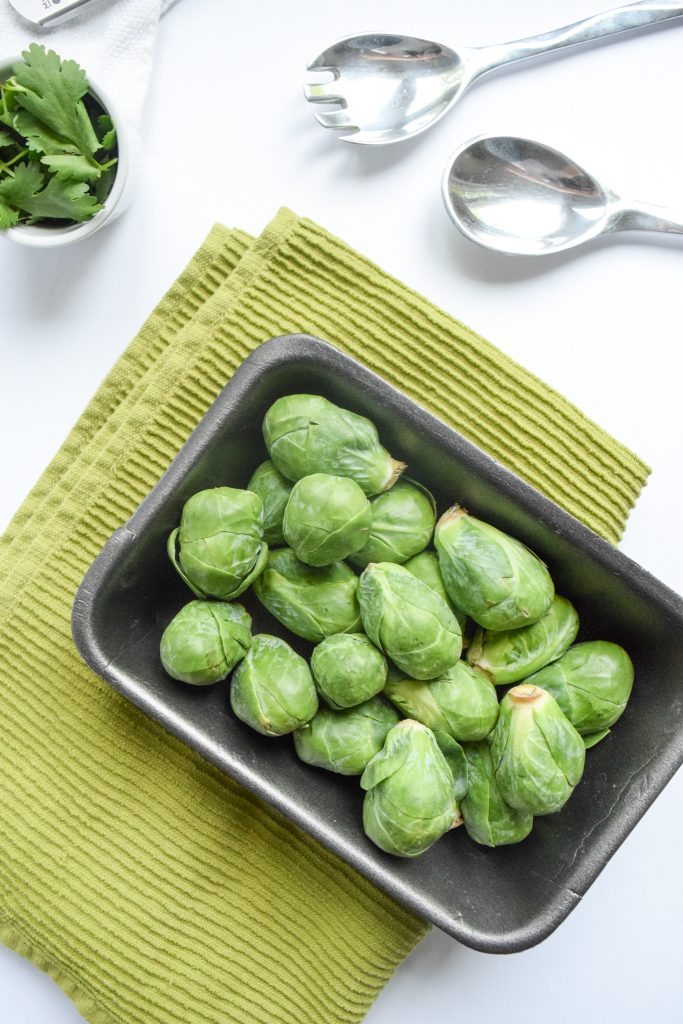 What's Up With Chlorophyll?
If you're on TikTok, you've likely seen people adding chlorophyll drops to water for all sorts of health claims. The claims are certainly lofty too; blood builder, energy booster, detoxification, reduced risk of cancer and weight loss. Let's start by understanding what exactly chlorophyll is. You probably remember chlorophyll from grade 8 science; it's what makes plants green and helps them undergo photosynthesis. Green veggies are abundant in chlorophyll, 1 cup contains about 24 mg of the stuff, equivalent to about 8 drops of  liquid chlorophyll.
So what is this liquid chlorophyll stuff anyway? It's actually chlorophyllin, which is a more shelf-stable product made from chlorophyll. As mentioned previously, it is way easier (and cheaper) to consume chlorophyll and reap any of it's health benefits from whole vegetables. Whole vegetables also contain vitamins, minerals and fibre and we know those are good for us! In terms of the research, well – it's limited and not super conclusive. It may help with acne when applied topically. However, there is no conclusive evidence for oral consumption in humans with skin or immune health, or weight loss.
As with any supplement, check in with your doctor or registered dietitian. This is because supplements are not always regulated, and if there is a lack of research, as in this case with liquid chlorophyll, we may not know all the side effects, toxicity levels and drug-nutrient interactions. We do know, however, that green vegetables are really good for us and provide a wide variety of nutrients and benefits. Like this delish salad!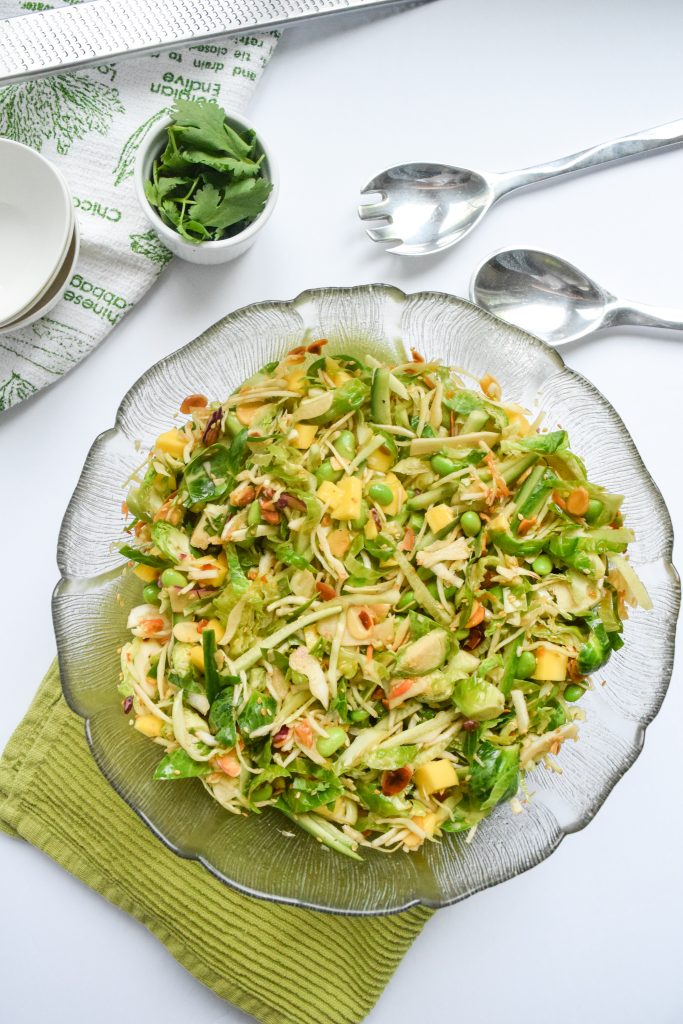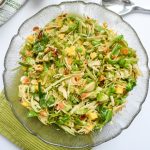 Print Recipe
Sesame Brussels Sprout Slaw with Edamame
Never shredded brussels sprouts and made a salad? You're missing out. Fear not, this Sesame Brussels Sprout Slaw is here to save the day!
Ingredients
2

cups

whole brussels sprouts

3

cups

shredded cabbage or cole slaw

1/2

large

cucumber

1

cup

frozen edamame, thawed

1

mango or 1 cup frozen, thawed

1/3

cup

sliced almonds

2

tbsp

sesame seeds

2

tbsp

chopped cilantro

1

tsp

Sambal (or chili paste, sriracha, hot sauce)

2

tbsp

soy sauce

3

tbsp

rice vinegar

1

tsp

maple syrup

1

tbsp

sesame oil

1

tbsp

water
Instructions
Remove outer leaves from brussels sprouts and rinse thoroughly.

Chop off bottoms and slice length-wise into long strips (it should look similar to chopped cabbage).

Add in chopped cabbage or cole slaw.

Julienne cucumbers into long strips and add to salad.

Dice a mango and add to salad.

In a small frying pan, add almonds and heat on low. These will toast pretty fast (2-4 minutes), so keep an eye on them. Once they start to turn slightly brown, add sesame seeds. Toast for an additional 1-2 minutes. Add to salad.

Chop 2 handfuls of cilantro and add to salad.

Combine remaining ingredients in a bowl or jar and mix. Taste and adjust accordingly.

Pour over salad, mix and let sit for at least 10 minutes prior to eating. Enjoy!