This Simple, 5-Ingredient Hummus makes for a delicious, healthy snack that comes together in under ten minutes!
In our house, we have something called "the good hummus". It's this Quebec-made hummus that is way better than the typical ones you find at the grocery store. It's pretty much the only hummus I will eat, except for something made in a Mediterranean or Middle Eastern grocery store, and now, this recipe. Although it's unclear where exactly hummus originated, it is thought to date back to Egypt around the early 13th century! The basis of hummus is chickpeas, tahini, lemon juice, olive oil and salt. I topped it with some rosemary – it's really that easy!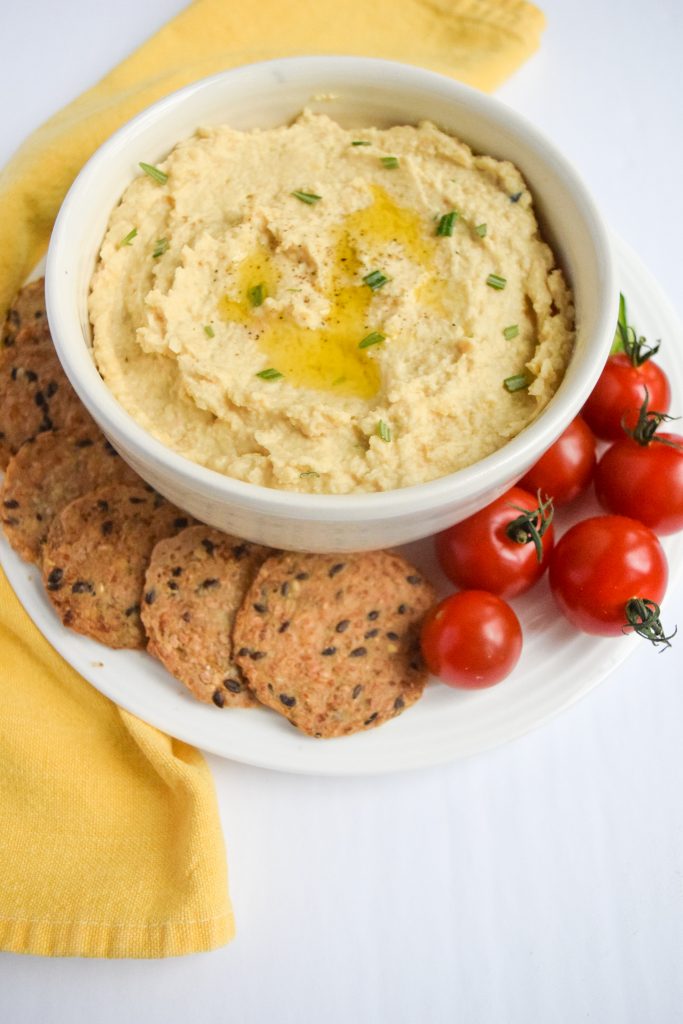 Simple 5-Ingredient Hummus
Chickpeas – such a versatile source of fibre to keep you regular and help control cholesterol and blood sugar levels. Great source of protein too!
Tahini – a good source of those healthy unsaturated fats!
Lemon juice – a little Vitamin C to help you absorb the iron in the chickpeas, amongst other important body functions!
Olive oil – another good source of unsaturated fat!
Kosher salt – named that way because it is the ideal size for drawing out moisture in meat as used in the koshering process, kosher salt is less dense than table salt. Meaning that you will get less saltiness for the same amount as compared to table salt. I personally don't have strong feelings towards different types of salt, but I often choose kosher!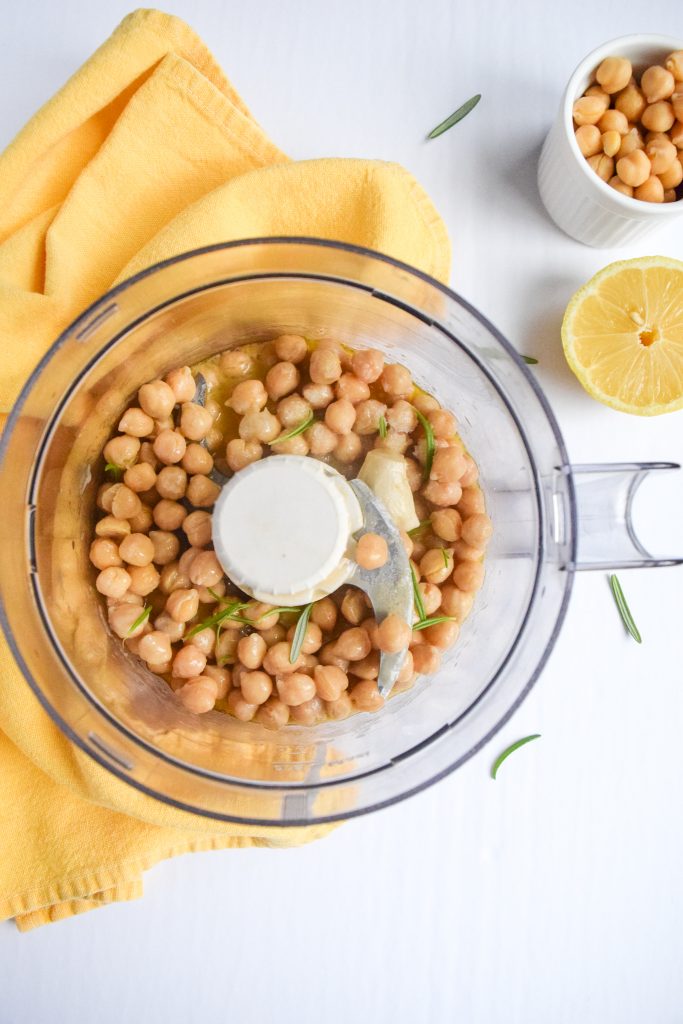 What the Heck is Tahini?
Now, you might be asking yourself what the heck tahini is? Tahini is essentially sesame paste. I think you can find it in most grocery stores, but you can definitely find it in a Mediterranean or Middle Eastern grocery store or even a specialty health store. You want to look for one that the only ingredient is sesame seeds! It adds a creamy texture and nutty taste to hummus, but you can use it in a variety of dips, sauces and dressings. According to Bon Appetit, if you get the good stuff, you can use it like peanut butter!
So is it good for you? Well, it has the same nutritional benefits as sesame seeds! Seeds in general are a great source of unsaturated fat! Seeds fall specifically into the category of Omega-6 unsaturated fat, meaning that they help with various body tasks like gene regulation, proper immune health and blood clotting. Both my Blackened Salmon Bowls and BEST Avocado Toast recipes dive a little deeper into dietary fats.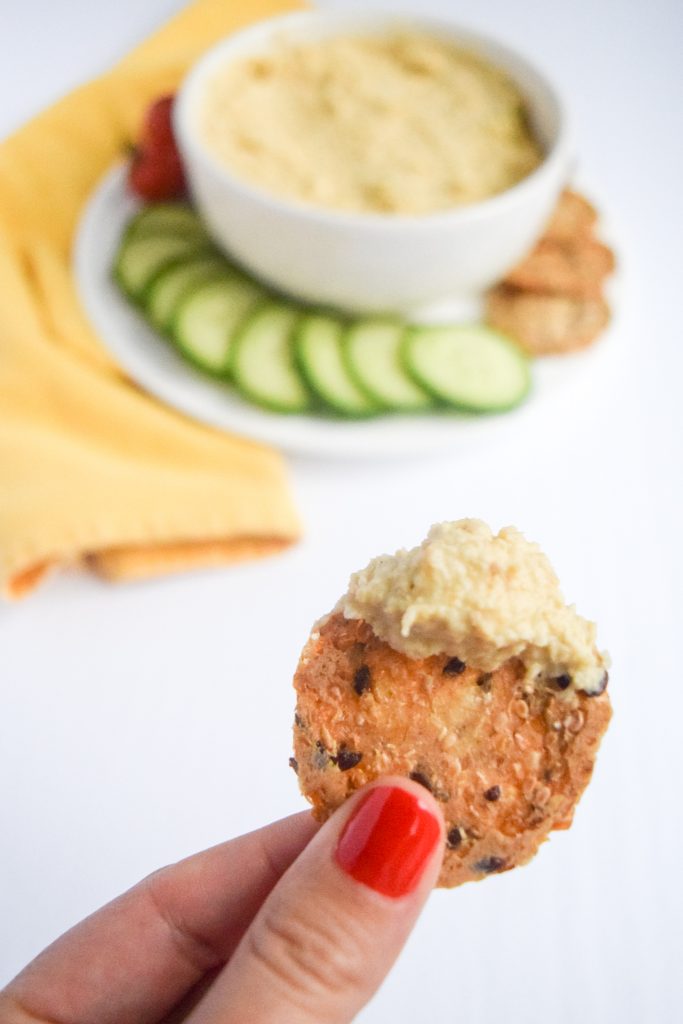 Nutrient Spotlight: Protein
Not sure why it took me so long to spotlight protein, but here we are! Protein is one of 3 macronutrients, meaning that it is essential to your body in large quantities. The building blocks that makeup proteins are called amino acids. Amino acids exist in nature in extremely large quantities, but in the body, there are 20. The 11 non-essential ones are made in the body. 9 are essential and need to be provided by the diet. Proteins coming from animal sources (eggs, meat, fish, dairy) contain all 9 essential amino acids.
Plant-based proteins tend to contain some, but not all essential amino acids, so protein should come from a variety of sources. Don't limit this advice to vegans or vegetarians! Regardless of the nutrient, you should be getting it from a variety of sources, so as to limit the chances of deficiency. That also doesn't mean that animal-based protein is better. Plant-based protein tends to contain more fibre and less saturated fat, making it a more nutritionally dense choice. I'm not a vegetarian or vegan, so I eat a mix of the two.
Proteins make up every single cell in our body, so they are important for quite literally, all bodily functions. They help with the repair of muscles, tissues, hair, skin and nails and also help to build hormones and enzymes. For the general, healthy person, the recommendation is 0.8g/kg of body weight, although that is obviously very general. Protein from plant sources does not always absorb in the same way that animal protein does. Compared to an animal source of the same amount, you might actually obtain less protein from the plant-based source. If you're worried about how much protein you should be eating, it is best to consult a dietitian!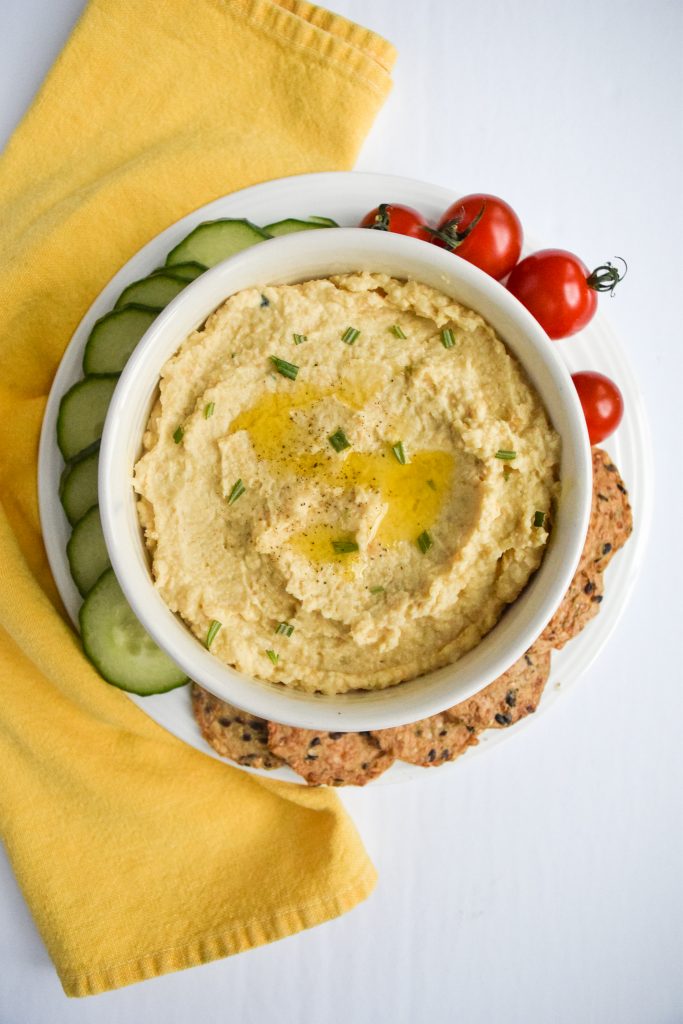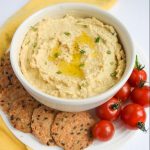 Print Recipe
Simple 5-Ingredient Hummus
This Simple, 5-Ingredient Hummus makes for a delicious, healthy snack that comes together in under ten minutes!
Ingredients
1 (398 ml)

can or 1 and 3/4 cup

chickpeas

3

tbsp

tahini

juice of 1

lemon

1

tbsp

olive oil

1/2

tsp

kosher salt

1/4

cup

water
Instructions
Add all ingredients to a blender and pulse until smooth.

It might take a few minutes and some stirring.

Taste and adjust salt if needed.