A fun and fresh take on a classic overnight oats recipe, these Mango & Dark Chocolate Overnight Oats are perfect for a weekend breakfast!
I love making overnight oats when I know I have a busy morning or just won't want to make myself breakfast the next day. Usually, it's just a pretty classic recipe: oats, seeds, milk and something to sweeten it. Recently, I've been inspired by my girl Susi Vidal who makes fun and fancy overnight oats all the time on her page. I hope you'll enjoy these as much as I did!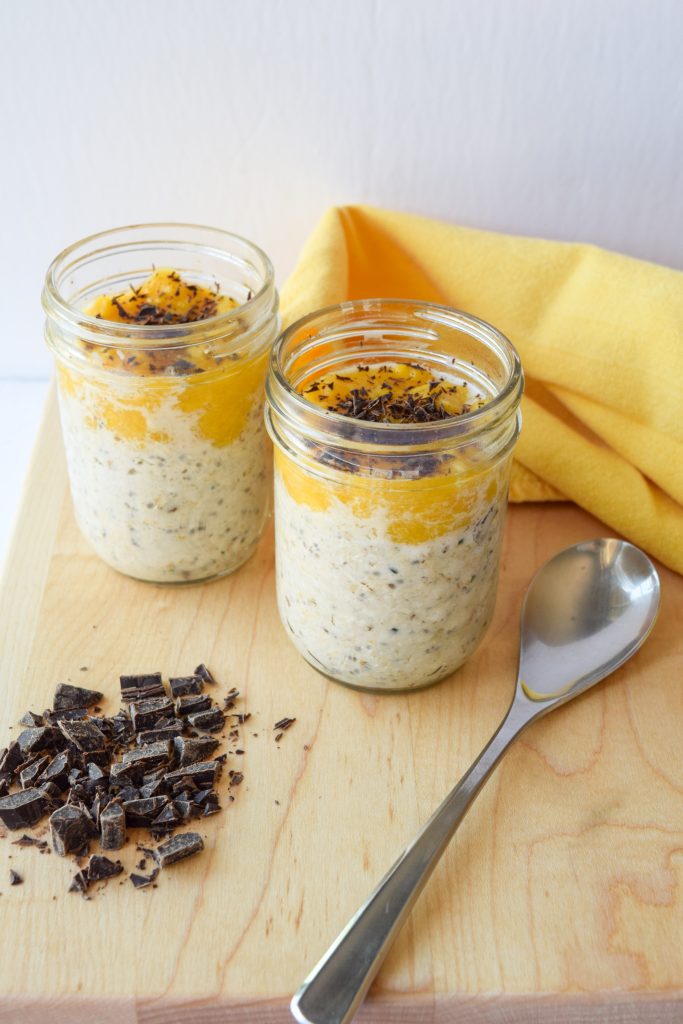 Mango & Dark Chocolate Overnight Oats
Mango – mangos are a good source of vitamin C, which will help to absorb the iron in the oats amongst other very important functions in the body. Other mango recipes here!
Oats – I used rolled oats, but I'm not picky! Oats are a whole grain (more on that here), and provide us with fibre, some protein and tons of vitamins and minerals.
Oat milk – we break down different types of milks below.
Chia seeds – high in fibre and unsaturated fats, as well as magnesium, iron and calcium
Hemp seeds – a good source of both protein and unsaturated fats, iron, vitamin B1, phosphorus, magnesium and manganese!
Plain yogurt – a good source of calcium and, if you choose a greek yogurt, protein!
Dark chocolate – a little dark chocolate never hurt anyone!
Lime juice – this helps to add a bit of depth to the mango puree.
Sugar – we just use a little bit of sugar to cut any sourness the mango may have.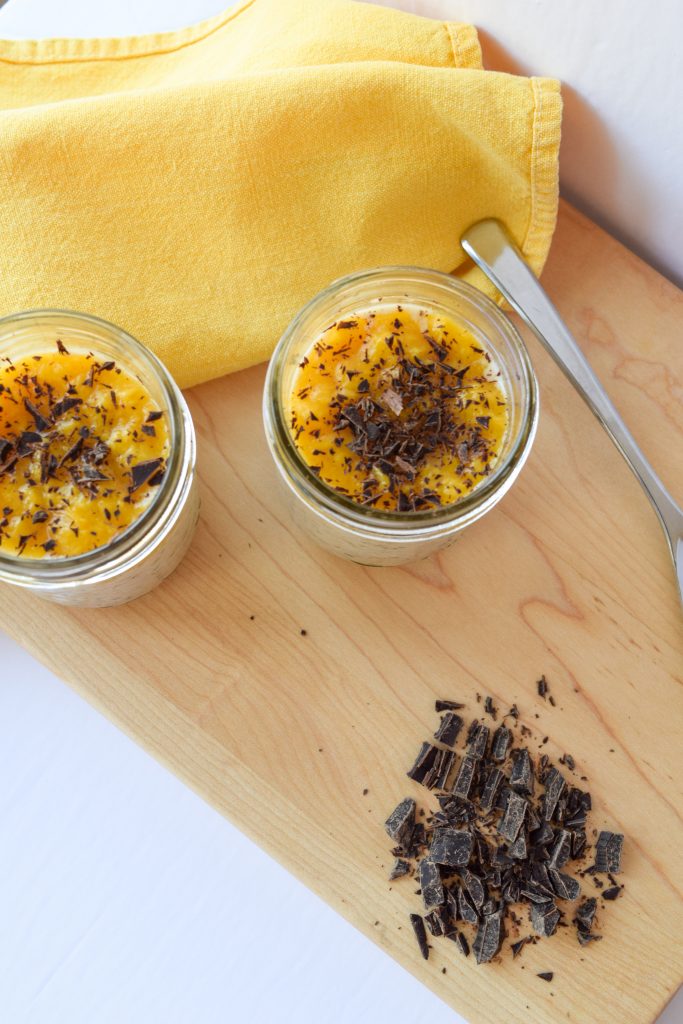 What's with all the different types of milk?
It can be overwhelming to go into a grocery store and see 20 different varieties of milk options. So is seeing battles on social media of people claiming their preferred milk is the best or the healthiest. So let's break a few things down and you can make the decision for yourself. As always, if you're going to make any major change to your diet or looking for personalized advice, please consult a dietitian.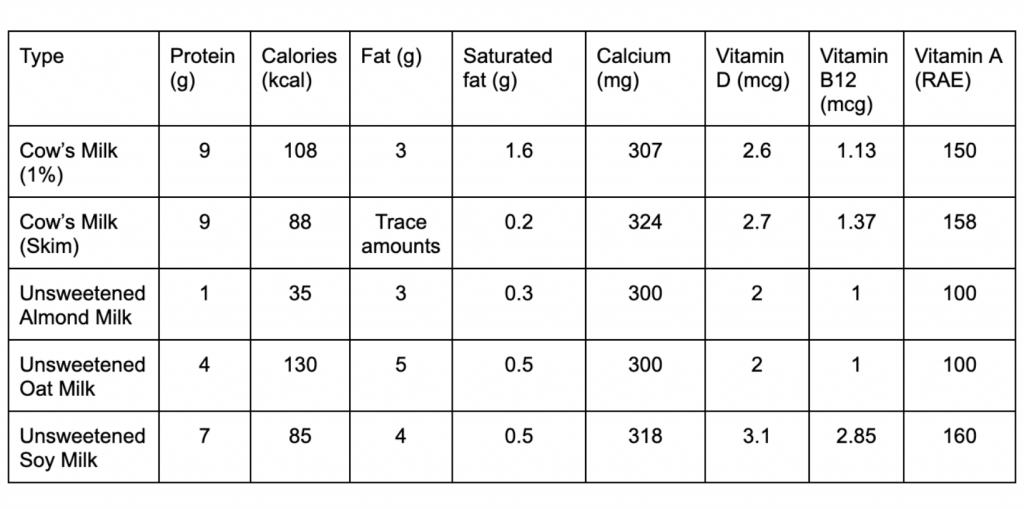 All the above nutrition info comes from the Canadian Nutrient File, part of Health Canada. Non-dairy beverages should not be referred to as milk, but for simplicity's sake, I am using the common, well-known names. Everything here is an estimate and will vary brand to brand.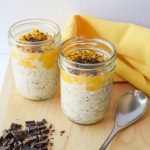 Print Recipe
Mango & Dark Chocolate Overnight Oats
A fun and fresh take on a classic overnight oats recipe, these Mango & Dark Chocolate Overnight Oats are perfect for a weekend breakfast!
Ingredients
1

mango

I used an ataulfo mango, but 1/2 a cup of frozen mango would work too

1

tsp

sugar

1

tbsp

water

juice of 1/2 lime

1

tbsp

chia seeds

1

tbsp

hemp seeds

1

pinch

of salt

1 1/4

cup

oat milk

2

tbsp

plain yogurt

2

tsp

dark chocolate
Instructions
Make mango purée
Peel and cut mango into small chunks.

Add to a small saucepan with 2 tsp of white sugar, 1 tbsp water and the juice of half a lime. Heat on medium to low heat.

Allow mango to simmer and cook until it softens. It is done when you can mash it with the back of a fork into a puree, about 10 minutes.
Prepare oat mixture
Meanwhile, add 1 cup of oats, 1 tbsp chia seeds, 1 tbsp hemp seeds and a pinch of salt to a medium-sized bowl. Mix.

Add in 1 1/4 cup oat milk and 2 tbsp of plain yogurt. Stir to combine

Finally, mix in 2 tsp of chopped dark chocolate.
Put it all together!
In 2 jars or containers, evenly distribute oat mixture. Top with mango puree and a few extra dark chocolate shavings.