Summer is sadly coming to an end and I'm taking advantage of all the delicious stone fruit with this Cherry Peach Summer Crisp!
I love to bake, but man is it hard to do recipe creation when it comes to desserts. Baking is so finicky, it's a lot more challenging to get creative than it is with lunch or dinner recipes. Fruit crisps are on the easier side, so I love to whip one up using whatever I have on hand. I had way too many peaches and cherries to eat by myself, so that's how this Cherry Peach Summer Crisp came to be!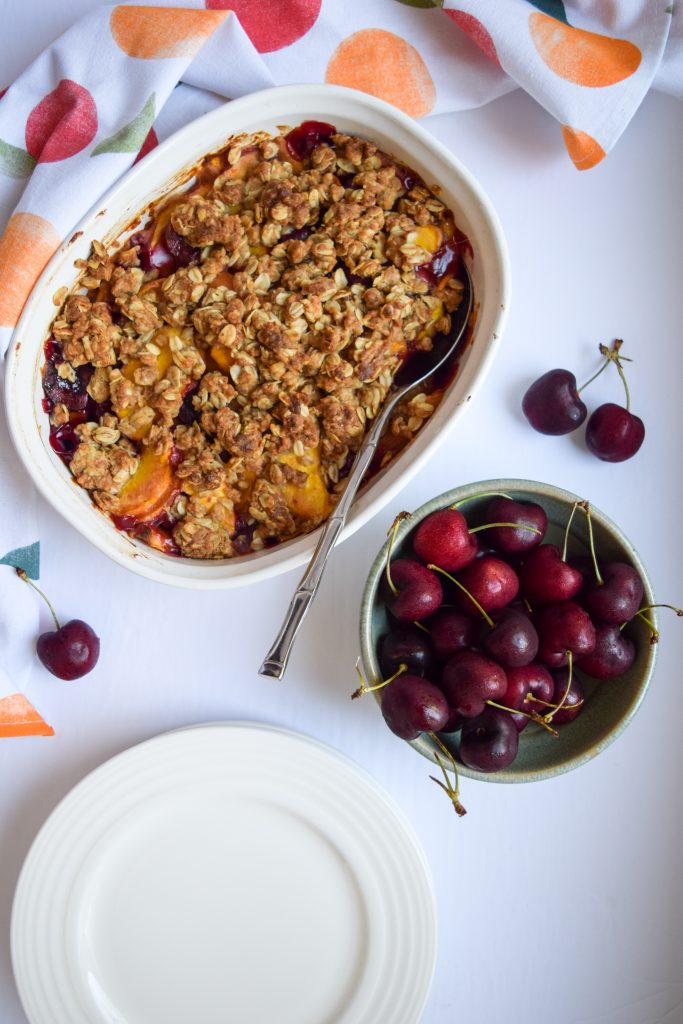 Cherry Peach Summer Crisp
Peaches – peaches are not particularly high in anything but do provide a little bit of vitamin C and fibre.
Cherries – also a bit of vitamin C and as well as antioxidants, which help protect against cell damage and can help lower your risk for disease. More on that here.
Oats – oats are a whole grain (more on that here), and provide us with fibre, some protein and tons of vitamins and minerals.
Flour – I used white flour, but this would also work with ground almonds to make it gluten-free.
Lemon juice – this helps prevent the peaches from browning.
White and brown sugar – we're making dessert so obviously, we need some sugar. Your body doesn't know the difference between white or brown sugar (or any sugars for that matter), so one is not better than the other. More on this below!
Salt – a little pinch of salt goes a long way in a dessert!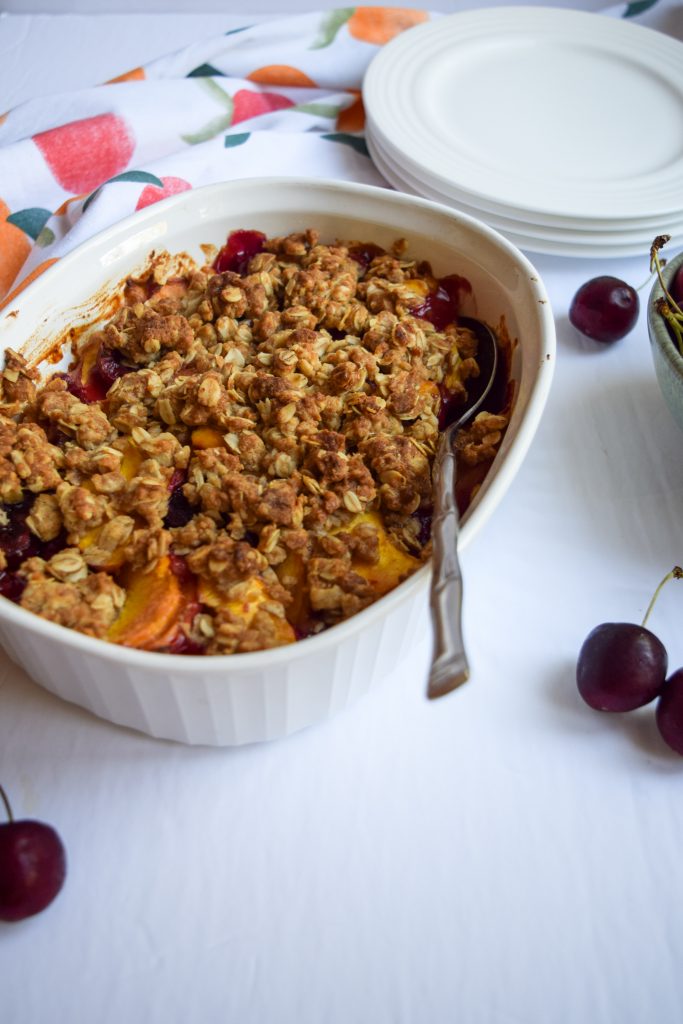 Nutrition Spotlight: Sugar
I have always wanted to cover this topic and today is the day ladies and gents! So to start off, what is sugar? Let's start with white sugar. Well, to start, it's a carbohydrate. Carbs are found in 3 forms: polysaccharides, which are long chains of carbohydrate units in things like starch and fibre, disaccharides, which are 2 carbohydrate units and monosaccharides, which are single units. Sucrose, a disaccharide, is what makes up white sugar. Its 2 units are glucose and fructose. When you eat white sugar, the sucrose gets broken down into glucose and fructose.
Any kind of sugar, regardless of its original mono- or disaccharides, breaks down into glucose. White, brown, coconut sugar, honey, and maple syrup, it all ends up the same in the body. These are added sugars and they should be limited to 10% of total energy or calorie intake.
Are Some Sugars Better Than Others?
Fruit and dairy products contain naturally occurring sugars. Naturally occurring sugars are fine for consumption as they accompany a ton of other nutrients such as vitamins, minerals and fibre. People often choose honey or maple syrup over sugar, claiming that it is a healthier option. Honey, for example, has a slightly different makeup than white sugar, with different percentages of glucose and fructose. These differences cause honey to be a little on the sweeter end (thanks to more fructose), so people tend to use less of it, but it is higher in calories than white sugar.
One thing I often hear is that honey has more nutrients than white sugar. While that is somewhat true, as honey does contain some antioxidants and trace minerals, you would have to eat so much honey to see any sort of benefit. Like, wayyyy more honey than anyone should be having. At the end of the day, sugar is sugar and we wanted to limit added sugars. If you prefer one over the other, great – but really, it all breaks down the same way in the body.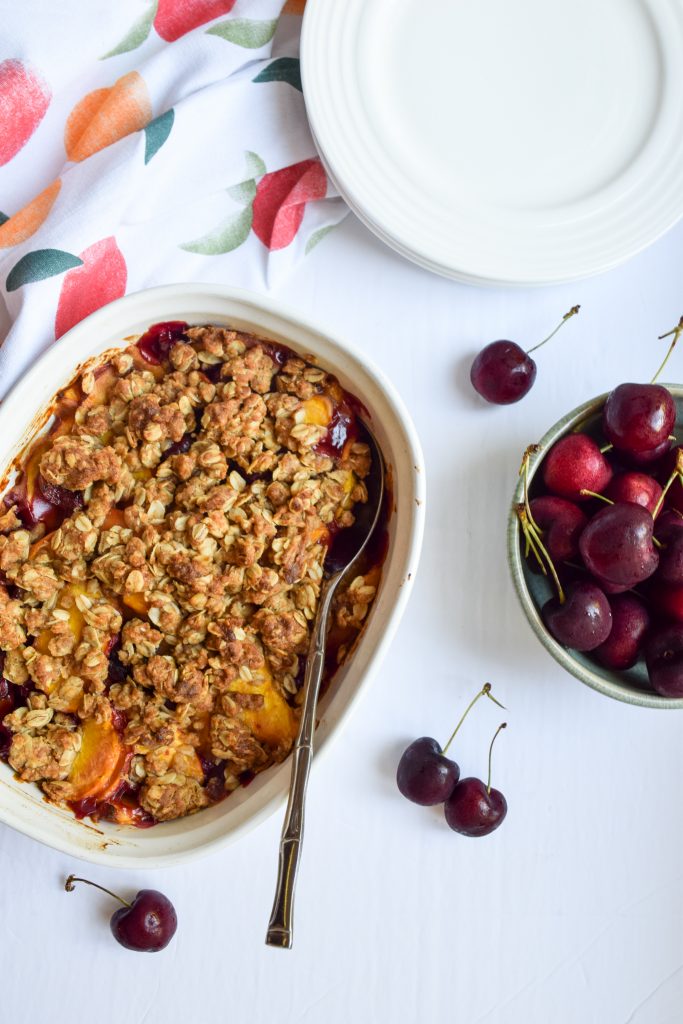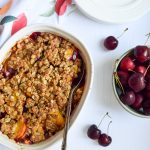 Print Recipe
Cherry Peach Summer Crisp
Summer is sadly coming to an end and I'm taking advantage of all the delicious stone fruit with this Cherry Peach Summer Crisp!
Ingredients
Fruit
4

cups

sliced peaches

about 5 peaches

2

cups

cherries, pitted

you could use frozen if you don't want to pit your cherries

1/4

cup

white flour

1/2

cup

white sugar

juice of

1/2

lemon
Crisp
1/2

cup

oats

1/2

cup

flour

1/4

cup

packed brown sugar

pinch of salt

1/4

cup

unsalted butter, melted
Instructions
In a large bowl, add 4 cups of sliced peaches, 2 cups of pitted cherries, 1/4 cup of flour, 1/2 cup of sugar and the juice of 1/2 lemon. Mix to coat fruit evenly.

Add fruit to a large casserole dish.

In a smaller bowl, add 1/2 cup of oats, 1/2 cup flour, 1/4 cup brown sugar and a pinch of salt.

Add in 1/4 cup of butter, melted, and stir to combine.

Top the fruit with the crisp and pop in the oven. Cook for 45-50 minutes. The fruit should be juicy and the crisp should be golden brown. If it looks like it's starting to burn, top with tin foil.