This Minestrone Soup is loaded with kidney beans, fresh veggies and shells, making it a balanced and delicious meal!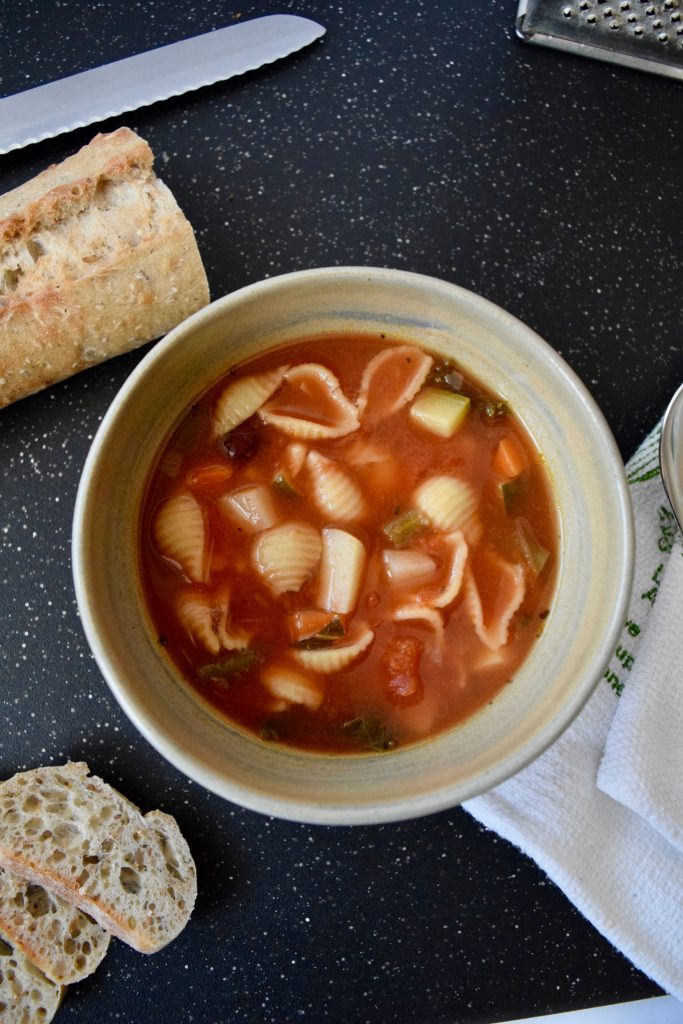 My absolute favourite soup since I was a kid is minestrone. You know the one that comes in a yellow can? I have always thought it was the absolute best canned soup and I often bought it in university as a cheap, healthy meal to have on hand. One of my very first ideas for this blog was to recreate that exact soup from scratch.
By no means do I think there is anything wrong with canned soup, especially if it has some protein and fibre in it. Canned soup is typically higher in sodium than soup made from home, but I also think it can make for a very cost-effective, well-balanced meal. The benefit of cooking from home is that you can control the amount of sodium and season it exactly to your liking. Cooking more often is actually a component of newest Canada's Food Guide, which came out in 2019.
Minestrone Soup Components
Carrots – high in vitamin A* and a source of fibre
Potatoes – a good source vitamin C, B6 and potassium
Tomatoes – also contains vitamin C
Kidney beans – wonderful source of protein, fibre, potassium and iron
Green beans – for vitamin C and fibre
Kale – extremely high in both vitamin A and vitamin C
Zucchini – there's also some vitamin C here
*If you're curious about vitamin A, I did a lil' deep dive in my Pumpkin Spice Muffin Recipe.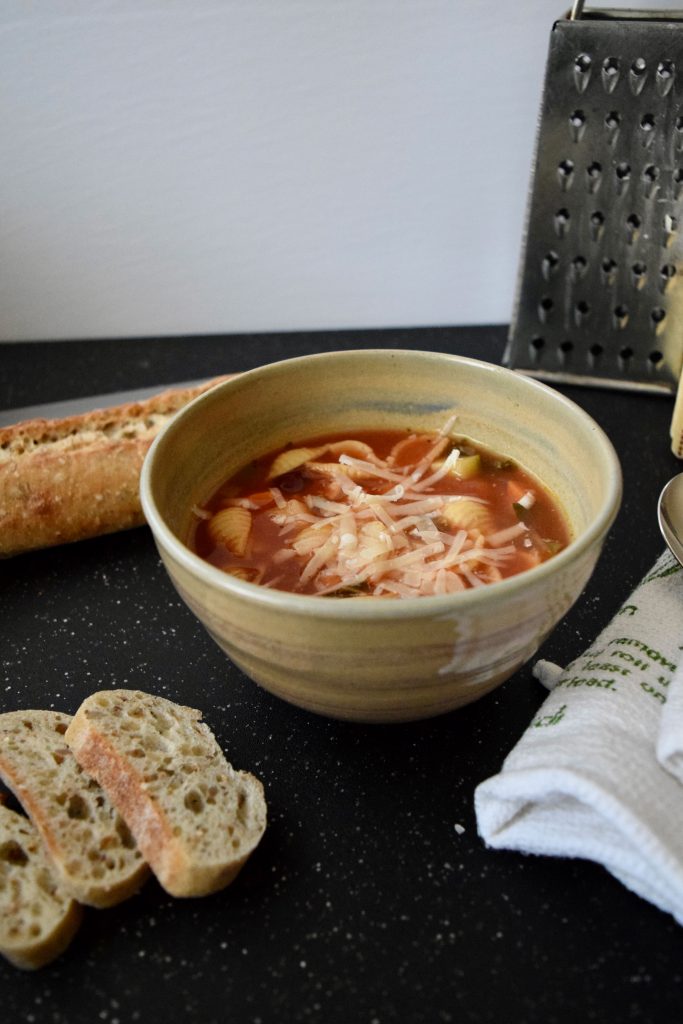 What about White Pasta?
Like canned soup, I don't think there's anything wrong with eating white pasta. Like, hello? Have you had good pasta before? It's delicious! Also, people (especially on the internet) like to act like white pasta is the devil's dish. In reality, it contains a bit of fibre and protein, as is usually enriched with nutrients like iron, folate, vitamin B1 and B3. Should your sources of carbohydrates come from a variety of sources instead of just pasta? Absolutely!
Can You Make Nutrition Swaps?
I also think it's important to note that you can totally sub in whole wheat pasta or a higher protein pasta made of lentils or chickpeas. I actually think this would work really well in this recipe since the pasta isn't really the star of the show. Personally, I'm not crazy about whole wheat pasta. Something about the texture just doesn't do it for me, so I rarely use it. That's the thing about nutrition swaps. If it is something you enjoy, go for it! But don't force yourself if it doesn't tickle your fancy. For example, I love switching out brown rice for white! I don't find it takes away from the meal so it's an easy way to get some extra fibre in!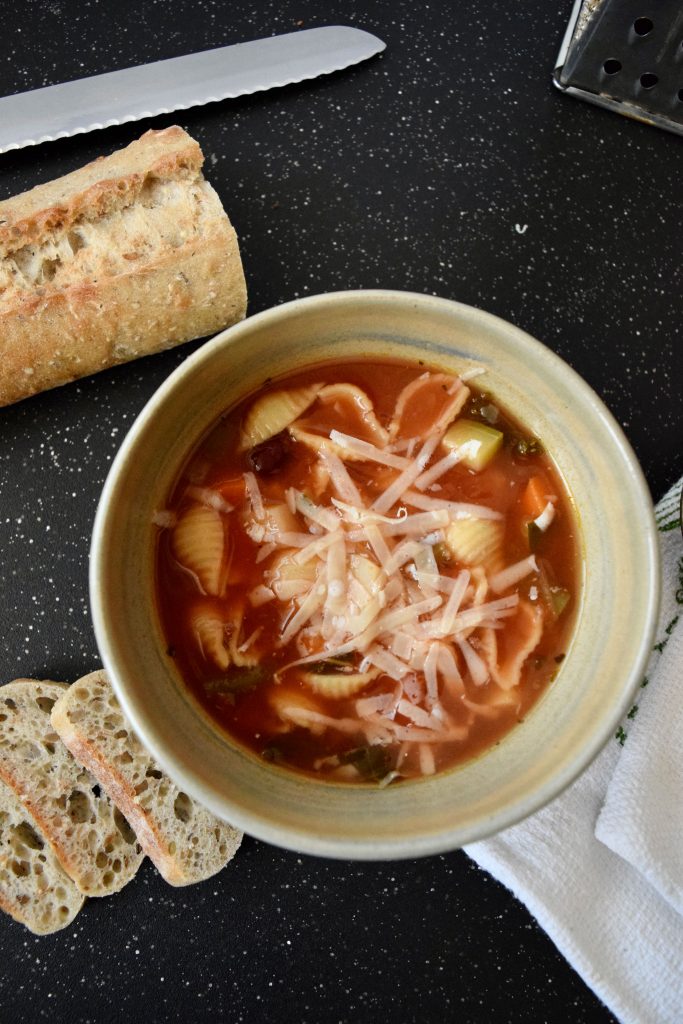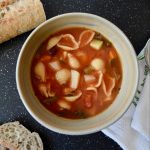 Print Recipe
Veggie-Loaded Minestrone Soup
Inspired by a childhood favourite, this Minestrone Soup is loaded with kidney beans, fresh veggies and shells - a balanced and delicious meal!
Ingredients
2

tbsp

olive oil

1

small white onion, diced

2

cloves

garlic, minced

1

can (156 ml)

tomato paste

3

medium carrots, diced

2

small white potatoes, diced

1

tsp

basil

1

tsp

oregano

1

tsp

parsley

1

can (28 oz.)

diced tomatoes

4

cups

vegetable broth

3

cups

water

1

parmesan rind (optional)

salt & pepper to taste

1 1/2

cups

pasta shells, uncooked

1

can (19 oz.)

kidney beans

1

cup

frozen green beans

1 1/2

cups

kale, chopped

1

cup

zucchini
Instructions
Add onion and cook until it becomes translucent, about 1-2 minutes

Add garlic and tomato paste and cook until fragrant, about 1 minute

Add carrots and potatoes and cook until they soften slightly, 3-4 minutes

Add basil, oregano and parsley

Add tomatoes, vegetable broth and water

Add parmesan rind and season with salt and pepper if needed

Bring to a boil, cover and simmer for 10-15 minutes

Add in shells and cook for al dente time on package

Halfway through cooking shells, add in beans, kale, green beans and zucchini

Top with shredded parmesan and enjoy!