This Strawberry Banana Almond Butter Smoothie is simple, delicious & made with all the good stuff to keep you full and satisfied!
Is strawberry banana a juvenile flavour choice? I feel like it is but I don't even care because it's so delicious! In my Banana Pineapple Smoothie recipe, I mentioned that go through phases with smoothies and that I prefer it as a snack as opposed to a meal. I think it's partially because there's an aspect of actually chewing foods that helps with satiety. As a gentle reminder, everybody's eating habits are different so if you're a smoothie for breakfast kind of person, you do you boo!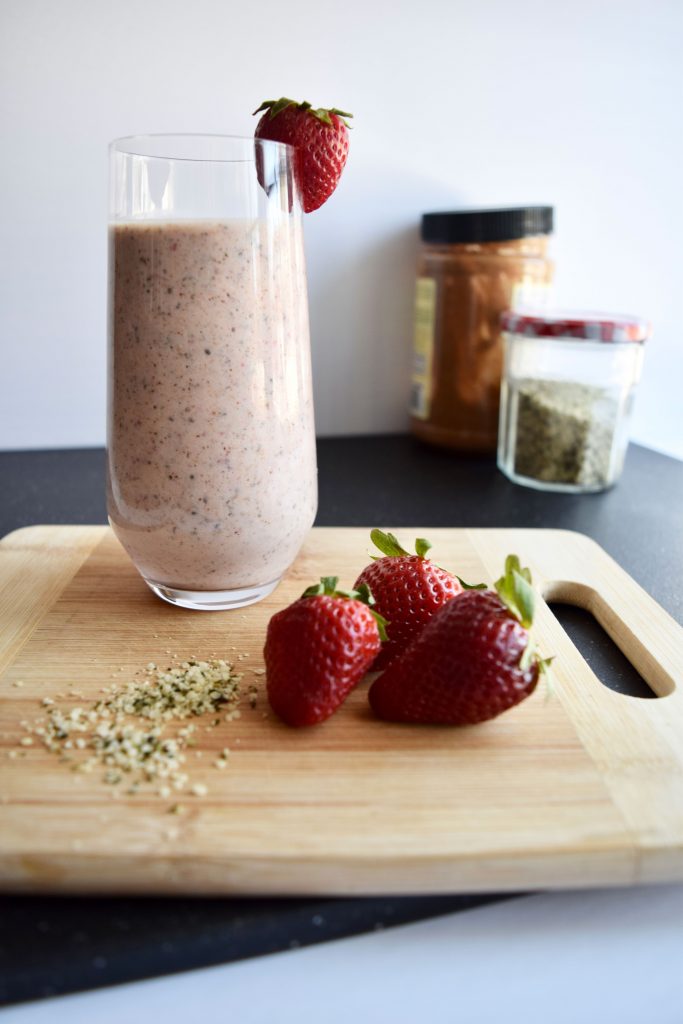 Strawberry Banana Almond Butter Smoothie
The key to a filling meal or snack is incorporating ingredients that help with satiety. These are foods that include protein, fat, fibre or a combination of all 3. I typically make a smoothie after a morning workout if I've already had breakfast but need to refuel before lunch. So how did I make this smoothie filling?
Protein – I used 1% milk, which has about 9g of protein per cup. If you're going the non-dairy route, soy milk comes in first in the protein category. I also used greek yogurt and almond butter which are good sources of protein!
Fat –  Hemp seeds! They are a great source of polyunsaturated fatty acids – which are beneficial in the prevention and treatment of cardiovascular disease! The almond butter contains both mono- and polyunsaturated fatty acids.
Fibre – We get some from the fruit, chia seeds and almond butter!
Honourable mention goes to strawberries – about half a cup contains 97% of your daily Vitamin C needs. We love that!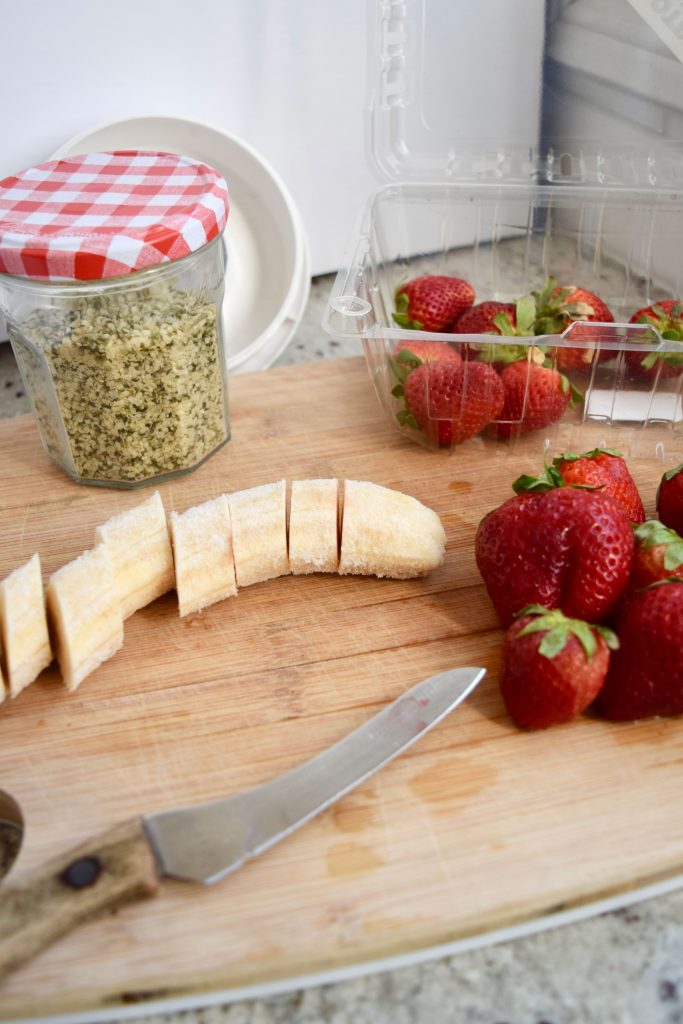 Let's Talk Vitamin C
People love to talk about Vitamin C especially during cold and flu season, which is only compounded by the pandemic. The research shows us that Vitamin C does not prevent the common cold but, it may be effective in shortening the duration and severity. Although, it is quite controversial. Vitamin C does a lot more than you probably think; it helps with iron absorption from plant-based sources, helps with gum health and wound healing, helps to form blood bones and other tissues. If that wasn't enough, it's an antioxidant, so it may help reduce the risk of certain cancers and slow signs of ageing!
Do you need to take a Vitamin C supplement to see these effects? Probably not. Vitamin C is a water-soluble vitamin, which means if taken in excess it is removed in the urine. If you're meeting your needs through diet, supplementing has no use. Luckily, it is very easy to meet your Vitamin C needs with a healthy, balanced diet. Adults need between 75 (females) and 90 (males) mg of vitamin C per day. A whole red pepper contains 312 mg, so if you're eating your fruits and veggies, you're probably meeting your needs. Other foods high in Vitamin C are strawberries, kiwis, oranges, broccoli and tomatoes. I've mentioned this before, but before you make any major change to your diet, you should be consulting your doctor or registered dietitian. Taking unnecessary supplements can be damaging to both your health and your wallet.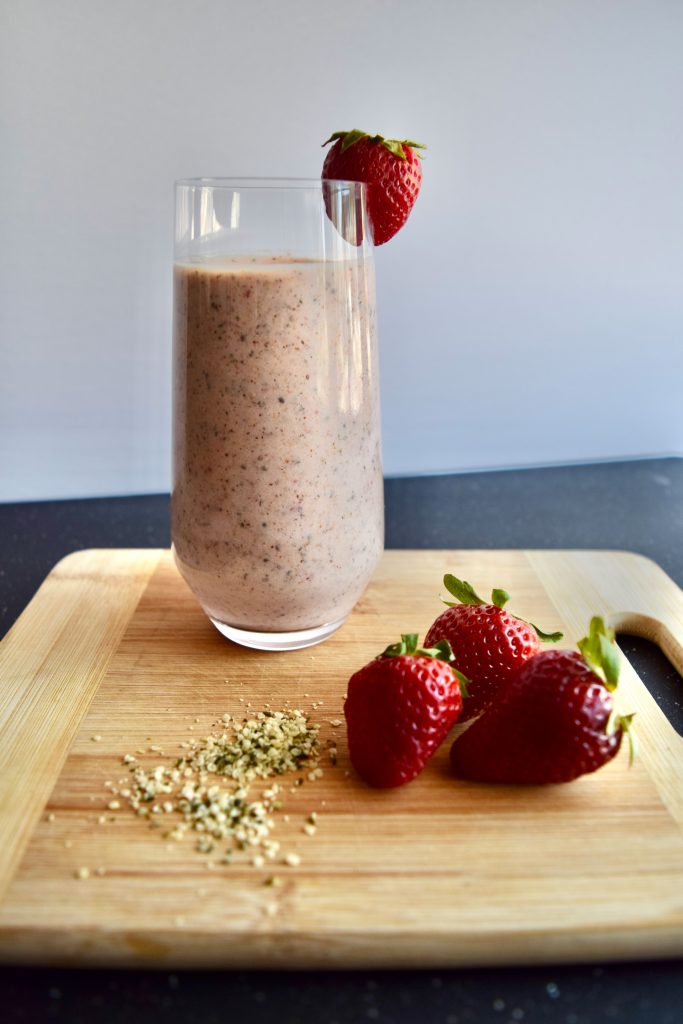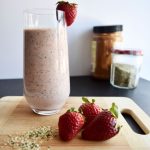 Print Recipe
Strawberry Banana Almond Butter Smoothie
This Strawberry Banana Almond Butter Smoothie is simple, delicious & made with all the good stuff to keep you full!
Servings:
1
large or 2 small
Ingredients
1

cup

strawberries

1

frozen banana

1/2

cup

milk

1/4

cup

plain greek yogurt

1

tbsp

chia seeds

1

tbsp

hemp hearts

1

tbsp

almond butter
Instructions
Add all ingredient to a blender.

Blend for 1-2 minutes until all ingredients are combined.

Based on yoru smoothie thickness preferences, you can add more or less fruit or milk.