Today we're combing two of the most popular muffin flavours with these Banana Nut Chocolate Chip Muffins, perfect for that mid-day snack!
My goal in life is to be the mom who always makes enough muffins on Sundays to last the whole week. I'd love to try out a new flavour each week, but alas, I can hardly find the time. Once in a while, I take some time to cook muffins and I'm always happy when I do. Such an easy way to make snacks for a few days at a time. That's sort of how these muffins came to be – I needed something to eat for a mid-workday snack. I wanted the banana bread taste with the muffin-style texture. Look, I make a mean loaf of banana bread. I've made it probably 100 times, with various chocolate combinations, and it's always incredible. The recipe actually comes from Butternut Bakery and it inspired these Banana Nut Chocolate Chip Muffins.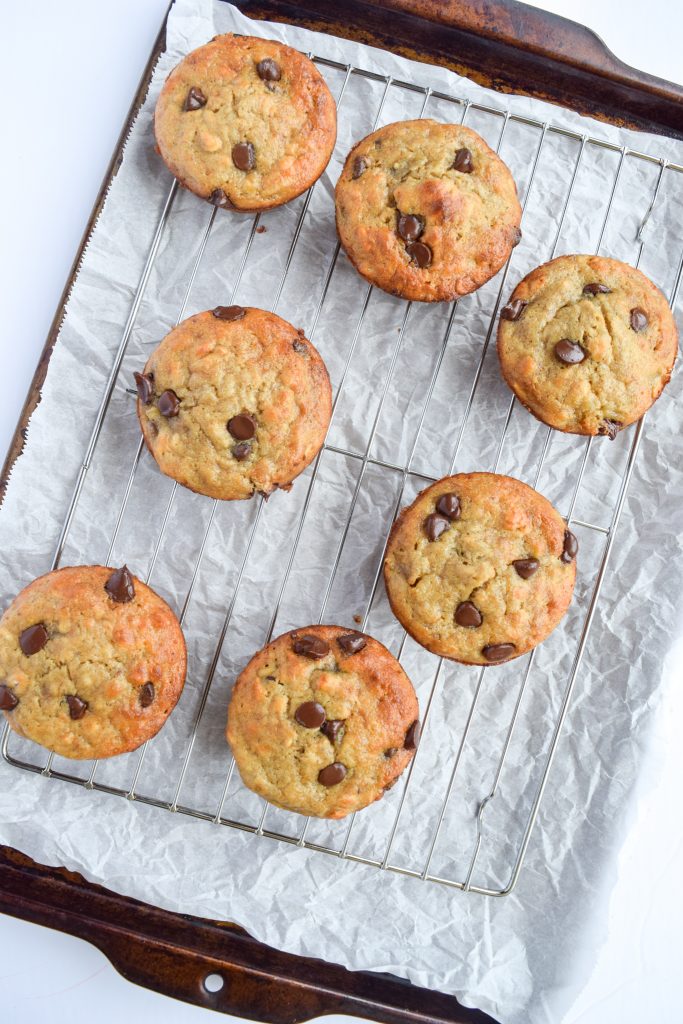 Banana Nut Chocolate Chip Muffins
Bananas – potassium, fibre, vitamin B6 & B12!
Eggs – besides being a great source of protein and omega-3 fats, eggs are also high in vitamin A, D, E and B12, as well as some minerals!
Greek yogurt – I love adding Greek yogurt to boost protein, plus it contains lots of calcium!
Flour – I personally prefer white flour in baked goods for texture's sake, but you can sub in a 1/2 cup of whole wheat flour if that's your thing.
Oats – Oats are whole grains and provide vitamins, minerals, fibre and even a bit of protein. I love adding them to muffins and loaves! You can read more about whole grains here.
Walnuts – nuts are a great source of unsaturated fat, protein, fibre and antioxidants. You can read about antioxidants here!
Brown sugar and white sugar – brown sugar is just white sugar with molasses added in. I broke down different types of sweetners and why one isn't better than the other in this post.
Butter – I personally use butter in most baked goods, but if you wanted to substitute something else in, go for it!
Vanilla extract – You can read all about that vanilla/beaver tiktok thing here.
Baking powder – baking powder is a mix of baking soda (a base) and an acid. It acts as a leaving agent, when moistened, producing carbon dioxide gas which gives baked goods that light, fluffy texture.
Salt – Limiting salt helps decrease the risk of  high blood pressure, stroke, heart and kidney disease. I add a small pinch to baked goods to enhance the flavour!
Chocolate chips – choose your fighter (milk, white, dark) and just go with it!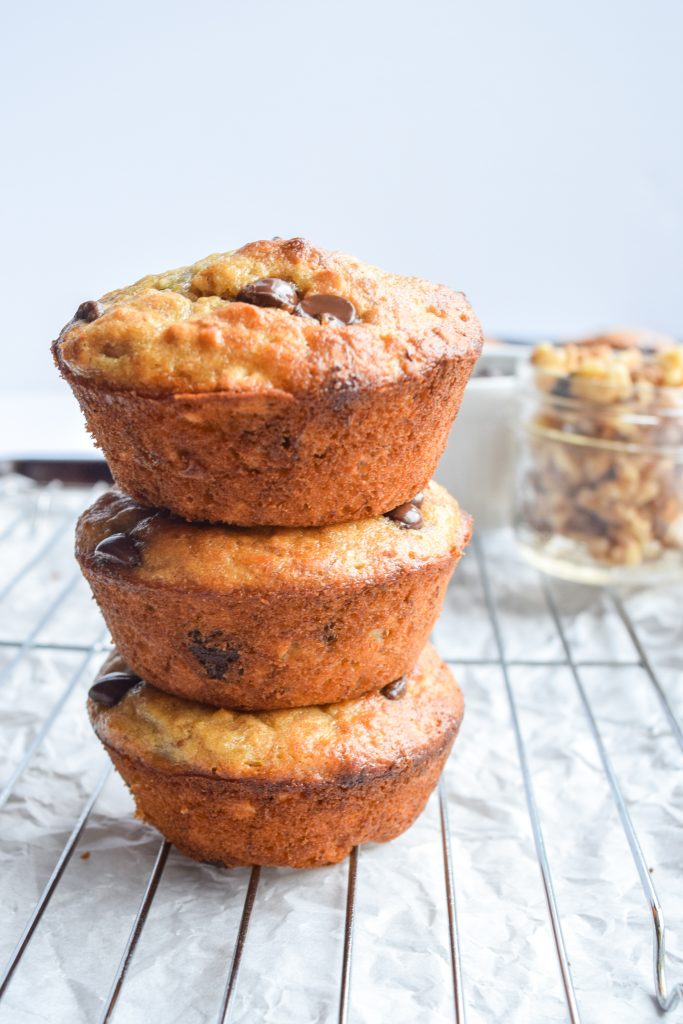 Nutrient Spotlight: Calcium
You probably know that calcium is important for bone and teeth health. If you read my last post for Homemade Salmon Burgers, you would also know Vitamin D is required for calcium absorption. Calcium is also important for your heart, muscles and nerves. We find it in dairy products and some non-dairy products (rice and soy) have been fortified. Orange juice is also fortified with calcium. Other sources are canned fish with bones, some beans and dark leafy greens (spinach, kale, etc). According to Canada's Food Guide, those who eat a healthy and balanced diet don't need a calcium supplement. However, it may become a wise choice as you age to prevent osteoporosis. As per my usual message, it's important to speak to a registered healthcare provider before taking any supplements. Coffee, alcohol and certain medications can inhibit calcium absorption.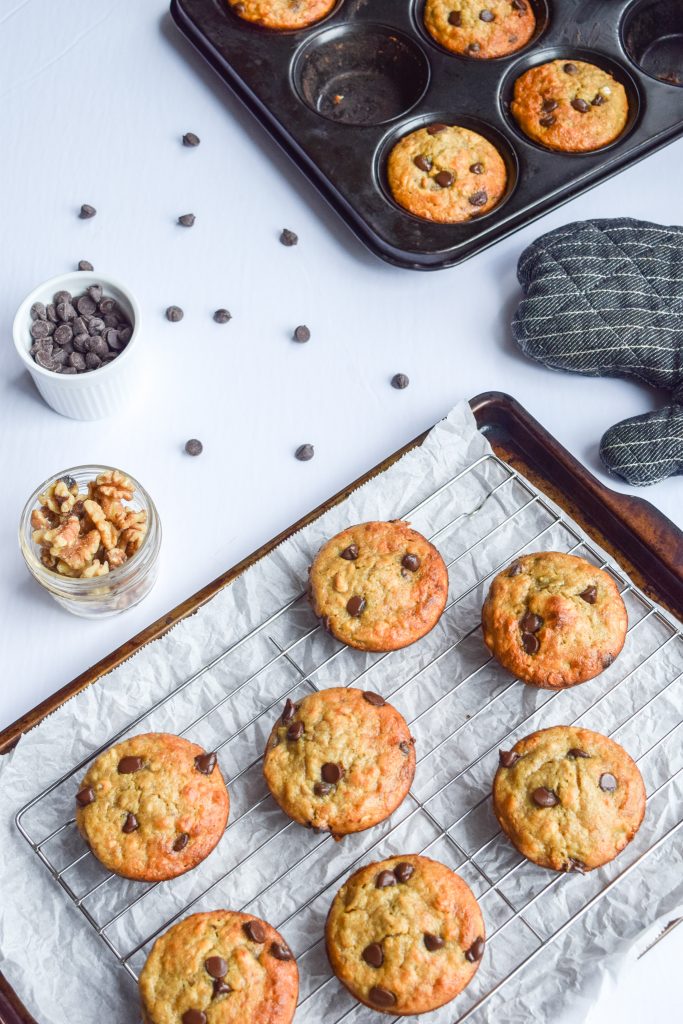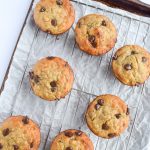 Print Recipe
Banana Nut Chocolate Chip Muffins
Today we're combing two of the most popular muffin flavours with these Banana Nut Chocolate Chip Muffins, perfect for that mid-day snack!
Ingredients
1/4

cup

unsalted butter, melted

1/3

cup

brown sugar, packed

1/3

cup

granulated sugar

2

eggs

3-4

bananas, mashed (about 1 1/4 cup)

1/2

cup

plain greek yogurt

2

tsp

vanilla extract

1

cup

all-purpose flour

1/3

cup

rolled oats

1

tsp

baking powder

1/2

tsp

salt

1/2

cup

dark chocolate chips

1/4

cup

walnuts, chopped
Instructions
Preheat oven to 350 F. Grease a muffin tin and set aside.

In a medium bowl, melt 1/4 cup of butter.

Add 1/3 cup of brown sugar and 1/3 cup of white sugar and cream with a hand mixer for 2-3 minutes. The mixture should become light and fluffy. If using a whisk, it might take closer to 5 minutes.

Add in the mashed bananas, yogurt and vanilla. Mix until incorporated.

In a separate, large bowl, combine 1 cup of flour, 1/3 cup of oats, 1 tsp of baking powder and 1/2 tsp of salt. Whisk to incorporate.

Make a small well in the flour mixture and pour in banana mixture. Whisk until just combined (it's okay if it's a little lumpy).

Add in 1/2 cup of chocolate chips and 1/4 cup of chopped walnuts. Mix slightly.

Spoon mixture into 12 muffin tins and top with a few extra chocolate chips.

Pop in oven and cook for 18-22 minutes. They are done when golden brown on top and when an inserted toothpick comes out clean.