This Chicken Fajita-Inspired Salad makes a balanced meal with delicious grilled veggies, fresh herbs and a yummy salsa verde dressing!
Chicken fajitas are one of my favourite things to eat – my mom made them a lot when I was younger so there's sort of a sense of nostalgia. However, fajitas don't make for much of a summer meal. I live for a cold salad in the summer, so I combined the two and thus, this Chicken Fajita-Inspired Salad with Grilled Veggies was born. All of this deliciousness comes together in under an hour and makes for an amazing meal-prepped meal or even leftovers! Doesn't sound like your thing? No problem – try my Sesame Brussels Sprout Slaw with Edamame or  Fresh Orzo Salad with Lemon Feta Dressing for all your summer salad needs!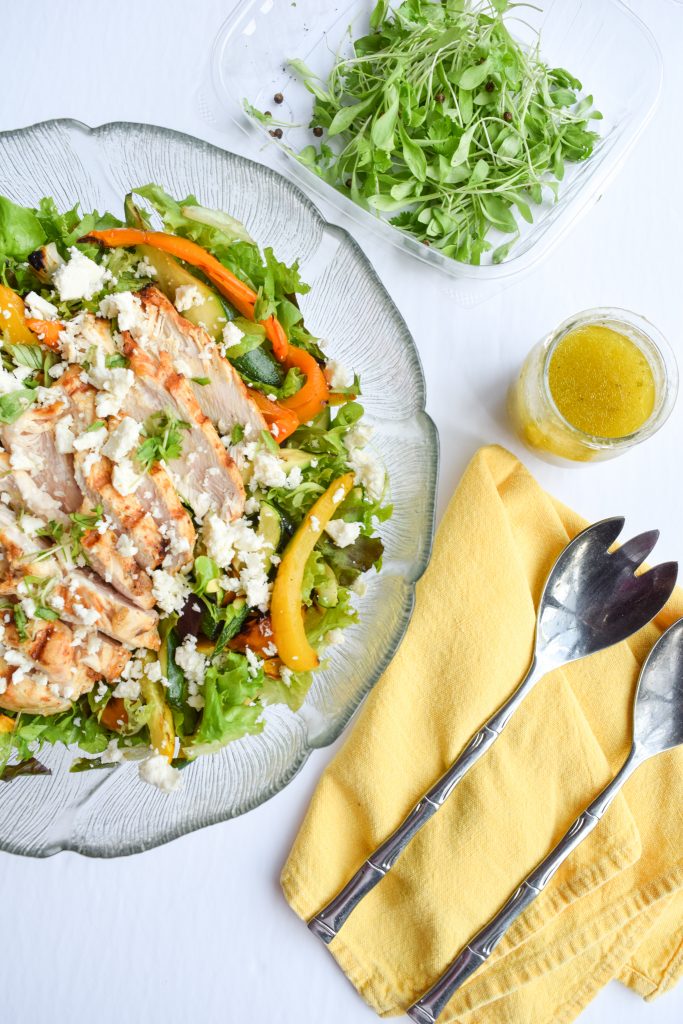 Chicken Fajita-Inspired Salad with Grilled Veggies
Chicken – You could do steak or shrimp, roasted chickpeas or some type of marinated tofu if you're looking to swap proteins!

Lettuce – If you're looking for a slightly more nutrient-dense green, you could do spinach or kale but I think regular old lettuce compliments this salad the best. Mine was fresh from the garden!

Peppers – Bell peppers are the fruit/veggie with the highest amount of Vitamin C! I'm actually not a huge fan of them raw, but I love them grilled!

Green onions – there's also a good amount of Vitamin C in green onions and again, they taste amazing when grilled.

Avocado – regrettably, there is no avocado in these photos because I forgot to buy it but I promise, it really elevates this salad. Plus, avocados are super high in unsaturated fats (the kind we want to choose more often) as well as fibre, folic acid and vitamin E.

Zucchini and/or asparagus – the first time I did this I used asparagus, and the second time, zucchini. Both are delicious, but I think I prefer the asparagus! Both also contain fibre, vitamins and minerals!

Feta cheese – cheese is a great source of calcium if you eat dairy, but it can be very high in sodium (especially feta). Feta is also high in Vitamin B6 and B12! It also adds protein and fat!

Cilantro – I love the flavour, but if it's not for you, omit or swap with another fresh herb.
Salsa Verde, garlic, white vinegar – these are all in the dressing. If you don't have salsa verde, I would use sriracha but quite a bit less.

Lime juice, o

live oil,

garlic powder,

smoked paprika,

cumin, s

alt and pep – these are all part of the marinade for the chicken and are needed in small quantities.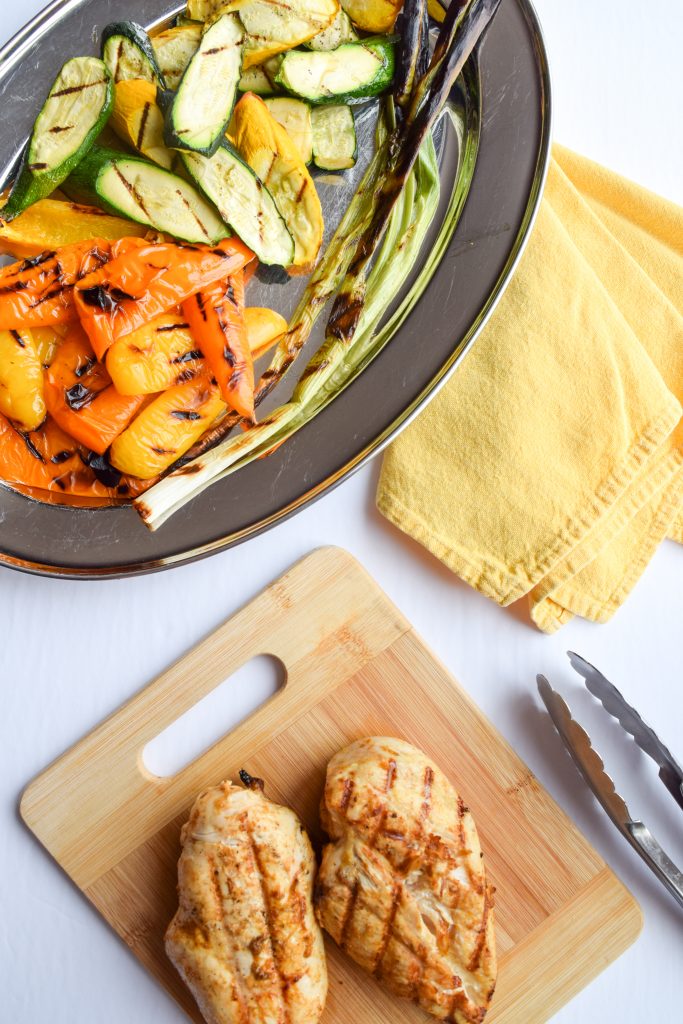 Nutrient Spotlight: Vitamin B12
You may know a few different B vitamins, but you may have also heard of things like riboflavin and thiamin. So what the heck am I talking about? Vitamins exist in 1 of 2 ways: water-soluble and fat-soluble. Fat-soluble are Vitamins A, D, E and K. They are absorbed and transported in a manner similar to fats. All other vitamins are water-soluble, and if consumed in excess, are excreted from the body through urine. There are 8 B Vitamins:
B1 – Thiamin
B2 – Riboflavin
B3 – Niacin
B5 – Pantothenic acid
B6 – Pyridoxine
B7 – Biotin
B9 – Folate
B12 – Cobalamin
Today we're focusing on B12. Vitamin B12 is need for healthy nerves and blood cells. Pernicious anemia, a condition that occurs as a result of low B12, and therefore a lack of healthy red blood cells, causes fatigue and difficulty concentrating. This is important to note because B12 is naturally found only in animal products, meaning that vegetarians and vegans are more at risk of being deficient. The good news? Most plant-based products (almond milk, soy products, etc) are fortified with B12! B12 is also less easily absorbed as we age, so those over 50 are also at risk of deficiency. As per my usual spiel, it is absolutely essential to consult a registered healthcare provider prior to adding any supplements to your diet.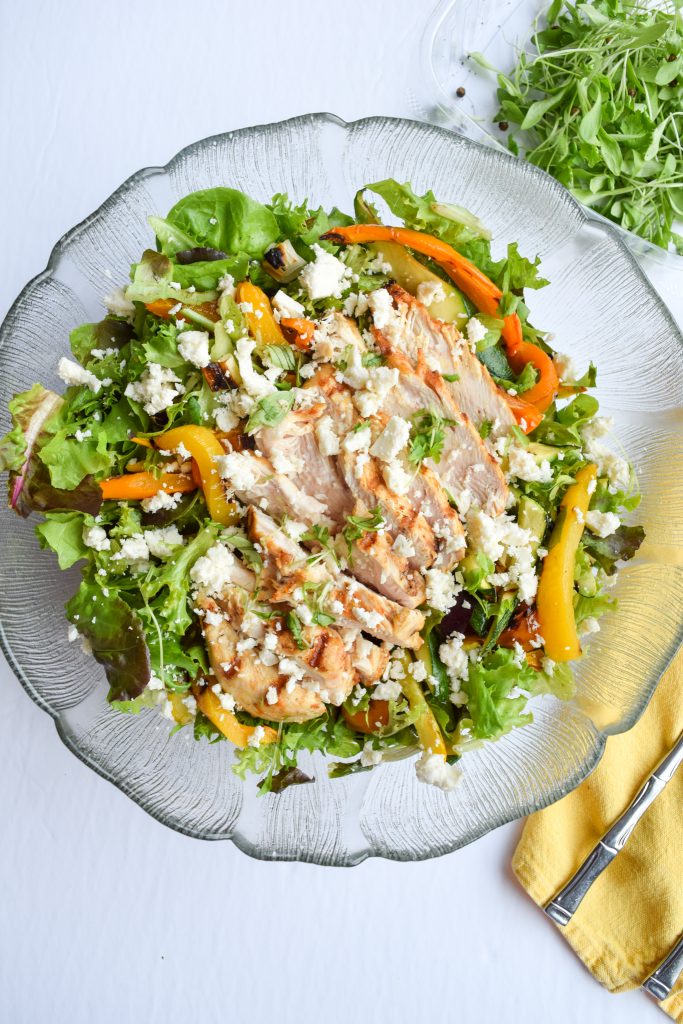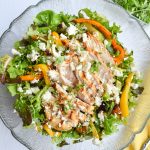 Print Recipe
Chicken Fajita-Inspired Salad with Grilled Veggies
This Chicken Fajita-Inspired Salad is complete with delicious grilled veggies, fresh herbs and a yummy salsa verde dressing!
Ingredients
2

chicken breasts

juice of 2

limes, separated

1/4

tsp

garlic powder

1/2

tsp

smoked paprika

1/2

tsp

cumin

salt and pepper to taste

4

cups

lettuce of your choice

2

bell peppers, seeded and cut into 1/8ths

3

small zucchinis or ~10 asparagus stalks

2

green onions

3 1/2

tbsp

olive oil, separated

2

tbsp

salsa verde (or 2 tsp sriracha)

1

tbsp

white vinegar

1

garlic clove

1

avocado, sliced

1/4

cup

feta, crumbled

2

tbsp

cilantro, finely chopped
Instructions
Marinate Chicken
In a container, add 2 chicken breasts, juice of 1 lime, 1 tbsp olive oil, 1/4 tsp garlic powder, 1/2 tsp smoked paprika, 1/2 tsp cumin, salt and pepper. You can marinate this for 30 minutes up to 24 hours.
Prep Veggies
If you haven't already, seed bell peppers and cut into eighths. Place on a large tray.

Slice zucchinis into thin slices or, if using asparagus, chop off the ends. Add to tray.

Rinse and remove ends from green onions. Add to tray.

Cover zucchini with 1/2 tbsp olive oil, salt and pepper.
Grill Time!
At this point, turn on your barbecue (you could also roast the chicken and veggies in the oven).

Once hot, place chicken breasts and veggies on grill and close barbecue.

The green onions will take 2 minutes per side, while the other veggies will be 4-5 minutes per side. The chicken should take about 5 minutes per side. Just keep an eye on everything!
Putting It All Together
While chicken and veggies are cooling, prep the salad dressing. To a jar or bowl, add 2 tbsp olive oil, 2 tbsp salsa verde, 1 tbsp white vinegar and one garlic clove, finely diced. Shake to combine and set aside.

In a large bowl, add 4 cups of lettuce.

Slice the chicken and veggies and add to salad.

Top with sliced avocado, crumbled feta and cilantro.

Finish off with dressing and enjoy!