This Fresh Corn & Tomato Salsa is the perfect way to use up that leftover corn on the cob at the end of summer for a delicious side or snack!
I've been slacking on the blogging this summer. I've been busy working (turns out a full-time job is a big commitment), so Stuff on a Plate went on the back-burner. I'm so excited to go back to school, continue my journey to becoming an RD and have a little more time to spend on this little passion project. I got a short spark of inspiration the other day and thus, this recipe for Fresh Corn & Tomato Salsa was born.
I've been loving making fresh salsas all summer – it's such an easy way to make a yummy snack whilst also cleaning out your fridge. This came together in under 10 minutes and I ate it for a few days in a variety of ways. My favourite? Atop some scrambled eggs and toast for a sort of fresh, huevos rancheros-type of vibe. Looking for a different side dish? How about this Simple 5-Ingredient Hummus.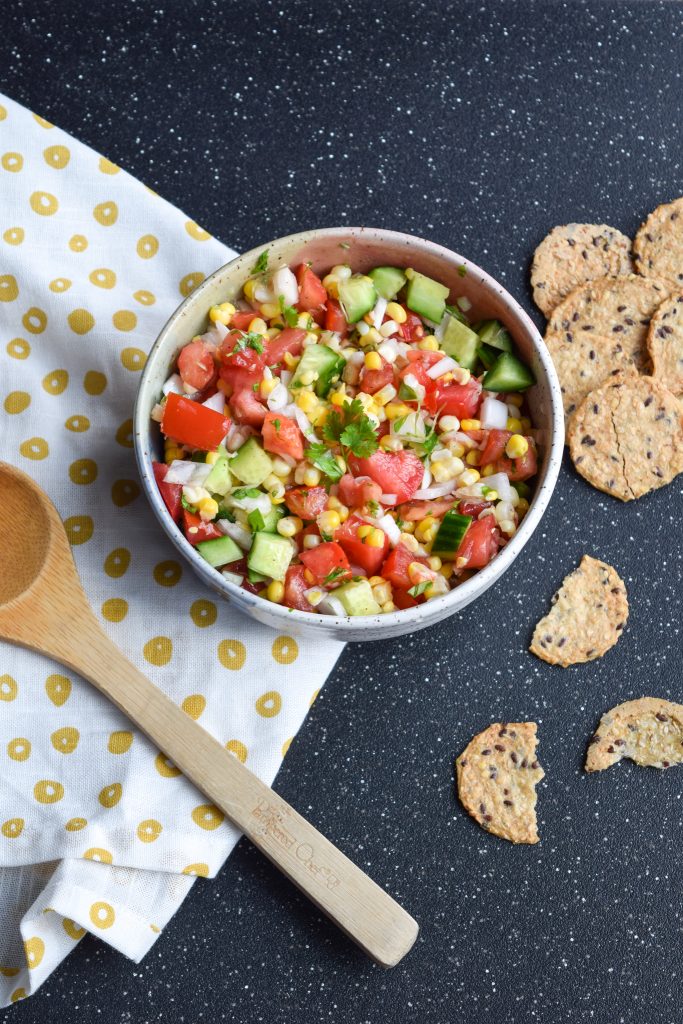 Fresh Corn & Tomato Salsa
Corn – I go more into detail about corn below, but in short, it's got a little bit of everything (carbs, fibre, vitamins, etc.) but nothing in super significant amounts.
Cucumber – Similarly, cucumber is mostly water and doesn't provide a lot of nutritional value. This just means that as far as meeting your nutritional "goals" for the day, cucumber doesn't really help you get there. I love to eat it in salads and with dips, but it's not satiating
Tomato – Tomatoes are a good source of vitamin C, which will help absorb the fibre from the vegetables.
Onion –  Onions are also not super high in any particular nutrient.
Lime juice, salt & pep, cilantro – these are all fun things that add flavour to a dish. You can sub in a different fresh herb if cilantro isn't your thing.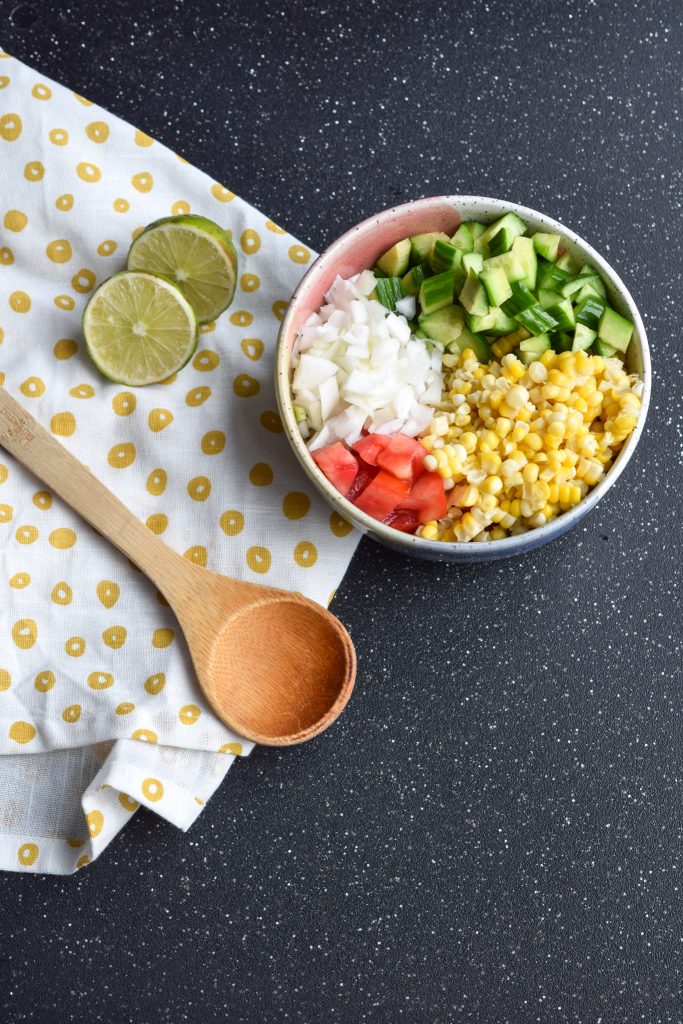 What's the deal with corn?
I feel like corn gets a bad rap and I'd like to explain where that comes from. The corn that we eat (corn on the cob, frozen or canned corn) is a vegetable. Simply put, vegetables are one of two things: starchy or non-starchy. Starchy vegetables, like corn and potatoes, are much higher in carbohydrates than non-starchy ones. This doesn't mean you have to fear them, just treat them as a grain. So if you're trying to balance your plate, corn would replace your rice or bread, not your vegetables. Corn on the cob is actually considered a whole grain, so it's a perfectly nutritious option, especially when it's fresh in the summertime!
You might have heard that our bodies don't digest corn which isn't true. The inner part of a corn kernel is digested quite easily. What is true is that corn is high in insoluble fibre, which makes up the kernel. Fibre comes in one of two ways: soluble and insoluble. Both pass through the digestive system without being digested. Insoluble fibre's role is to help keep us regular and is a very important component of a healthy diet.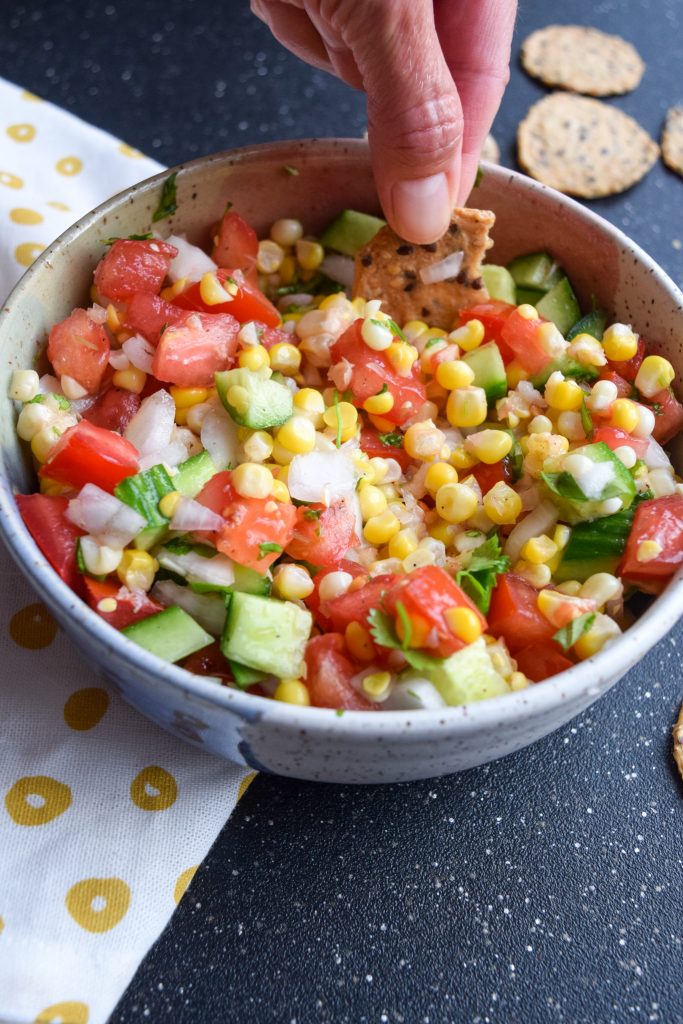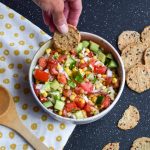 Print Recipe
Fresh Tomato & Corn Salsa
This Fresh Corn & Tomato Salsa is the perfect way to use up that leftover corn on the cob at the end of summer for a delicious side or snack!
Ingredients
1/2

cucumber, diced

1

large

tomato, diced

1/2

small

white onion, diced finely

1

cup

corn

juice of 1

lime

1

tbsp

cilantro, finely chopped

salt and pepper to taste
Instructions
If not done already, chop cucumber, tomatoes and onions. Add to a medium bowl.

Add in 1 cup of corn. I used fresh, but frozen or canned would work too.

Add in the juice of 1 lime.

Add salt and pepper to taste.