It's time for brunch with this Italian-Inspired Shakshuka, complete with juicy tomatoes, perfectly poached eggs and parmesan cheese!
I tried shakshuka for the first time a few months ago during our 'Cooking Around the World' class with The Hungry Flight Attendant. It's one of those dishes in which its country of origin is highly disputed. According to Culture Trip, Shakshuka may have originated in Yemen or in North Africa, specifically around Libya or Tunisia. It is thought that this dish came to be as North African immigrants in Israel, could make it easily in one pot and affordably, with cheaper ingredients like eggs, vegetables and bread. Nowadays, you can find hundreds of variations of Shakshuka, this one having a bit of an Italian flair! Enjoy!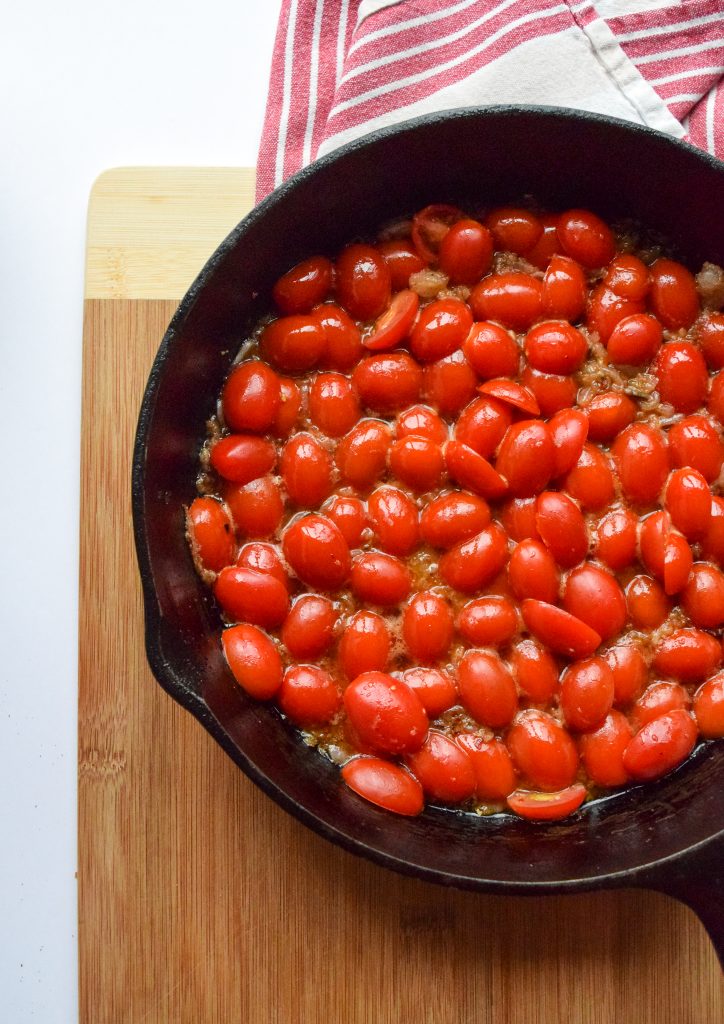 Italian-Inspired Shakshuka
Cherry tomatoes – tomatoes are an excellent source of Vitamin C. This will help absorb any iron found in the toast you serve it with. Vitamin C is also important for gum health, wound healing and acts as an antioxidant.
Tomato puree or passata –
Eggs – packed full of protein, vitamins A, D, E and B12 as well as minerals! Most eggs also have Omega-3 fats, which are important for heart health.
Olive oil – a great source of unsaturated fat! You can use the oil of your choice, but we want to avoid coconut and palm oil as these are high in saturated fats.
Shallots and garlic – these add tons of great flavour to any dish without any added sodium. If you can't find shallots, half a small white onion will do.
Anchovy – if you're skeptical, don't be. The one anchovy added will disintegrate and you won't even know it's there! Nutritionally, anchovies are quite high in protein, iron, calcium and sodium. However, you aren't getting much out of 1 anchovy.
Red chilli flakes, salt, pepper, fresh basil – more flavour to be added! If you don't have fresh basil, add dried basil when you add in the chilli flakes.
Parmesan cheese – parmesan cheese is higher in sodium than some other cheeses and is a source of unsaturated fat. However, on the other end, we do get some protein and calcium from this addition to the dish. We are also only using a bit, so it's a perfectly healthy choice in my opinion!
Avocado (optional) – I talk ALL about avocados here, check it out! I forgot to include them in my photos, unfortunately.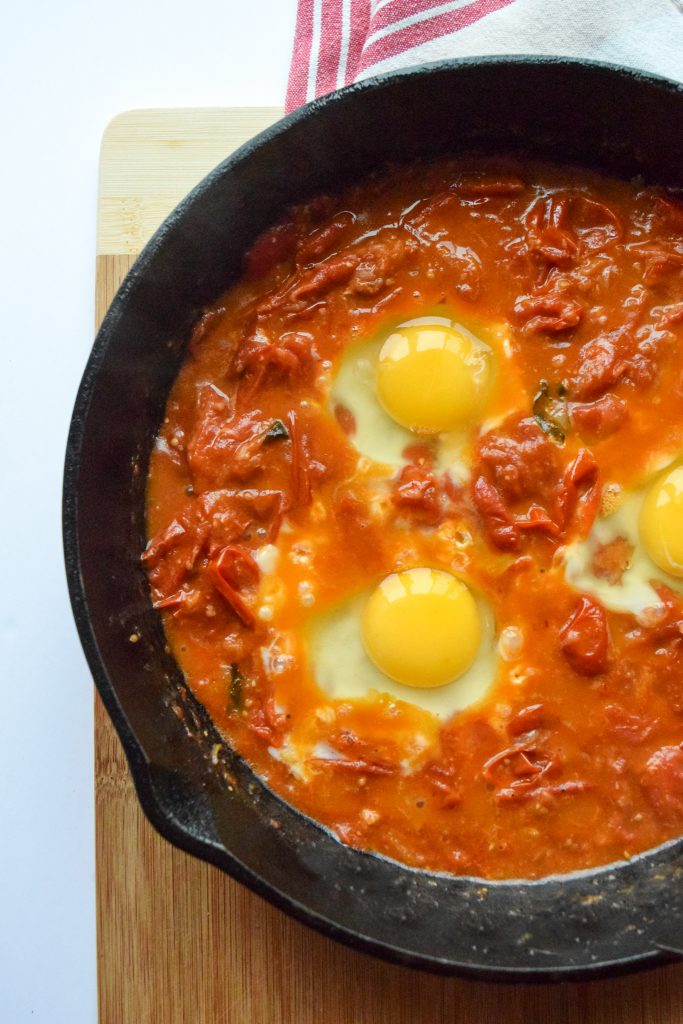 Let's Talk about Salt
We know that we should be limiting our salt intake, but it doesn't have to be something you fear! Salt, or sodium, falls into the mineral category of nutrients. Minerals are non-caloric nutrients that are essential to our body's regular functions. That means, you cannot completely eliminate sodium, as it's important for fluid balance. Too much sodium can cause high blood pressure as well as heart and kidney disease. Most people eat double the amount of sodium needed, which by the way, is about 1500 mg per day.
Is There a Lot of Salt in this Shakshuka?
As a rule of thumb, typically the more processed the food, the higher the sodium. Adding a bit of salt to your tomato sauce or to the top of your shakshouka isn't something to worry about. Constantly consuming hyper-processed, convenience foods is where there's room for improvement. Cutting these things out completely? Unnecessary. Trying to make pasta sauce or muffins at home instead of buying them? Definitely doable – you can control the amount of sodium in the foods you cook. Another good choice is to look for a %DV of less than 15% sodium on your food labels.
What About Pink Himalayan Salt?
I have zero clue where this pink Himalayan salt wellness BS came from. Salt is salt. Pink Himalayan salt is higher in certain minerals like potassium, calcium and magnesium. However, these amounts are negligable because the quantities are so low for the amount of salt you would be eating. Hannah Magee, RD has a wonderful post and podcast addressing this. Any type of salt has the same amount of sodium per teaspoon – 2300 mg. Some just happen to be much more expensive 😉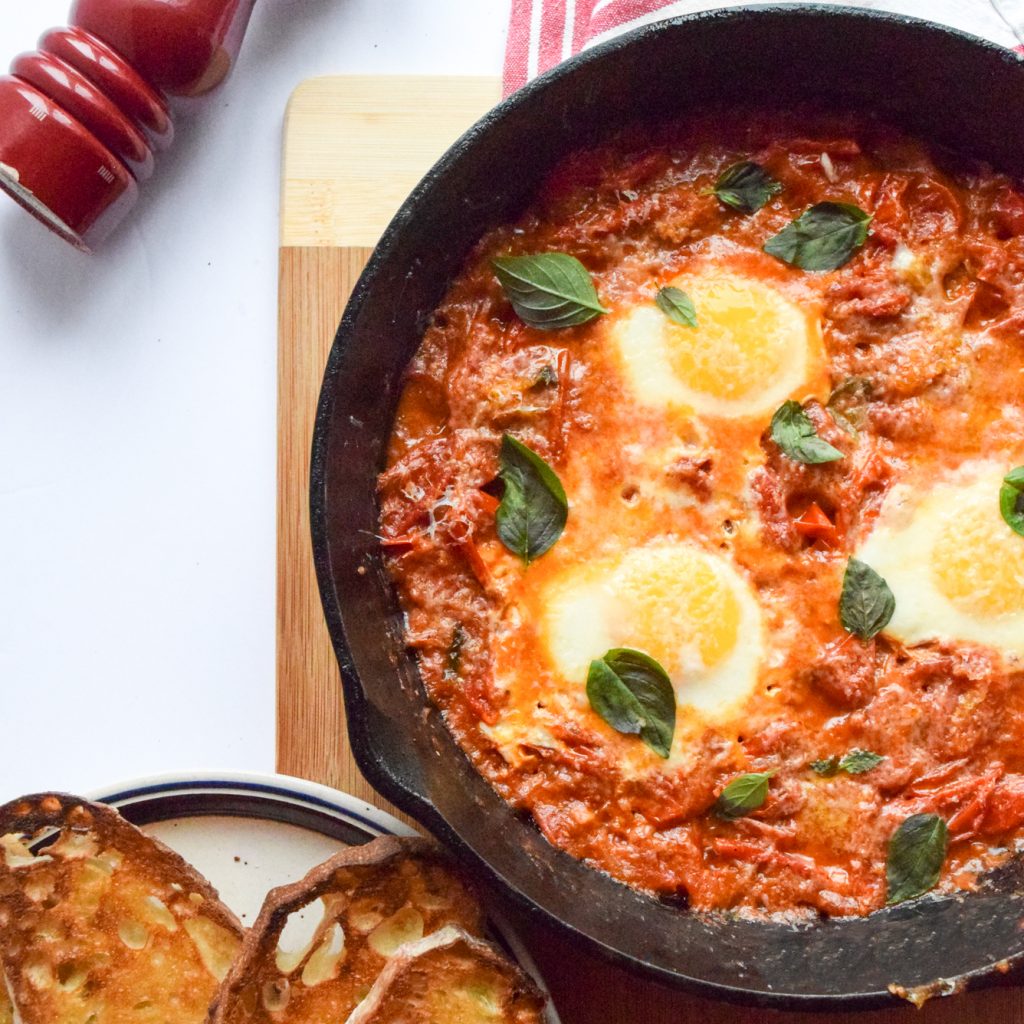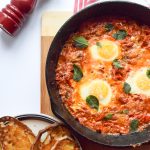 Print Recipe
Italian-Inspired Shakshuka
It's time for brunch with this Italian-Inspired Shakshuka, complete with juicy tomatoes, perfectly poached eggs and parmesan cheese!
Ingredients
1/4

cup

olive oil

2

shallots, finely sliced

1

anchovy, chopped

(If you're a skeptic, don't worry - it will disintegrate and you won't even know it's there!)

2

cloves of garlic, grated

1/4

tsp

red chilli flakes

1/2

tsp

salt

2

cups

cherry tomatoes, sliced in half

1/4

cup

tomato puree or passata

3-4

eggs

8-10

basil leaves

1/4

cup

parmesan cheese, shredded

1

avocado (optional)

black pepper

2

slices sourdough bread
Instructions
Heat a cast-iron skillet to medium-low. Once warm, add 1/4 cup of olive oil.

Add 2 finely sliced shallots and a chopped anchovy to oil. Cook for 1 minute.

Add 2 grated cloves of garlic,1/4 tsp red chilli flakes and 1/2 tsp salt. Cook for another minute.

Add tomatoes to the pan and turn to low. Flip tomatoes so that the backs are facing up. Let simmer until the backs of tomatoes start to wrinkle, around 10 minutes.

Once tomatoes are wrinkled, with a wooden spoon, smush the backs to release juices. Let simmer for another 10 minutes.

If the shallots seem like they're starting to get too crispy, add 1/4 cup of water to the pan and scrape the bottom.

Add 1/4 cup passata or tomato coulis to sauce and stir.

Crack 3-4 eggs into the shakshuka. The easiest way to do this is to create a little divot in the sauce and crack the egg into that. Poach the eggs for 3-4 minutes or until they are done to your liking.

Once finished, top with basil leaves, 1/4 cup of shredded parmesan cheese and sliced avocado. Add black pepper to taste and serve with toasted sourdough!