If Meatless Monday and Taco Tuesday had a baby, these Vegetarian Taco Salad Bowls with roasted cauliflower and chickpeas would be it!
About a month ago, I hosted a girl's night/taco night where I served tacos made from ground beef. One of my friends is vegetarian so I wanted to make something she could eat that would also taste good. I'm not confident in my tofu-cooking ability and I don't love the taste/texture of imitation meats. I settled on cauliflower tacos but I wanted to add chickpeas for protein and satiety. I essentially just roasted chickpeas and cauliflower with some taco seasoning and voilà! It was delicious. So much so that I made it again multiple times, and turned it into these Vegetarian Taco Salad Bowls! I really hope you enjoy it!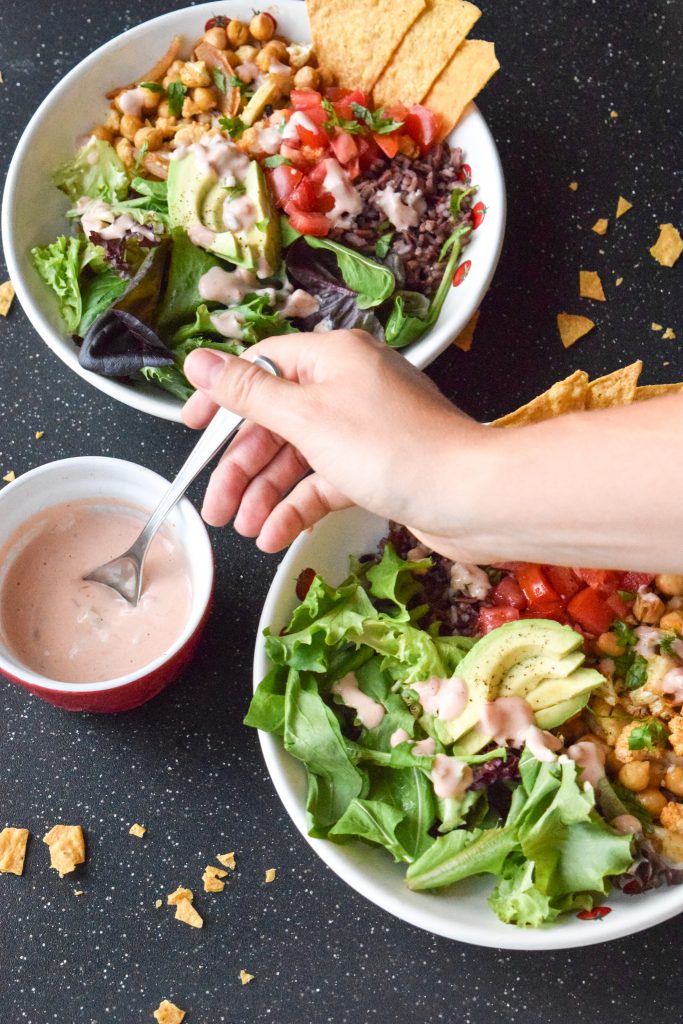 Vegetarian Taco Salad Bowls
Cauliflower – you can read ALL about my thoughts on cauliflower below!
Chickpeas – I love adding these for a great source of protein, fibre and folate. Folate is extremely important for those of childbearing age.
Shallots – part of the allium family, shallots are similar to onions, but they offer a milder, slightly sweeter flavour.
Rice – see below!
Lettuce – I can't quite remember what kind of greens I used here, but it's really about personal preference. Darker greens like spinach or kale tend to have more vitamins and minerals than something like romaine, but for the amount we're using here, it likely won't make a huge difference!
Tomatoes – great for Vitamin C, which helps you absorb the iron in the chickpeas and rice! More on Vitamin C here!
Avocado – the poster child for "healthy fats", they also contain vitamin E, fibre and folic acid.
Cheddar cheese – you can't have taco anything without cheese, so pick whichever kind you like!
Salsa – I like the classic Tostitos salsa, and while it might have more sodium than other brands, I find it tastes the best.
Greek yogurt – a great source of protein and calcium!
Lime juice, cilantro – fun flavour additions!
Tortilla chips – you're lying if you say you don't like tortilla chips! So good crunched up on a salad!
Chili powder, garlic powder, smoked paprika, cumin, salt, black pepper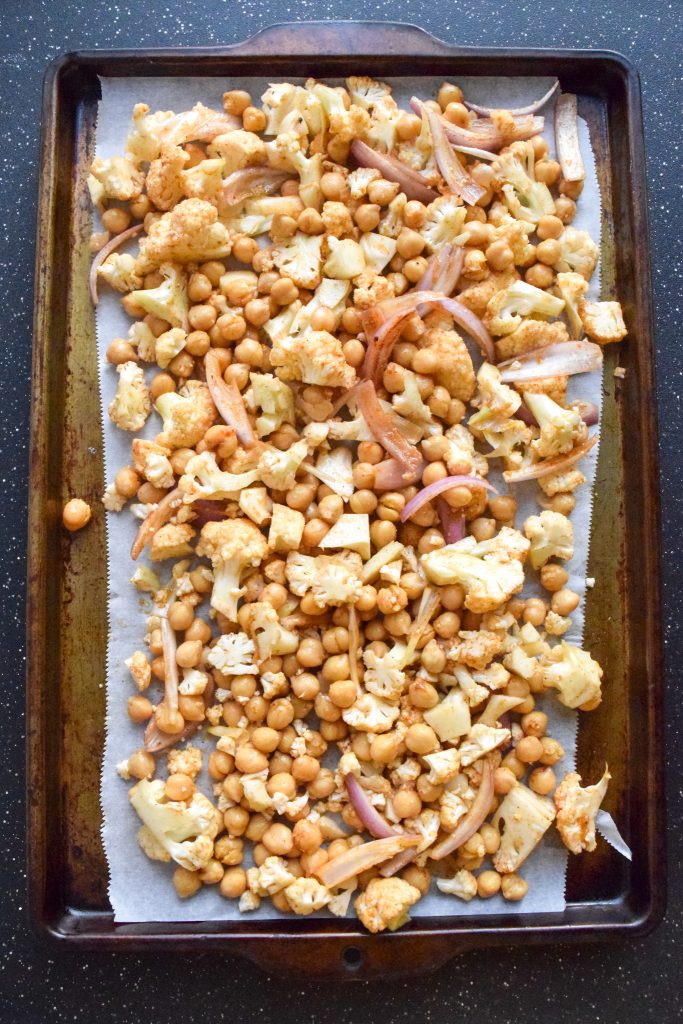 What's the Deal with Rice?
Y'all, I love rice! Back when I was an angsty teenager and struggling with disordered eating habits I would have swapped it out for quinoa and pretended it's cause I didn't like it. White, brown, wild, this red rice – I love it all and it can all have a place in a healthy diet. Miranda, from @real.life.nutritionist, recently posted about how the best part of the Emily Mariko salmon bowl craze is how it's okay to choose white rice over brown. P.S. if you aren't following Miranda on Instagram, you should be! So let's break this whole rice thing down.
Brown rice is a whole grain. I went into great detail about whole grains in this post, but just to sum it up, these are grains that haven't been highly processed and therefore are full of fibre, protein, vitamins and minerals and of course, carbohydrates. When you hear people saying white rice is so high in carbohydrates, that's not really true. Depending on the brand, you might find white has more or brown has more or they may be equal. The important point is, both have carbohydrates, but brown rice also has all other good stuff. P.S. you might notice the one in my bowl is sort of purple. That is because it contains the antioxidant anthocyanin. Antioxidants are a story for another day, but if you want more info, check out the body of my Pumpkin Spice Muffins recipe.
So What Type of Rice Should You Choose?
So after all that, which type of rice should you pick? In my opinion, the one you like. Nutrition is, in a sense, not as complicated as people make it out to be. We have foods that are better for us, whole grains vs. refined grains, unsaturated fats vs. saturated, but that doesn't mean we always have to pick those foods. The idea is to pick those foods more often. Personally, I love the taste of brown rice, so I'm happy to choose that. I hate whole-grain pasta, I have zero interest in eating it. So that's a trade-off for me. If you genuinely prefer white rice, great! Pick that, add lots of vegetables, fibre and protein to the dish and move on! Maybe you choose whole-grain bread instead of white next time! You do not have to eat the "healthiest" option every single time in order to be healthy.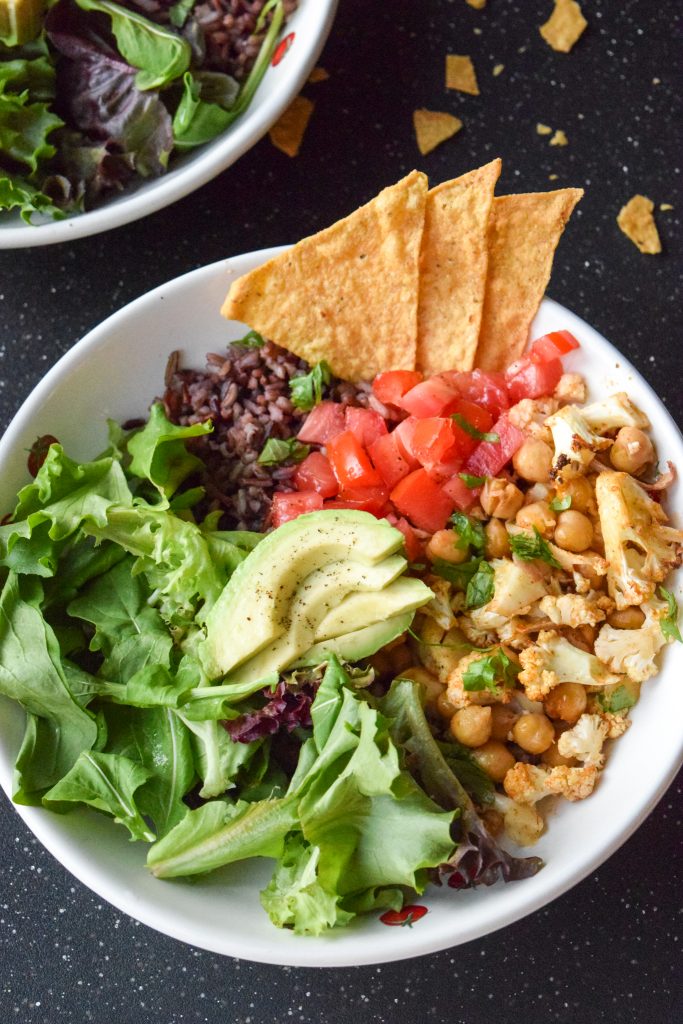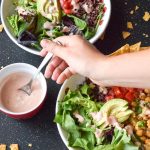 Print Recipe
Vegetarian Taco Salad Bowls
If Meatless Monday and Taco Tuesday had a baby, these Vegetarian Taco Salad Bowls with roasted cauliflower and chickpeas would be it!
Ingredients
1

whole

cauliflower

1 can

(398 ml)

chickpeas

1.5

shallots

(1 small white onion would be fine too)

1

tbsp

olive oil

1/2

tsp

chili powder

1/4

tsp

garlic powder

1/4

tsp

smoked paprika

1/2

tsp

cumin

1/4

tsp

salt

8

cranks

black pepper

(or however much you want)

1/2

cup

uncooked rice

2/3

cup

lettuce or greens of choice

1/4

cup

shredded cheddar cheese

1

avocado

1/2

tomato
Dressing
2

tbsp

salsa

2

tbsp

greek yogurt

1/2

lime
Optional
a handful of

tortilla chips

a couple sprigs of

cilantro
Instructions
Preheat oven to 400F. Line a cookie sheet with parchment paper.

Wash and cut cauliflower into bite-sized florets. Add to a medium-sized bowl.

Drain and rinse chickpeas, add to the same bowl.

Slice shallots into thin strips, add to bowl.

Add 1 tbsp olive oil and chili, garlic, paprika, cumin, salt and pepper to bowl with veggies. Toss to mix and cover evenly. Spread on parchment-lined cookie sheet.

Roast veggies in oven for 20-25 minutes.

Meanwhile, cook rice according to package instructions. Usually, it's about 2:1 water to rice.

Now it's time to prep all the toppings. Wash and chop lettuce, shred cheese, slice avocados, dice tomato.

To prepare dressing, combine 2 tbsp each of salsa and greek yogurt. Add juice from 1/2 lime.

Once rice and veggies are done, assemble bowls. Top with dressing, tortilla chips and cilantro. Enjoy!