We're celebrating Valentine's Day with this Chocolate Covered Strawberry Smoothie! A fun, festive and yummy treat!
I love Valentine's Day; anything with pink and red hearts, flowers and candy, I adore! It may be silly, but I think it's such a fun holiday. I wanted to celebrate a little bit differently this year, with a recipe. So today we're making a quick and easy Valentine's Day Smoothie! The secret ingredient? A little bit of hot chocolate powder! Before we start, let's make one thing clear: you can and should enjoy some Vday chocolate or candy if that's something you like or want. The best diet? The one that works and is sustainable for you. I'd be willing to bet a lot of money that includes fun foods and treats!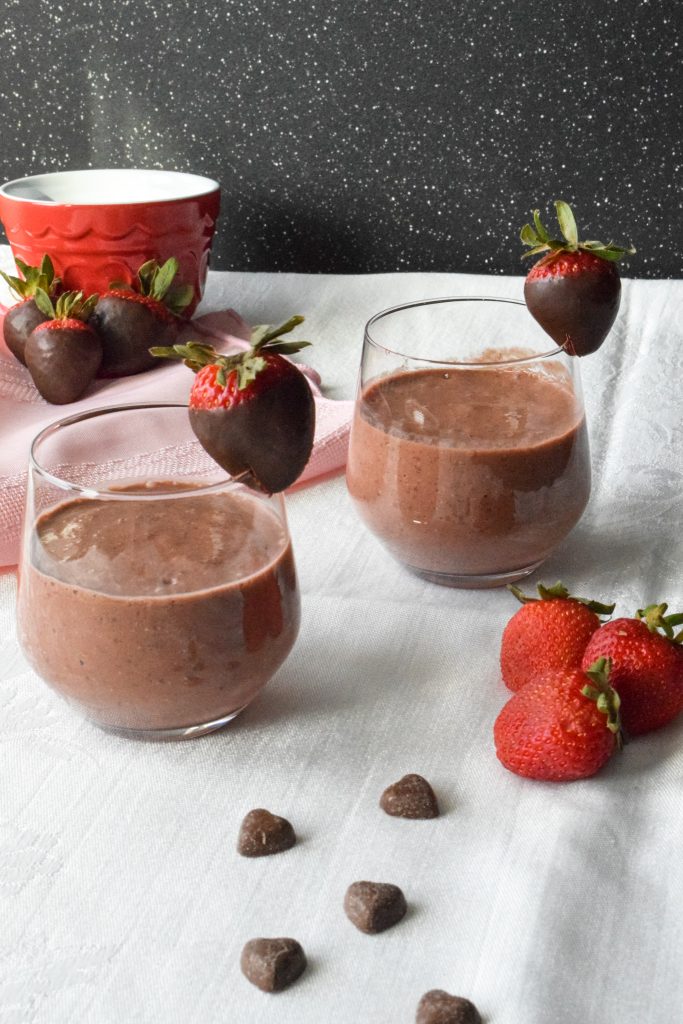 Chocolate Covered Strawberry Smoothie
Strawberries – a good source of Vitamin C, which will help you absorb the iron in the chia seeds, and antioxidants (more on that below)!
Bananas – somewhere along the line, bananas became the poster child for potassium. In reality, there are plenty of foods that contain more potassium (more on that here). They're also a good source of B6, which is important for the breakdown of macronutrients as well as brain and immune health.
Raspberries – also a high fibre fruit, raspberries, like strawberries, contain Vitamin C and antioxidants.
Vanilla yogurt – yogurt is a great way to add protein, calcium, Vitamin D and Vitamin B12 to your diet! B12 is important for keeping blood cells and nerves healthy. It is challenging to get enough B12 with a vegetarian diet, so it's important to look for fortified products. If you're concerned, check in with your doctor or dietitian.
Chia seeds – high in fibre, calcium and phosphorus as well as some iron!
Milk – cow's milk is an excellent way to get in calcium, Vitamin D, protein, Vitamin B12 and Vitamin A. If you're a non-dairy milk drinker, that's great too! I truly believe one is not better than the other, they're just different and both can be incorporated into a healthy diet. Soy milk is the closest nutritionally to cow's milk, but if you prefer one of the other varieties, just be aware it may not contain as much protein or vitamins and minerals.
Cocoa powder – cocoa powder may offer some health benefits due to compounds called flavonoids, which are a type of antioxidant we will cover below. However, it's likely it would take a LOT of cocoa powder to see these benefits.
Hot chocolate powder – our secret ingredient for an added treat today!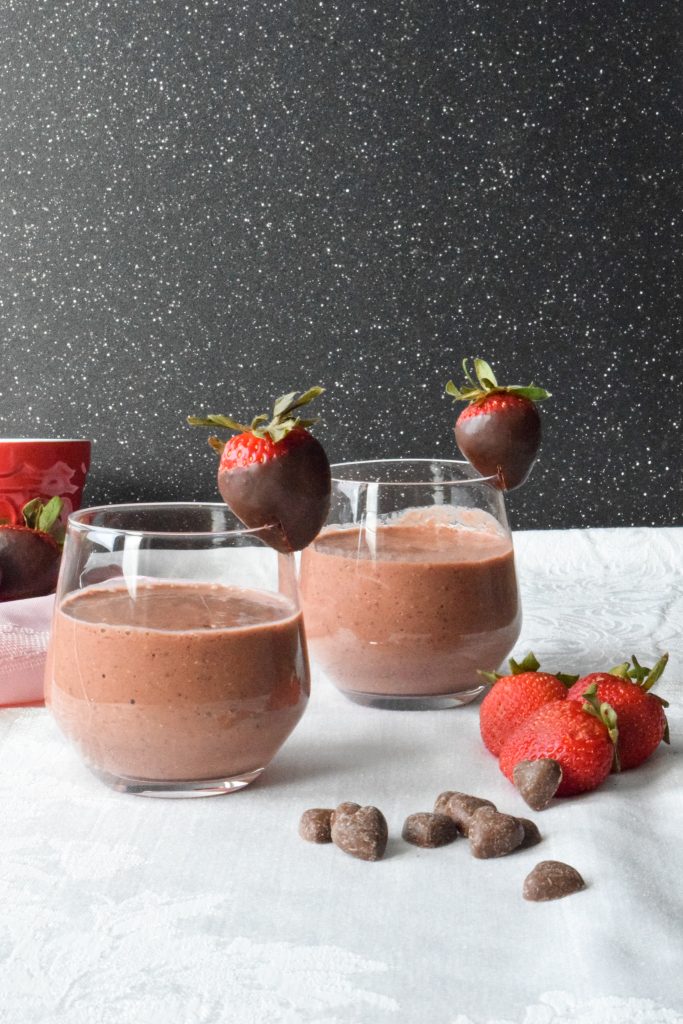 Let's Talk Antioxidants
I talk about antioxidants at least once a recipe, because they're easy to find in fruits and veggies! So what is an antioxidant? It is a chemical compound that protects the body against free radicals. Free radicals damage the cells of the body and occur both naturally, as well as from pollutants, like tobacco smoke or radiation. Free radicals may also play a role in heart disease and cancer. If there is an imbalance between free radicals and antioxidants, we see something called oxidative stress occurring. It is with oxidative stress that we see damage to tissues.
Antioxidants can be found in different forms. For example, it can be a vitamin, like Vitamin A, D or E. It can also be a mineral, like selenium, or a compound, like a flavonoid. There are over 4000 flavonoids, which means there are a lot of antioxidants and probably many that have yet to be discovered.
Most people should be able to get enough antioxidants from whole foods. Like with any nutrient, it is recommended to try and get it from a food source before resorting to supplements. It is never a good idea to start a new supplement without first checking with your healthcare provider. These whole food sources of antioxidants include veggies and fruit, whole grains, legumes, nuts, vegetable oils, garlic and green tea. It's more important to focus on the strawberries and raspberries in this Chocolate Covered Strawberry Smoothie!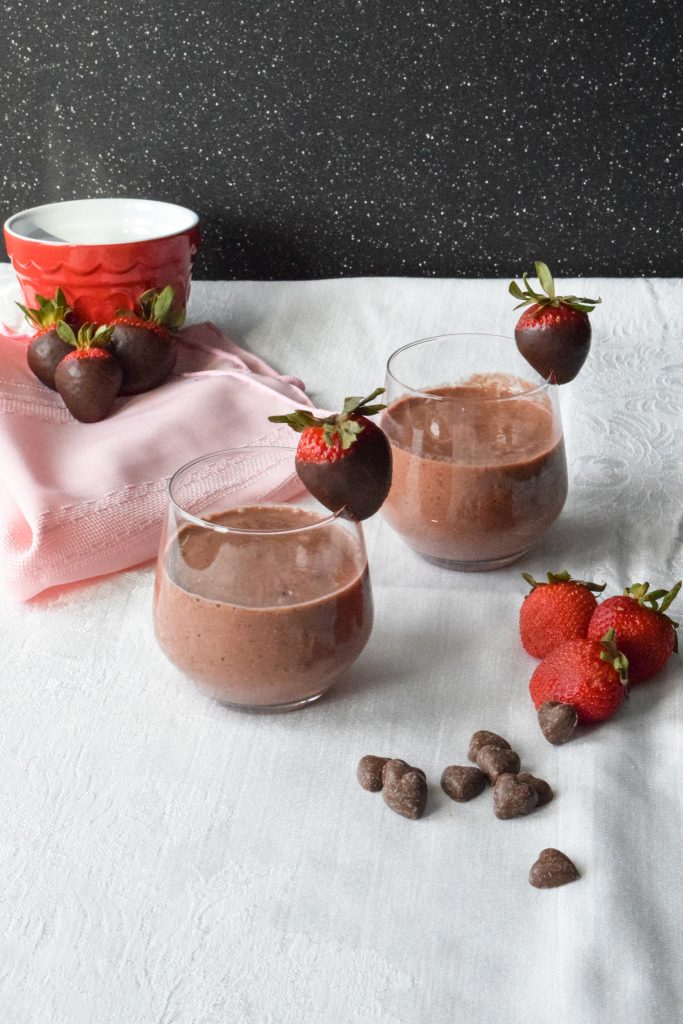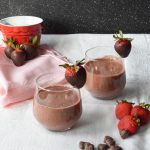 Print Recipe
Chocolate Covered Strawberry Smoothie
We're celebrating Valentine's Day with this Chocolate Covered Strawberry Smoothie! A fun, festive and yummy treat!
Servings:
1
large smoothie (or 2 small)
Ingredients
3/4

cup

strawberries, chopped

1

frozen banana, sliced

you can swap in which fruit is frozen and which is fresh depending on what you have, but I always recommend adding something frozen!

1/4

cup

raspberries

2

tbsp

vanilla yogurt

feel free to use plain or greek yogurt!

1

tbsp

chia seeds

1/4

cup

milk of choice

you could sub in a chocolate milk here (I love chocolate soy milk) and omit the hot chocolate powder later

2

tsp

cocoa powder

this could also be replaced with chocolate protein powder if that's your thing

1

tsp

hot chocolate powder
Instructions
Chop strawberries and add to blender.

Slice frozen banana (this usually is pretty easy, but if it's too frozen, let it defrost for 2-3 minutes). Add to blender.

Add the remaining ingredients and blend on high until it's the texture of your liking.

Feel free to add extra liquids to get a consistency you like!