This Butternut Squash, Sausage and Mushroom Rigatoni is the perfect dish those end-of-winter days – sweet, spicy and super delicious!
I used to always buy jars of tomato sauce to eat with pasta because 1) I love a nice tomato sauce and 2) I thought making your own pasta sauce was really complicated. Since dating my boyfriend, I've learned it's really not that bad. He makes pasta at least once a week and it is always super delicious. A sauce from a jar girl, I am no longer! I absolutely loved this butternut squash, mushroom and Italian sausage pasta he made for me (spoiler alert – most of my most popular recipes come from him, I am basically a fraud). I made a few swaps and added some kale and voilà! This pasta is truly so delicious, it's creamy and sweet, but also salty and a bit spicy. You can totally omit the sausage or swap in a vegetarian sausage. Enjoy!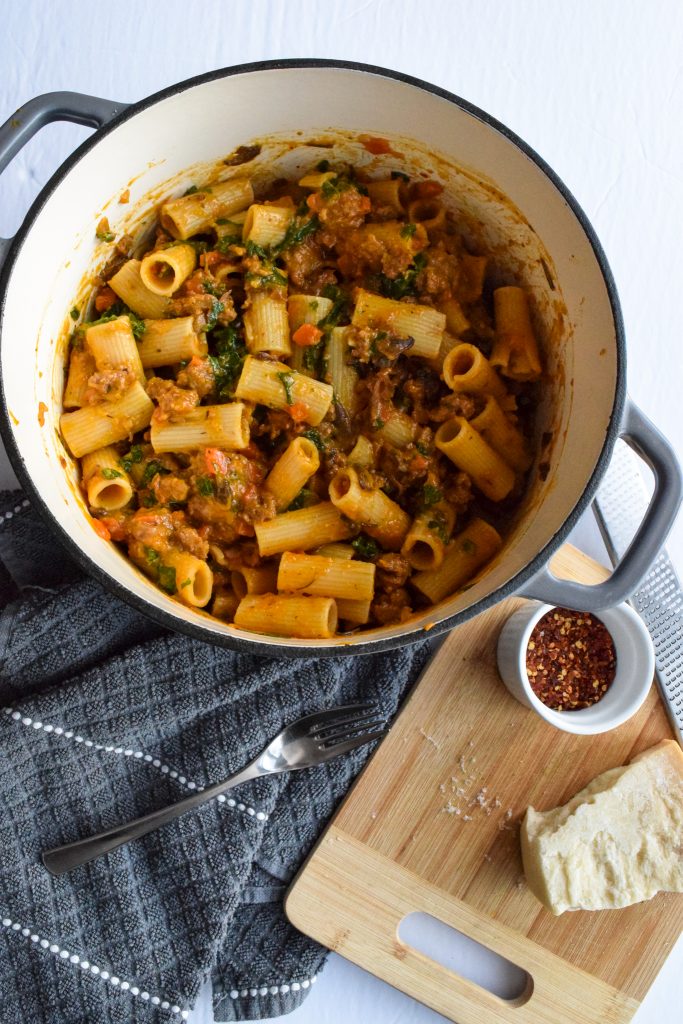 Butternut Squash, Sausage and Mushroom Rigatoni
Butternut Squash – a great source of vitamin C and A! Vitamin A and C are both antioxidants, and important for immune health.
Italian Sausage –  Sausages are not your most nutritious protein source. They are higher in saturated fat, the kind we want to choose less often. They also contain nitrates, which I go more in-depth below. Nevertheless, I do believe if you enjoy them, you can include them in your diet from time to time.
Mushrooms – Mushrooms aren't crazy high in any particular nutrient, but that doesn't mean they don't serve a purpose. Cook them down until all the water releases makes them nice and crispy. They give a dish a really nice "meaty" taste!
Kale –  I love  chopping it up and cooking it down to add some colour and texture to a dish. Kale is a great source of vitamins A and C, calcium, folate (more on that here) and fibre!
Carrots – a great source of fibre and vitamin A (which is not only good for your eyes but also your heart and immune health!)
Onion and garlic – these don't really provide us with a ton of nutrients, but they add so much flavour!
Red Chili Flakes, Rosemary, Thyme, Bay Leaves, Salt & Pep –  add a little bit of spice!
Stock – I used a combination of chicken and veggie, it's really your choice. I would suggest going for a low- or no-sodium option so you can control the sodium yourself. Another option is to make mushroom stock, which you find a recipe for here.
Olive Oil – This is probably the most simple way to get in your unsaturated fats, which we discuss in this post.
Parmesan Cheese – I don't believe in worrying about adding parmesan to your pasta, just enjoy it!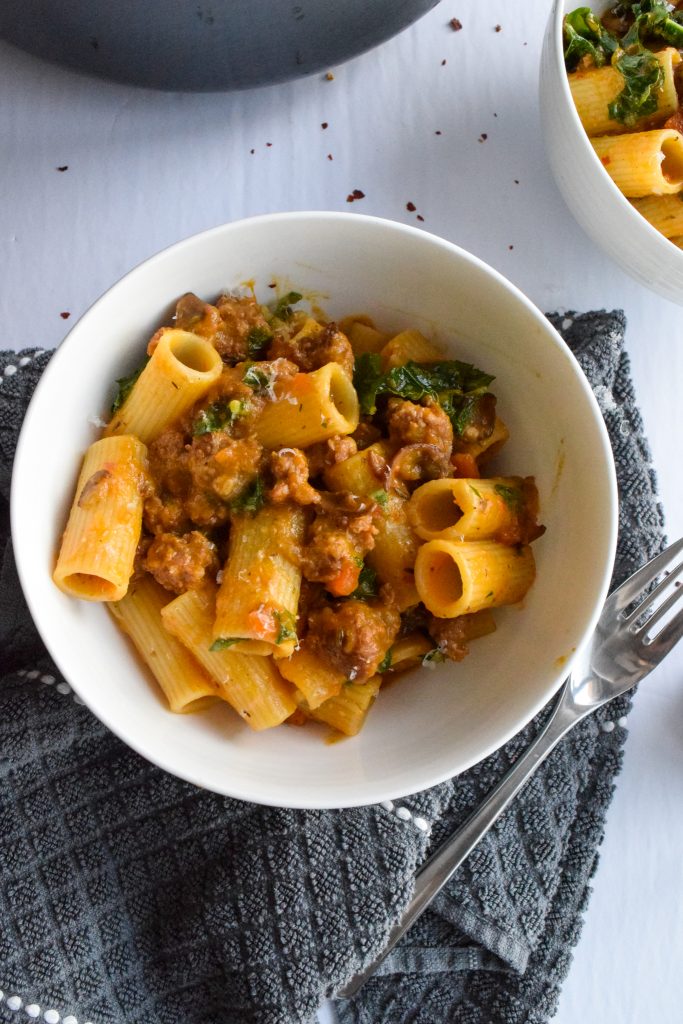 What are Nitrates?
So what are these nitrate things I speak of? Nitrate (NO3-) is a chemical compound existing naturally in nature, in soil, water and air. We see them in a lot of vegetables, such as beets, celery and lettuce. The nitrates naturally found in these foods don't pose a threat to our health. We also see them in small quantities in fish, dairy products, beef and poultry to make the colour and flavour more appealing.
Where they do pose a threat is as an additive to processed meats. The more processed a food is, the more preservatives have to be added to keep it fresh for longer. So nitrates are added in to prevent bacteria from growing as well as to preserve the colour of these meats. This is the case for cold cuts, sausages, bacon and hot dogs. There is an increased risk for colon cancer in those with a diet high in processed meats, although it is not clear if it is related to the nitrates or other compounds in processed meats. The recommendation is to limit your processed meat intake, so I would maybe makes these items a "once a week" thing and not an everyday, staple.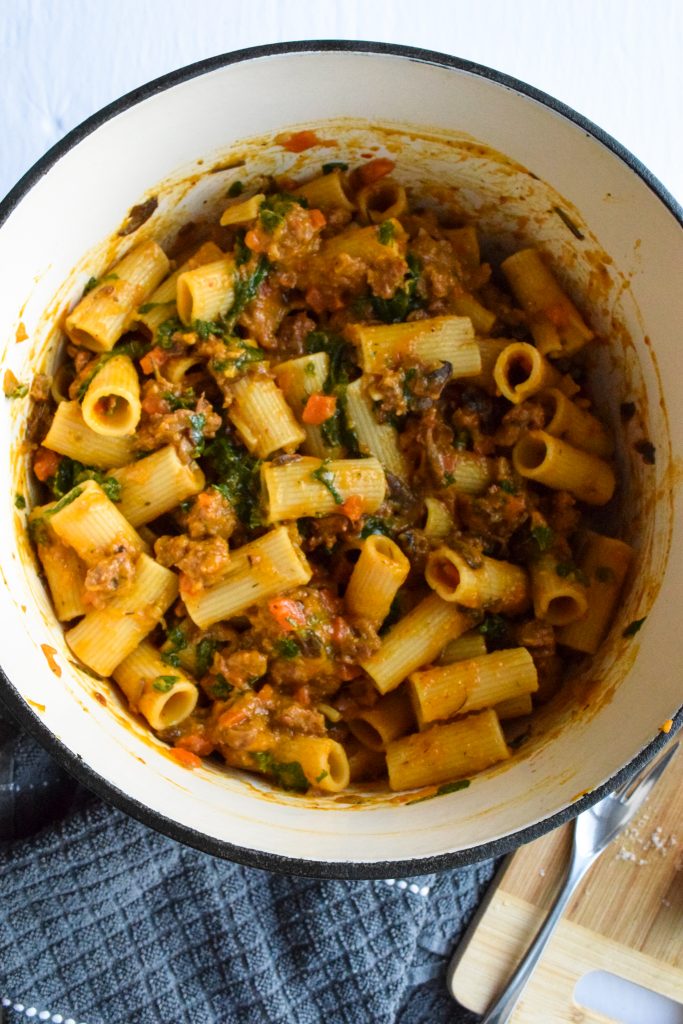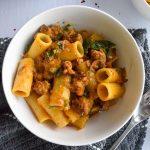 Print Recipe
Butternut Squash, Sausage and Mushroom Rigatoni
This Butternut Squash, Sausage and Mushroom Pasta is the cold dish for a cold winter day - sweet, spicy and super delicious!
Ingredients
1/2

large butternut squash

or one small

2

tbsp

olive oil

1

tsp

salt

2.5

cups

cremini mushrooms

this sounds like a lot, but trust me it's nothing once they cook down!

2

tbsp

butter

5

Italian sausages

1

large white onion

2

cloves

garlic

1.5

large carrots (about 1 cup chopped)

1/2

tsp

salt

1

tsp

dried thyme

2

tsp

dried rosemary

1

tsp

red chili flakes

1

parmesan rind

if you don't have this on hand (I always keep them in the freezer), it's alright!

2

bay leaves

4

cups

vegetable or chicken stock

low or no sodium

2

cups

kale, finely chopped

1 box

(500g)

rigatoni

1/2

cup

parmesan cheese
Instructions
Cut squash in half lengthwise and scoop out the seeds. Cut a criss-cross pattern on the squash (you only need 1/2 a squash) and brush with 1 tbsp olive oil. Season with 1 tsp salt.

Once the oven is heated, cook squash on a baking sheet for about 45 minutes.

Next, finely slice your mushrooms.

Heat 2 tbsp of butter in a large pot on medium-low heat.

Cook mushrooms slowly until they become brown and crispy. Try not to move them too much. Once they're done, they will probably only measure about 1/4 cup. Set these aside.

Add 1 tbsp of olive oil to pan.

Next, take casings off the sausages and add to pan. Mash with a fork or the back of a middle spoon and cook until they are no longer pink (probably 3-5 minutes). They will continue to cook in the sauce, so don't overcook here! Set aside.

Finely chop onions, garlic and carrots.

There should be some remaining oil in the pan. Again on medium-low heat, cook onions, garlic and carrots.

As veggies soften, add 1/2 tsp salt, 1 tsp dried thyme, 2 tsp dried rosemary, 1 tsp red chili flakes, parmesan rind and 2 bay leaves.

Add sausage and mushrooms back in and mix to combine.

Add 4 cups of vegetable or chicken stock and bring to a slow simmer.

Once squash is finished and soft, scoop it out in small pieces and add it to the sauce.

Cook uncovered for 2-2.5 hours, until most of the stock has evaporated. Remove parmesan rind and bay leaves. Add kale and salt to taste.

Once done, cook pasta according to al dente pasta instructions. Keep 1 cup of starchy pasta water.

Once pasta is done, add to sauce. Add 1/2 cup of pasta water and mix. If sauce isn't sticking to pasta well, add remaining 1/2 cup. Finish with 1/2 cup of parmesan cheese.