Step up your weekend brunch game with Black Bean Breakfast Tostadas, topped with egg, avocado and homemade pico de gallo!
I've been toying with the idea of a breakfast taco for a while, but it wasn't until I made tostadas a few weeks ago, that this recipe blossomed! These Black Bean Breakfast Tostadas are definitely for when you have a little more time or want to impress some guests. You could prep everything ahead of time, cook the eggs and let everyone assemble to their liking. Such an easy way to make a bit of a fancier breakfast, brunch or lunch meal!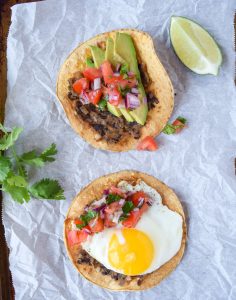 Black Bean Breakfast Tostadas
Black Beans – full of fibre and plant-based protein! They are an easy addition to any meal to help keep you full longer. They are also a good source of magnesium, but more on that below!

Corn Tortillas – corn vs. flour tortillas don't differ too much nutritionally, so choose your preference. Although, the corn ones make for better tostadas!

Avocado – high in monounsaturated fat as well as Vitamin E. There's some fibre here too!
Eggs – eggs are a complete protein, meaning they contain all of the essential amino acids that our bodies don't produce. If eggs fit into your diet, they are a really healthy choice!
Tomato – great source of Vitamin C, important for a variety of bodily functions, including absorption of the iron from plant-based sources (like the beans and the tortillas)
White & Red Onion – different onions also don't differ in nutritional value, so pick whichever flavour sounds best!
Cilantro – herbs don't provide a lot of nutritional value (which is not a bad thing) and are a great way to add flavour to a dish without amping up the sodium or fat content.
Garlic – same for garlic!
Cumin, Smoked Paprika, Chili Powder, Pepper – spices too!
Salt – salt, or sodium, also plays an important role in the body but is not good in excess. However, most of our sodium comes from packaged and processed foods, so sprinkling a little bit on a homemade dish is A-okay!
Lime Juice – also a great way to modify the flavour of your food!
Olive Oil – this recipe only contains a teeny bit of olive oil, which is also a monunsaturated fat. We broke down fats here.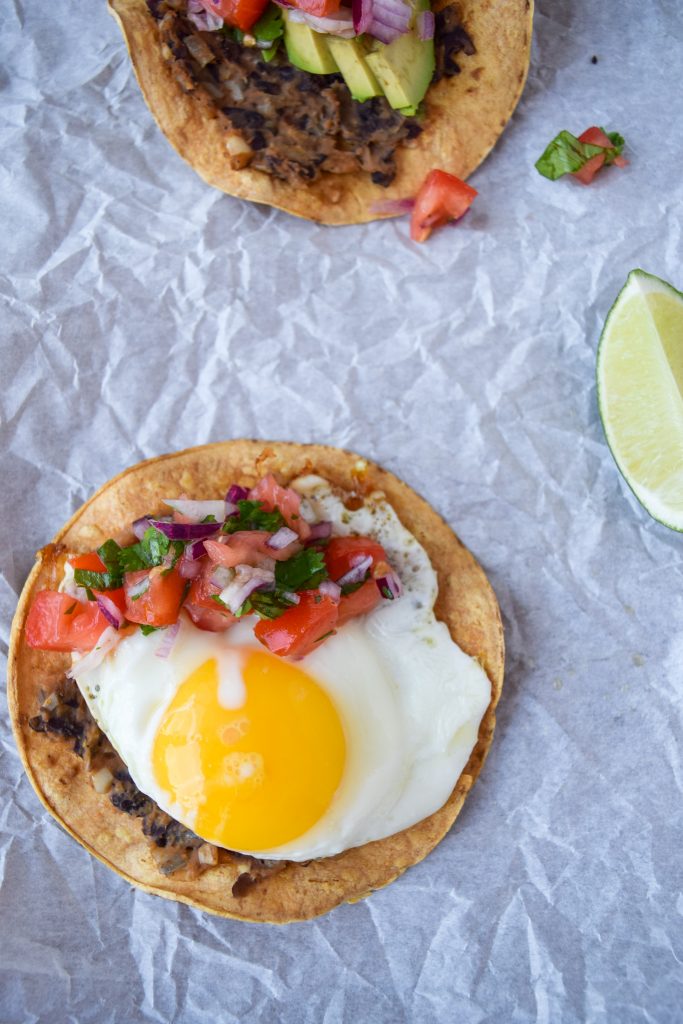 Nutrient Spotlight: Magnesium
Someone asked me recently what Magnesium is important for and I had to kind of think about it for a second. Magnesium is not one of the minerals that we typically talk about too much, but that doesn't mean it doesn't play a big role. Its main role is in the control of blood pressure (calcium and potassium are important for this too). In fact, consuming more magnesium can have a large effect on reducing blood pressure and the risk for cardiovascular disease. It is also important for bone, muscle and nerve health! Adults 19-30 need between 310 mg (for women) and 400 mg (for men). It's really quite easy to get magnesium from food sources as it's high in legumes (like black beans!), nuts and seeds, fish, leafy greens and whole grains. Need some inspiration? How about this Kale and Bacon Breakfast Hash or my Vegetarian Taco Salad Bowls?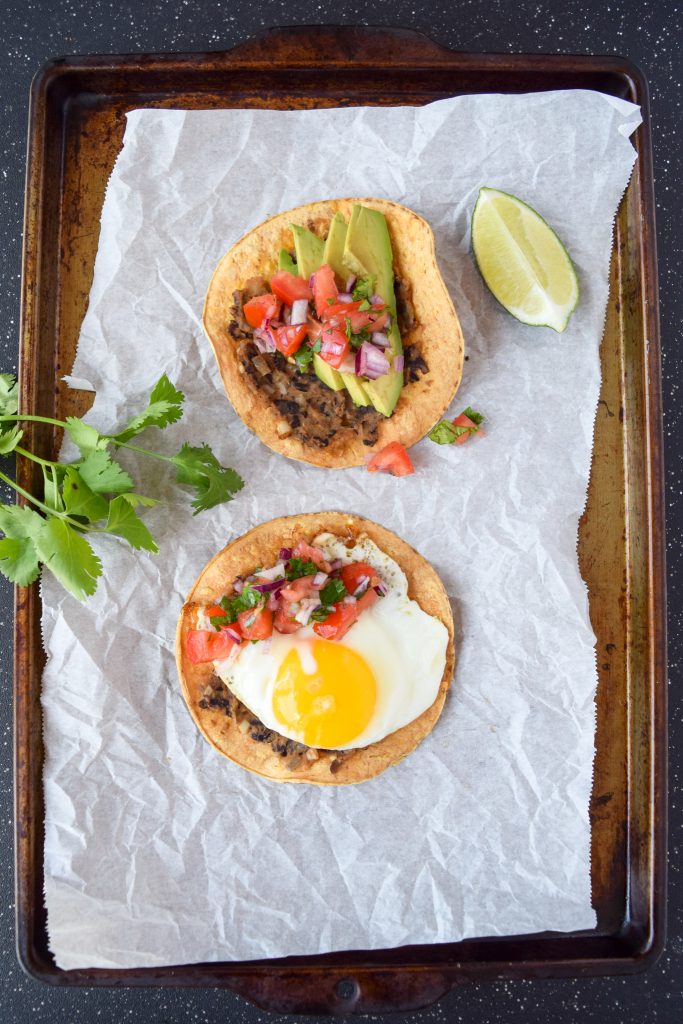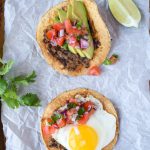 Print Recipe
Black Bean Breakfast Tostadas
Step up your weekend brunch game with Black Bean Breakfast Tostadas, topped with egg, avocado and homemade pico de gallo!
Ingredients
2

corn tortillas

1 1/2

tsp

olive oil

1/4

white onion, diced

this should yield about ~1/4 cup

1

garlic clove, finely diced

1/2

cup

canned black beans, rinsed

1/8

tsp

cumin

1/8

tsp

smoked paprika

1/8 tsp

tsp

chili powder

salt and pepper to taste

1/2

a

tomato, diced

1/8th

a

red onion, finely diced

handful

fresh cilantro, finely chopped

juice of 1 lime

2-3

tbsp

water

1/2

an

avocado

1-2

eggs
Instructions
Tostadas
Preheat oven to 350 degrees.

On a parchment-lined baking sheet, brush two corn tortillas on both sides with 1/2 tsp olive oil.

Place tortillas in preheated oven for 15 minutes. They should be slightly darker and crispy when done.
Black Beans
If you haven't already prepped onion and garlic, do so now.

Heat 1 tsp of olive oil in a frying pan. Add in onions and sauté for 1-2 minutes until fragrant.

Add garlic and cook for another minute.

Add in 1/2 cup black beans, as well as 1/8 tsp each of cumin, smoked paprika and chili powder. Add salt and pepper and mix to combine. Cook for 5-8 minutes until beans have softened.

Remove from heat and mash with a potato masher or fork until it turns into a paste. You can add 2-3 tbsp of water until you get a desirable consistency.
Pico de Gallo
Next, prep the pico de gallo. To do so, dice 1/2 a tomato, 1/8th of a red onion and chop a handful of cilantro. Add to a small bowl.

To that same bowl, add in the juice of one lime, as well as salt and pepper to taste. Mix to combine.
Eggs
Finally, cook 1 or 2 eggs to your liking.
Assemble
To assemble, spread black bean paste on tostadas and add egg. Top with sliced avocado and pico de gallo.