These Spicy Shrimp Tostadas with Avocado Salsa are perfect for a quick and fresh meal or for hosting dinner guests this summer!
The weather is finally getting warmer and I am all about using bright, fresh flavours in my cooking. This recipe for Spicy Shrimp Tostadas with Avocado Salsa is sure to please; it's got bold flavours in the shrimp, crispy corn tortillas baked to perfection and a nice summery salad made with avocado, tomato, red onion and cilantro. If you make this, feel free to tag me in your pictures!


Spicy Shrimp Tostadas with Avocado Salsa
Shrimp – I love using shrimp as a protein source; they're versatile, easy and quick to cook!
Corn Tortillas – Corn tortillas tend to have a bit more fibre than a wheat tortilla, but I choose them in tostadas because they get really nice and crispy!
Avocados – high in monounsaturated fat and fibre. It's also a good source of potassium, vitamin C and B6!
Tomatoes – tomatoes are a great vitamin C source that we often forget about.
Red Onion – I find it has a softer flavour compared to a white or yellow, so it's perfect if you're going to eat it raw.
Cilantro – I would eat cilantro on literally anything. Such an easy way to amp up the flavour without increasing the sodium.
Smoked paprika, cumin, garlic powder, salt, pepper, lime juice – more flavour boosters! Regular paprika would work too.
Olive oil – we use this to crisp up the tortillas and add a bit of unsaturated fats to the dish!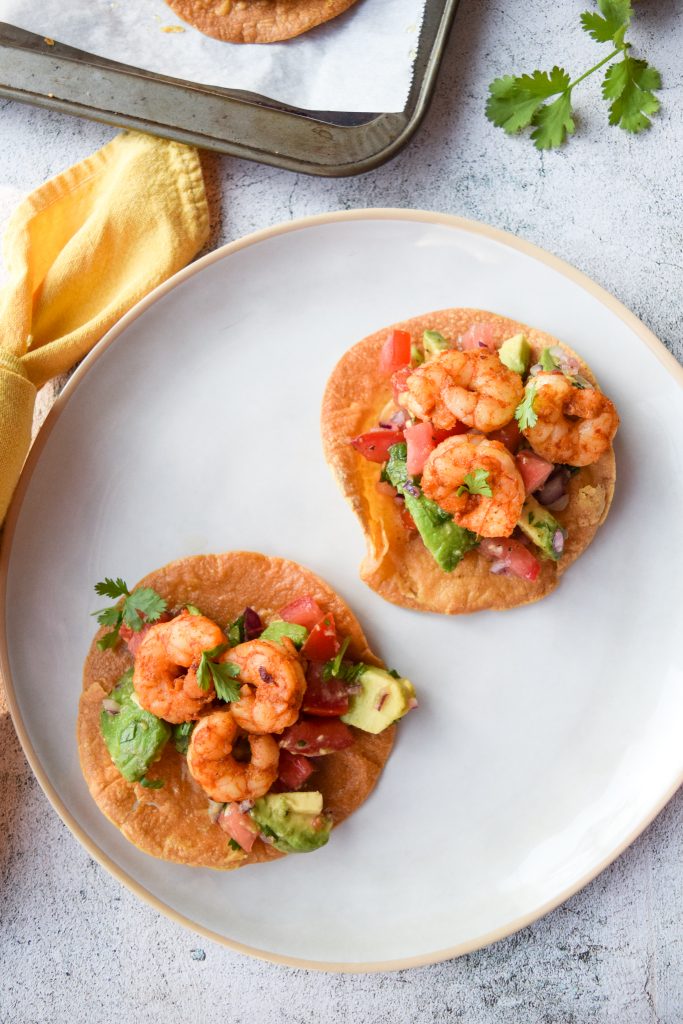 Nutrition Spotlight – Potassium (again!)
The first time we covered potassium was in my recipe for Mushroom and Lentil Shepherd's Pie. Looking back, I don't feel like I provided enough details. I also just finished a placement in nephrology and I feel like I know a lot more about potassium, so I'm going to take another stab at it. As mentioned, potassium is a mineral. It is found in lots of fruits and vegetables in varying amounts, grains, dairy, meat, nuts and seeds – basically most whole foods. A food with 200 mg or more is considered to be high in potassium. Potassium is also found as an additive in a lot of packaged and processed foods.
It does a lot of things in the body. It is an electrolyte, meaning it has a small electrical charge and it helps to regulate a lot of bodily processes. This includes things like muscle contraction, fluid balance and nervous system control. Potassium, specifically, plays a role in regulating your heart rate. When people have hyperkalemia (or too much potassium), they are at risk of a heart attack. But don't worry, a healthy body is very good at regulating this kind of stuff. So if you were to eat a ton of really high-potassium foods, your kidneys would remove the excess to keep your potassium levels balanced.
Where this can be an issue is in chronic kidney disease (CKD). In this case, potassium builds up in the blood because the kidneys can't remove it (amongst other waste products). This is why those with CKD have to limit their potassium intake, which starts by removing additives from the diet. You can read more about this here.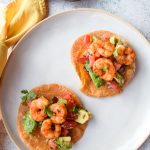 Print Recipe
Spicy Shrimp Tostadas with Avocado Salad
These Spicy Shrimp Tostadas with Avocado Salsa are perfect for a quick and fresh meal or for hosting dinner guests this summer!
Ingredients
6

small corn tortillas

2

tbsp

olive oil

18

small shrimp, frozen

1/4

tsp

cumin

1/4

tsp

smoked paprika

1/4

tsp

garlic powder

1

avocado

1

medium tomato

1/4

red onion

1

handful cilantro

1

lime

salt and pepper to taste
Instructions
Bake Tortillas
Line a baking sheet with parchment paper and space tortillas out so they don't touch each other.

Add a small amount of oil (~ 1 tbsp in total) to each tortilla and spread using a brush.

Flip tortillas over and repeat.

Place in oven for 12-15 minutes or until golden brown.
Marinate Shrimp
If they aren't already, defrost shrimp. You can do so by putting them in a bowl of cold water.

Once defrosted, pat dry with paper towel and place in a bowl.

Add 1 tbsp olive oil, 1/4 tsp each of cumin, smoked paprika and garlic powder. Mix to coat shrimp and set aside.
Assemble Salad
In a small bowl, add 1 avocado and 1 medium tomato sliced into cubes.

Finely dice 1/4 red onion and add to bowl.

Finish with a handful of cilantro, chopped, the juice of 1 lime and salt and pepper to taste. Mix to combine.
Cook Shrimp and Assemble
Heat a non-stick pan on medium heat. Add remaining tablespoon of oil.

Add shrimp to pan and cook, 1-3 minutes per side.

Top tostadas with salad, shrimp and enjoy!