I'm holding on to the end of summer with this copycat Jugo Juice Watermelon Wiggle Smoothie recipe!
When I was younger, we always got smoothies from Jugo Juice at the mall. My absolute favourite smoothie was called the Watermelon Wiggle. It was on the kid's menu and it was amazingly refreshing. I started working on a copycat recipe last summer and only shot it this summer. It's packed with fresh watermelon, strawberries and pineapple, plus yogurt, chia and flax seeds. I actually found out a few weeks ago that they've brought it back! I'm pretty sure theirs (or the new one) is watermelon, peaches, and raspberries. I have yet to try it but I'm sure it's delicious.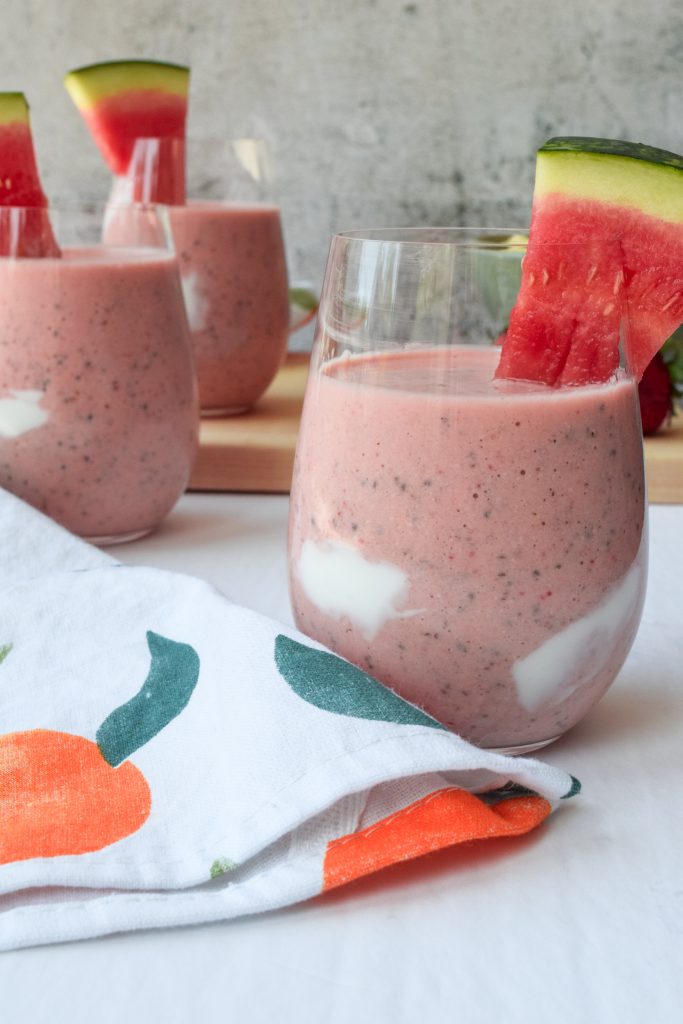 Watermelon Wiggle Smoothie
Watermelon – I love watermelon as a hydrating snack in the summer. It's not particularly dense in calories or any nutrient, but it's versatile and refreshing!
Strawberries – a sometimes forgotten source of vitamin C, which participates in many body processes, including absorbing iron from plant-based foods, wound healing and forming many of the body's cells and tissues. More on Vitamin C here.
Pineapple – High in vitamin C too, but also manganese. Manganese is a mineral which also forms cells, bones and tissues.
Plain Greek yogurt – In a smoothie, I tend to always choose plain yogurt since the fruits usually cut the sour taste. If you want it a little bit sweeter but are worried about too much sugar, a little bit of sweetener (maple syrup for example) added in by you is likely way less than a sweetened container of yogurt.
Milk – I'm a cow's milk person, but you do you!
Chia seeds – great for adding extra fibre to help keep you full…
Hemp hearts – and these are great for adding extra protein and unsaturated fats, completing the holy trinity of satiety. I break down the key to a filling smoothie in my Banana Pineapple Smoothie.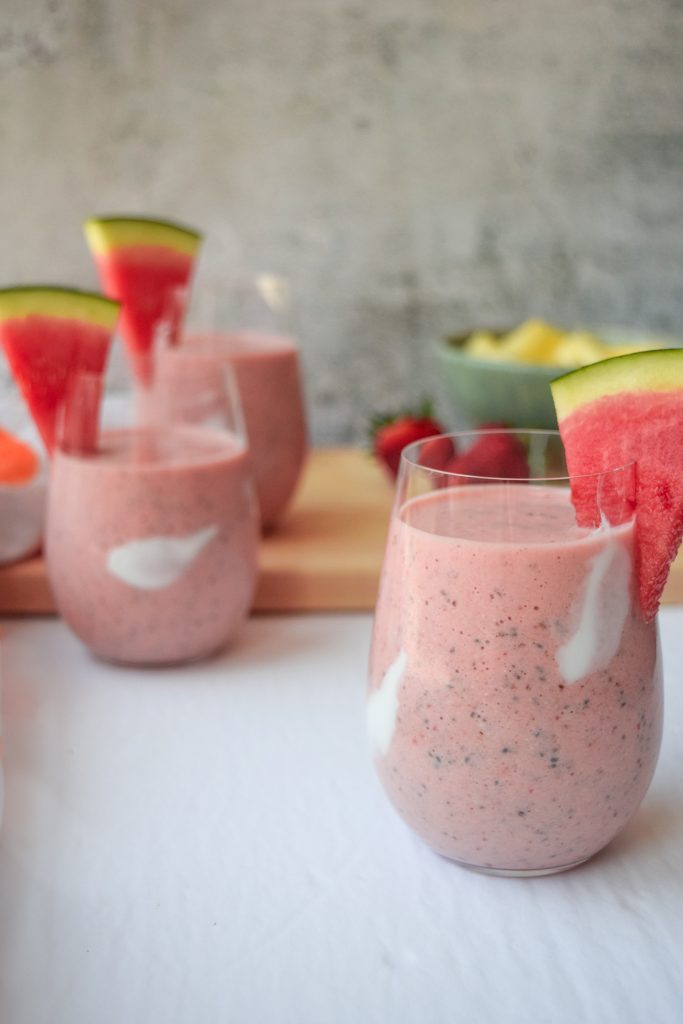 What About Protein Powder?
Although this smoothie contains none, I wanted to discuss my thoughts on protein powder as they've recently changed. But first, let's start with my personal history with the stuff. When I first got into "healthy eating", I used to follow this workout-nutrition-clean eating business and I bought their protein powder. I remember it was so chalky and artificial-tasting. No matter what I added it to, it made it gross. A few years later, I was at the other end of the spectrum and very passionate about intuitive eating. I believed nobody needed protein powder and should get their protein from food first. Now, at the *almost* end of my Master's degree in Nutrition, I'm a lot more in the middle on what people should and shouldn't be eating and what constitutes "healthy eating".
My Own Thoughts on Protein Powders
One of my recent rotations was in Oncology, and we recommended protein powder as a way to increase intake with low appetite. I got some samples and I liked it so much, I went out and bought a tub for myself! One of the best ways to up your nutrition game is to make choices now that benefit future you. What I mean by that is keep options at home that may be a little bit more processed but that can be a quick, convenient, nutritious choice when you're in a rush or feeling off. When we are off our routine or running late, picking a nutritious option usually goes out the window (or at least for me it does).
Protein powder is great to have on hand because you can make a shake by adding some liquid. You can also throw it in a smoothie to bump up the satiety factor. If the alternative is to eat a piece of toast or nothing at all, the protein shake is probably going to be the better choice. I think that convenience/processed foods have their place in the diet, especially when we can use them to make nutritious choices work for you. There are so many protein powders out there, which on the one hand is great because you can find one to suit your needs! On the other hand, they aren't as well regulated as foods and medications. It's important to discuss with a doctor or registered dietitian to help you choose the right one!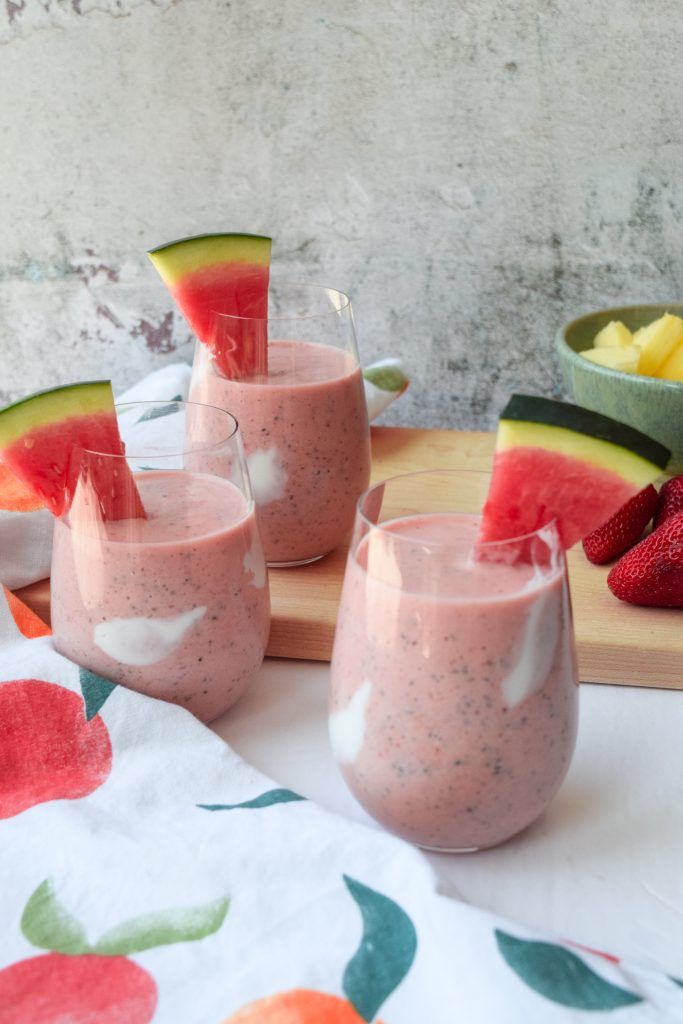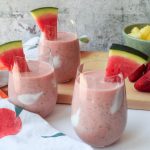 Print Recipe
Watermelon Wiggle Smoothie
I'm holding on to the end of summer with this copycat Jugo Juice Watermelon Wiggle Smoothie recipe packed with nutritious ingredients!
Servings:
1
large smoothie or 2 small
Ingredients
1

cup

fresh watermelon, cubes

1/2

cup

fresh strawberries, quartered

1/2

cup

frozen pineapple

1/2

cup

milk of your choosing

2

tbsp

greek yogurt

1

tbsp

chia seeds

1

tbsp

hemp hearts
Instructions
Add all ingredients to a blender and blend on high until smooth! If needed, add a little bit of extra milk or water!