These Pumpkin Spice Muffins are light, fluffy and super delicious! Perfect with a cup of tea on a cold day!


Pumpkin Spice Muffins
Whenever I cook something with pumpkin, there always ends up being a little bit leftover that I'm not sure what to do with. That's how this recipe came to be! I love having muffins on hand, especially right now since I'm home all day and always looking for a mid-day snack. This recipe is pretty simple to make and I love that warm, pumpkin spice flavour on a cold day!

An Important Note for Pumpkin Spice (or any!) Muffins
Don't overmix! If you're finding your muffins come out with peaks or are really pointy, it might be because you've overmixed and activated the gluten. Gluten is the protein found in wheat. It's actually made up of two proteins; glutenin and gliadin. Both serve different purposes when it comes to structure. When you add liquid to flour, glutenin molecules bind to other glutenin molecules and the same goes for gliadin. This makes up the network that is gluten!
When you mix or knead the dough, that network strengthens. This is great for things like bread or pizza, but not muffins or cakes. I recommend using a hand-mixer for the wet ingredients (not necessary – it's just easier) and then folding in the dry ingredients with a spatula. It's okay if there are lumps as long as there are no dry patches of flour. If pumpkin's not your thing, check out my Banana Nut Chocolate Chip Muffins!

Nutritional Benefits of Pumpkin
I feel like in recent years, pumpkin anything has become all the rage, especially in the fall. This is great because pumpkin has some wonderful benefits when it comes to nutrition! Pumpkins, like other orange vegetables, contain the phytonutrient beta-carotene. What is a phytonutrient? Well, phyto is latin for plant and you already know what nutrient means. Phytonutrients are nutrients that come from plants. There are many different types of phytonutrients but the ones we're going to focus on today are carotenoids. There are also different types of carotenoids but the one most common in orange veggies is beta-carotene.
In the body, beta-carotene can be turned into Vitamin A, which you probably know is good for eye health, but also immune and heart health. Additionally, Vitamin A is an antioxidant. Antioxidants help protect the body from cell damage, caused by things such as smoking and even aging. A diet rich in antioxidants helps to lower your risk for chronic disease.
So I just used a lot of big words and you might be wondering if you need to be eating pumpkin every day to lower your risk for disease? Health Canada recommends one orange vegetable or fruit every single day. Other beta-carotene containing foods include butternut squash, carrots, apricots and canteloupe. A healthy diet full of fruits, vegetables, whole grains will get you to meet your antioxidant needs. Prior to making any big changes to your diet, it's important to consult with a dietitian or other healthcare provider.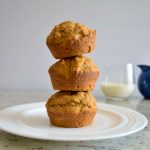 Print Recipe
Pumpkin Spice Muffins
These Pumpkin Spice Muffins are light, fluffy and super delicious! Perfect with a cup of tea on a cold day!
Ingredients
1 3/4

cups

all-purpose flour

1

tsp

baking soda

1

tsp

cinnamon

1/4

tsp

all spice

1/8

tsp

cloves

1/2

tsp

salt

1/2

cup

butter, melted

1/2

cup

brown sugar

1/2

cup

white sugar

2

eggs

2

tsp

vanilla

1

cup

pumpkin puree

1/2

cup

plain greek yogurt
Instructions
Preheat oven to 350F and grease a muffin tin

Measure and sift flour into a medium-sized bowl

Add baking soda, spices and salt to flour and mix until combined. Set aside

Cream sugars with melted butter for 2-3 minutes

Mix eggs and vanilla into sugar/butter mixture

Mix in pumpkin and greek yogurt

Fold dry ingredients into wet and mix until just combined

Scoop about 2 tablespoons of muffin batter into each muffin tin

Bake for 18-22 minutes, or until tops are golden brown and toothpick comes out clean

Let cool for 10 minutes, remove from tins and let cool completely on cooling rack.